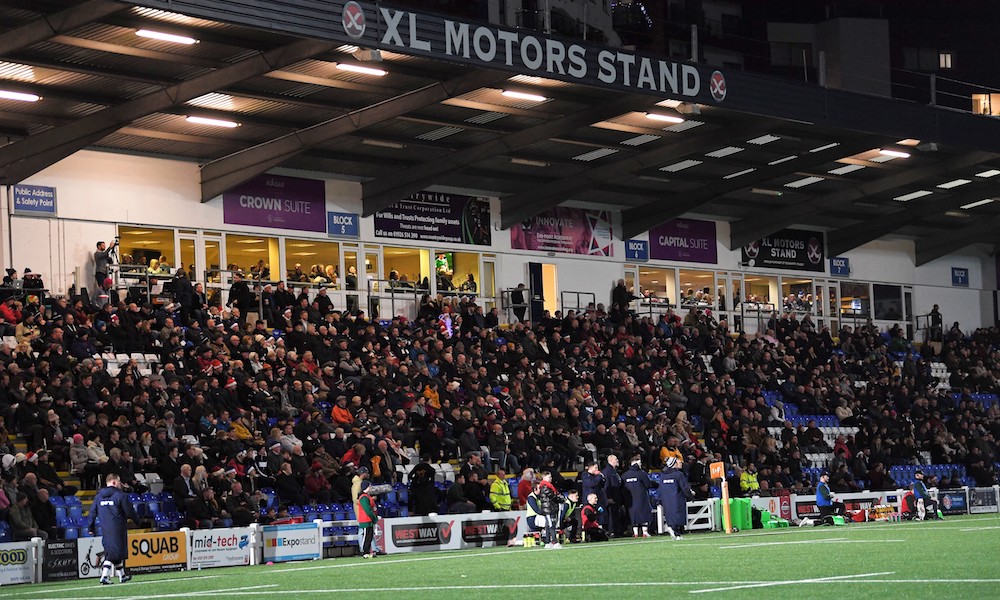 Coventry hosts Saracens in the Greene King IPA Championship on Saturday, May 22nd, KO 5:00pm.
The club is preparing to host supporters that day, as it comes after the Government moves to the next stage of the Covid-19 spring roadmap. The club is anticipating an estimated available capacity of around 1,400 for this match, taking into account social distancing guidelines.
The club is taking a substantial financial risk to host supporters, with many additional costs being incurred, such as toilets, staff, cleaning and other related requirements in order to fulfil the conditions related to opening the stadium.
2020/21 Season Ticket Holders and 2019/20 Vice Presidents have priority booking for these tickets. As per the terms and conditions of the recent Season Ticket refunds, Coventry v Saracens is a paid-for ticketed match, to mitigate the costs mentioned above.
**The ticket booking process will be published at 7:00am on Friday 14/05/21. This will also be emailed to 2020/21 Season Ticket Holders and 2019/20 Vice Presidents**
Stadium configuration
XL Motors Stand
The guidance which Coventry Rugby has received from the RFU and other relevant authorities is that social distancing needs to be in effect between groups of individual households/support bubbles.
In order to maximise capacity and allow as many supporters to watch the game as possible, the XL Motors Stand will be made up of bubbles of four people, three people or two people. Each bubble should be from the same household/support bubble, so if you want to sit with other people within your support group then please spend some time to put your group together before booking, and consider other Season Ticket Holders when you book your bubble. You will need to enter the names of everyone in the group at the point of booking, and by completing the booking process you are agreeing that everyone within the group is from the same household/support bubble.
Individual seats may be available closer to the game, but Coventry Rugby cannot guarantee this.
We do appreciate that this is not the ideal situation, but believe that it is the fairest method to enable as many people as possible to attend Butts Park Arena for this highly-anticipated match.
Standing
There are two standing areas:
Area A – between the big screen and marquee
Area B – between the big screen and Butts Road end, including the area behind the goal
Each area will have a beer garden with seats and tables, where food and drink must be consumed. These beer gardens will be open from 1:30pm and will remain open until one hour after the final whistle
Supporters will not be allowed to move between standing areas
Booking dates
10:00am Fri 14/05/21 – Priority booking period opens for 2020/21 Season Ticket Holders, 2019/20 Vice Presidents and Club Shareholders
9:00am Tues 18/05/21 – General sale period opens for bubbles and standing tickets, depending on availability
Thurs 20/05/21 (estimated) – Seated tickets to be allocated and emailed to purchasers. If there are any spaces for further seats to be purchased then further announcements will be made then
Regardless of ticket availability, there will be no in-person ticket sales at Butts Park Arena on match day
In-person ticket sales are possible at Butts Park Arena in advance during office hours
Ticket prices
XL Motors Stand
£99.50 – bubble of four people
£74.50 – bubble of three people
£49.50 – bubble of two people
Standing
£21.50 per person
A £1 per ticket administration fee will be charged
Disabled supporters will be charged at concession rates and will be allowed one carer ticket, as per standard ground regulations. Supporters requiring wheelchair spaces need to email enquiries@coventryrugby.co.uk with a daytime phone number and we will call you back to take your booking.
Ticket prices are covering the substantial additional costs being incurred to allow supporters to enter, such as more toilets, additional staff, additional cleaning throughout the day, and other associated requirements to fulfil the conditions of opening the stadium.
Hospitality
A limited number of hospitality packages are available for £70 per person (including match ticket) in the Millerchip Suite and Jon Sharp Bar, with 2019/20 Vice Presidents and Club Shareholders receiving priority. Contact Elizabeth Martin for more information via emartin@coventryrugby.co.uk
Full booking information will be released on Friday morning, but first please note the following:
– Due to continued social distancing regulations the XL Motors Stand will be operating to a different seating plan to a normal match day. You will be allocated seats, which you must sit in. Seats are non-transferrable. We cannot guarantee that these seats will be near your usual space but are sure you can understand why this is the case!
– Each 2020/21 Season Ticket Holder / 2019/20 Vice President is entitled to book one seating bubble or one standing ticket each. If you wish to order more then you will need to wait until any general sale booking period
– Due to the limited number of bubbles early booking is highly recommended to avoid disappointment. If you know of any Season Ticket Holders who do not have access to the internet then please pass this information on to them
– Your arrival time will be on the match ticket. The club has been asked to stagger the arrival to and departure from Butts Park Arena as much as possible by the relevant authorities, so please respect this request
– Limited on-the-day food will be available, but supporters will be able to bring their own food into the stadium. You are not allowed to bring your own drinks, and bag searches may be in operation
– Bottled drinks will be available to purchase on the day; Butts Park Arena will be cashless with more information to be announced closer to the time
– Drinks and food must be consumed while sitting down under the terms of current Government guidance. If you purchase standing tickets then you will need to consume food and drink in the beer garden of your respective area
– In the event that the match becomes a closed-door event due to unforeseen Covid-19 restrictions then all tickets will be refunded
– Face masks will have to be worn in the XL Motors Stand, and when standing supporters are stood pitchside
– Live streaming will remain available for supporters who are not able to attend the game
Supporters will need to adhere to the club's Covid-19 code of conduct, which can be read by clicking here: CRFC Covid supporters code of conduct
Booking information
2020/21 Season Ticket Holders
From 10am on Friday, May 14th, on the link at the bottom of this story enter the email address associated with the Season Ticket booking you made last summer. If you have changed the email, or forgotten the email, or are not recognised, then contact enquiries@coventryrugby.co.uk
You will then be able to book either a bubble of four, three or two seats, or one standing ticket
On the next screen, enter the names of the other members of your household/support bubble who are in your party
Proceed to the payment screen and complete your booking
You will receive a confirmation email, which will not be your match ticket. This will be allocated on or around Thurs 20/05/21, when you will receive a further email with your ticket(s) attached.
Your ticket(s) can either be printed at home, or you can use them on your smartphone.
2019/20 Vice Presidents and Club Shareholders
Email Jo Hill via jhill@coventryrugby.co.uk to register your interest in tickets, including the names of other people from your household/support bubble who will be in your booking group. Please also include a daytime phone number for us to call you back
We will call you as soon as possible to complete your booking
Your tickets will be allocated on or around Thurs 20/05/21, when you will receive an email with your ticket(s) attached. Your ticket(s) can either be printed at home, or you can use them on your smartphone.
If you would like to book hospitality (£70 per person for a three-course meal in the Millerchip Suite) then contact Elizabeth Martin via emartin@coventryrugby.co.uk