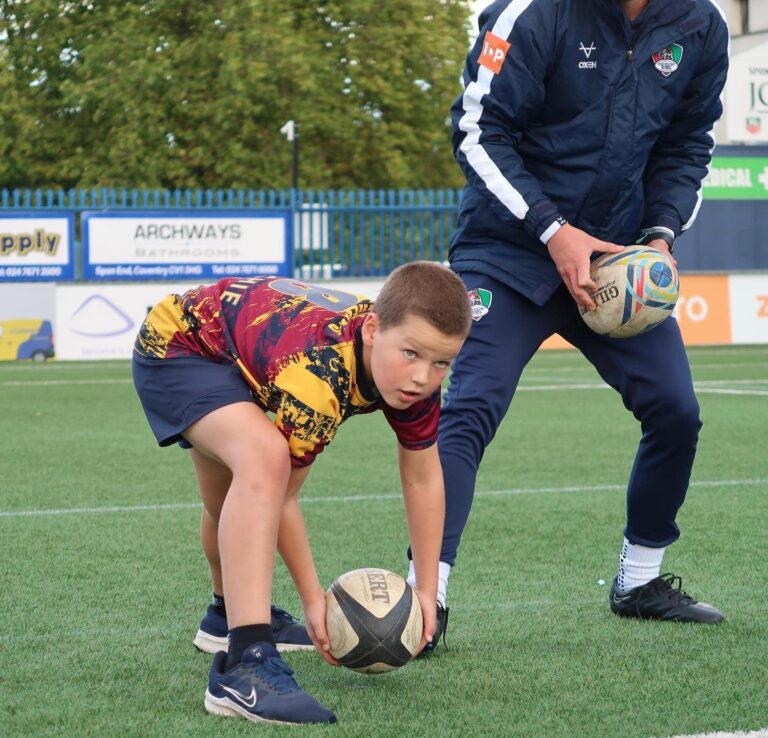 Masterclasses RETURN to Butts Park Arena!
These Masterclasses are for those aged 13-16 years old who wish to fine-tune specific rugby skills. The sessions are led by Coventry's first XV players.
Passing and Kicking coached by Tobi Wilson & Will Chudley (16th August 2023)
The fundamentals of the game rely on the ability to pass and kick. Join 1st XV players, fly-half Evan Mitchell and full-back Tobi Wilson on the first Masterclass of the series. Work on a complete variation of passes and different styles of kicks from out-of-hand drop goals to kicking off the tee.
Scrum and Line Out coached by Jordon Poole & Obinna Nkwocha  (16th August 2023)
On the 16th of August, we have a scrum and line-out masterclass being delivered by our very own 1st XV George Smith and Suva Ma'asi. Being able to perform efficiently and effectively at the set-piece is emphasised greatly at Coventry and seen as a vital area of the game, allowing the forward pack to dominate up from or to release our electric backline.
Attack and Defence coached by Will Rigg & Matt Kvesic  (23rd August 2023)
At Coventry, we relish the opportunity to defend and apply pressure to our opposition. Whether it be from our kick chase or in open play, we see our defence as another chance to win the ball back. This allows us to have plenty of attacking ball so that we can score some fantastic tries and get the crowd off their feet! We would like to invite you to the BPA on the 23rd of August for a session on all things attack and defence so that we can teach you how to play the Coventry Rugby way.
Times all Masterclasses run from 4:00-6:00 pm at Butts Park Arena.
What you will need? Please bring with you a drinks bottle, appropriate footwear for the 4G and suitable clothing for the weather. All other equipment will be provided.
Please note that there is a small fee for parking in the car park. Please ensure that you pay for parking when dropping off your child, otherwise, AMPR cameras will pick up your registration and you will receive a fine.
Book on to the classes here.