THE inclusion of prop Jack Higgins in Coventry Rugby's match squad last weekend has all the ingredients of a classic 'local lad makes good' story.
A few eyebrows would have been raised when the 25-year-old's name appeared on the team sheet for Rosslyn Park but, coming off the bench at the end of a testing first quarter for the league leaders, his performance justified the confidence placed in him by the coaches.
Only those with a very good memory will recall his name from his time playing for Old Coventrians-Coventry Colts, but the following eight years playing rugby in New Zealand – the last two for North Harbour Development – can be considered a pretty good apprenticeship for National League One.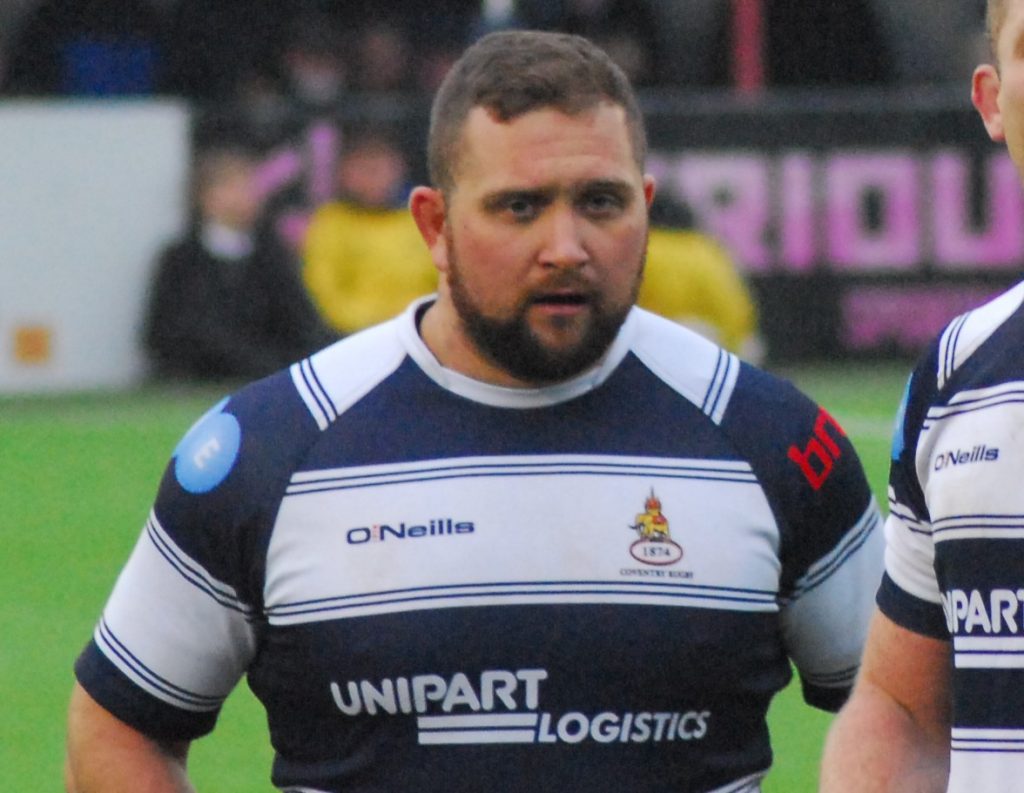 Higgins didn't play rugby until he moved to Coventry from Tamworth as a teenager.
"I went to The Woodlands School and they said 'you're playing rugby now' and it went from there," he said.
"The school I'd been going to wasn't as structured sports-wise, but Woodlands was a sports college with a strong rugby background and I took to it pretty quickly. I played one game at lock, and then I was moved to tight head prop and I've stayed there ever since."
Higgins played for Old Coventrians under-16s before moving up to the colts side, who were playing under the banner of Old Coventrians-Coventry, where he came into contact with then Cov head coach, Murray Henderson.
"I was going to gym sessions and stuff with the Coventry colts in the morning and Murray turned round and said would I like the opportunity to go to New Zealand to play and continue my education. I just said yes!" said Higgins, who was 17 at the time.
"About three weeks after they initially contacted me I was out there."
St Bede's College, in Christchurch, was the destination and, linking up with another OCs colt who had gone out a few months earlier, flanker Carl Jeffs – currently at Cov's National League One rivals, Cambridge – Higgins embarked on an exciting adventure which included going on to Canterbury University where he obtained a degree in biology and psychology.
"St Bede's were second out of all the New Zealand Schools while I was there, and I did bits and bobs with Canterbury Academy – I played under19s for Canterbury and for the New Zealand Universities under-21 team, we toured America for about four weeks.
"Then I moved up to Auckland where I played for Massey – Anthony Matoto played there as well, it was quite nice when I walked in to training at Cov with the Massey gear on and he recognised it right away.
"I was three years with them, and for the past two years I've been playing for North Harbour Development."
Higgins, who is at home on both sides of the front row, took the decision to return home at the end of the last New Zealand season, but didn't immediately come to Butts Park.
"I loved it out there, but I just thought it was time for me to buckle down at rugby and have a proper crack at it," he said.
"I'd been speaking to Rowland Winter for a little bit while I was out in New Zealand but I didn't think I'd necessarily make the Coventry team, so as Richard Protherough had coached me in the colts I went to Moseley.
"I just didn't get any game time with them, and then about four weeks ago Rowland contacted me and said to come down and have a look.
"My little brother, Joe, plays for Rugby Lions where Dave Addleton coaches and I'd been chatting to Dave about what sort of level I should be going for. He said as high as I could and that National One would be good for me, so he put me in touch with Tony Gulliver who put me in touch with Rowland and it went from there.
"I came down one Thursday and just said, right, this is what I want to be doing, this is where I want to be – the level of training was tops, it's a warm-welcoming club and it's my home club, it's just down the road from where I live.
"I felt welcome at the club from day one and that's a big thing – if you're not enjoying it you are not going to stay, but everyone has been great, even the lads in the same position as me."
Higgins, who is working for ex-England prop Darren Garforth's scaffolding company, is still adjusting to the change, but was happy with his performance at Rosslyn Park where Cov dominated the last hour to win 43-13.
"I felt comfortable, and although I can't really say after one game it felt probably around the same level as I've been playing at.
"It's just a different style of rugby, it's a lot more direct over here and the emphasis on the set piece is a lot higher.
"To get the opportunity as quickly as it came was really exciting for me, now I want to put my hand up to play every week and if I get the opportunity again I want to take it with both hands.
"I loved it when I was playing for the Development team, looking down at my chest and seeing the Coventry elephant on the jersey, and playing at the Butts will be another big occasion for me – I played there in cup finals when I was at school, so it's a pretty special ground to me.
"When the season finishes I'll probably go back to New Zealand, but if the rugby is going well and Coventry want me, I'll be there for them and coming back."