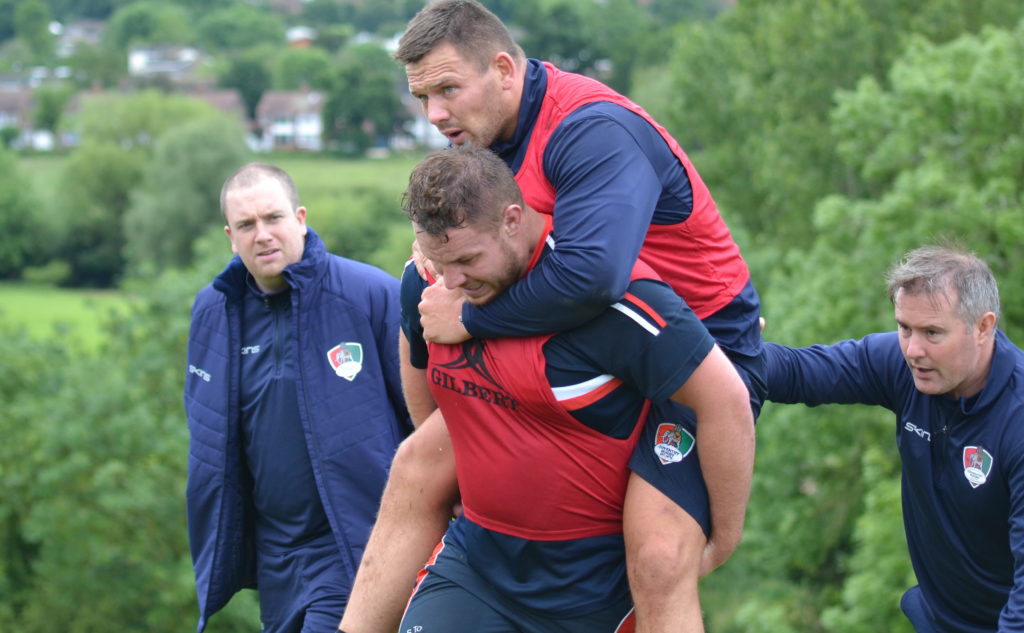 Head Coach Nick Walshe says that the bounce from the final two games of 2018/19 has continued into the start of the new pre-season training programme at Butts Park Arena.
After 20 rounds of action Coventry Rugby broke their away duck at Doncaster in the penultimate game of last season, followed swiftly by another win on the road on the final day trip to Jersey.
These wins secured an eight-place finish for Coventry at the end of a first Championship campaign in seven years, with the team just one point off seventh and four points off the top six.
Had last-gasp losses to Nottingham, Bedford and Doncaster – to name three – been turned into wins then Coventry would have been pushing for the top four. But with hindsight Walshe believes that those disappointments will pay dividend over the longer term.
"We came eighth this year, were one point off seventh and four points off sixth, and that would have made things very different, but will take where we were," he says.
"It didn't allow us to paper over any cracks, we've had to work hard on those areas such as getting people in with a bit more experience on the strength and conditioning side, on the medical side, building the squad, and bringing Anthony Allen in to look after the defence to work with Louis Deacon and myself, which has been fantastic.
"The wins [against Doncaster and Jersey] were absolutely huge. If we'd have lost them the table would have looked very different and it would have been harder coming back into the pre-season.
"We showed in those games what we could do, what it meant to play for the club in front of the travelling fans who went to Doncaster and Jersey, and for whatever criticism we got at times during the season the boys never gave in, we never stopped believing, and I think it's hopefully set us up for pre-season. The boys came in buoyant, in good spirits and keen to work hard."
The squad has just completed its second week of pre-season with Head of Strength and Conditioning Chris Hart and his team putting the players through their paces both on site at Butts Park Arena and away from the club, including in the Lake District and the cross-country challenges provided at Newbold Comyn in Leamington Spa.
Walshe says that the need for improved fitness levels had been identified midway through last season, especially with the coaches' desire to have the team play a fast, expansive and attacking style of rugby.
This work started immediately, but the Head Coach says that the management team will be looking for a step up going into the new campaign.
"On the S and C side Chris has done a fantastic job already and is pushing the boys hard," Walshe adds. "We have structured this pre-season – which is a long pre-season – to make sure that Chris has his time and that the players are conditioned first before we introduce some ball work. It is about structuring things properly and preparing properly so we get the most out of the players.
"One of the biggest things for us this year is to be more conditioned, to be fitter and stronger, to match the quality sides in the Championship. If we can do that then it will stand us in good stead.
"The standards we're setting ourselves are massively high. We play and work for each other and for this club, and hopefully we'll see improved performances as well. We know we're going to make mistakes, but as long as it's not effort errors or desire errors then you can accept that.
"We want to be the best we can, but it takes time, you've got to build it over the years, and you've got to have the best people you can have at that time. Any team which aspires to be a top team has to realise that it takes time; Saracens have been together for a lot of years and they are reaping the rewards.
"Rowland, myself and the group who came in three years ago have come a long way. We've got that desire, the players are buying in, we want to get the club as high as we can and are working hard to achieve that."
2019/20 Season Tickets remain on general sale throughout the summer with standard prices frozen from last season! That means that adults can watch every scheduled home game from just £12.85 per game, while Cov Juniors members can see the whole season at Butts Park Arena for just £25!
CLICK HERE for more details and book now by calling 02476 231001 or emailing jhill@coventryrugby.co.uk