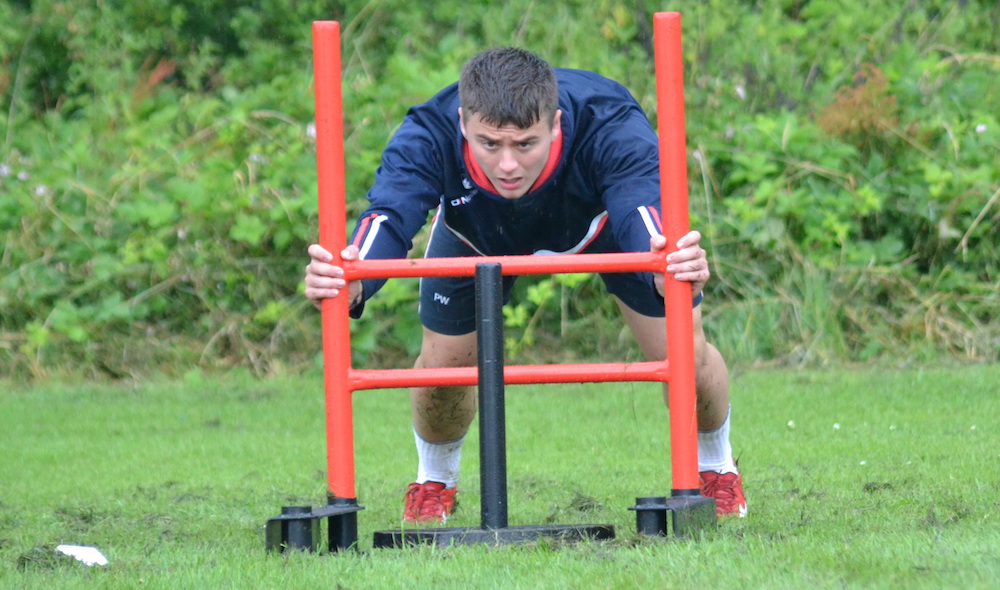 Pic: Development Academy back rower Archie Strath
Coventry Rugby is now accepting applications for one of two trial dates to join the club's Under-18 Academy for 2019/20.
The two trial dates are Monday, August 12th and Monday, August 19th, with both to be held at Old Leamingtonians RFC between 6:30 and 8:30pm.
Coventry Rugby has a long history of developing outstanding players for club and country, and the Academy staff, including new Academy Manager Ross Stewart and Under-18 Head Coach Phil Boulton, are determined to support every player within the club's set-up so that they can reach their potential both on and off the pitch.
The Academy staff will also be working closer than ever with schools, clubs and Constituent Bodies across the area to ensure that players have a structured development programme which enables them to play for both Coventry Rugby and their home team as they work towards a possible professional contract.
Coventry Rugby's Academy programme gives opportunities to both players who have been released from Premiership Academies, as well as others who coaches from clubs, schools and Constituent Bodies believe have the potential to reach the highest level.
This year will see the Coventry Rugby Academy utilise the brand new artificial pitch to train at Butts Park Arena at least two times per month, with fixtures against Premiership and Championship clubs already in the diary, as well as be flexible to adapt and develop as the season progresses.
Archie Strath and Edd Prowse both came into the Under-18 set-up last season after having been released from Northampton Saints, and have earned themselves a place in the Coventry Rugby Development Academy for the coming season.
"I came into the Coventry set-up at the beginning of the year," says back-rower Strath. "I'd lost a bit of motivation when I left Saints, but when I got the call from Coventry it inspired me to want to get back going and drive on to see what I could do.
"The Under-18 set-up here is great and the quality of the coaching is right up there with the best I've had. The games are very competitive and we play teams both from the Championship and against Premiership clubs as well.
"It's an honour to be stepping up into the Development Academy and shows that the Under-18s works."
Like Strath, Prowse played for the East Midlands as well as the Saints Academy, and he, too, has relished the opportunity to establish himself at Coventry Rugby.
"It's brilliant that Coventry is giving youngsters the opportunity to develop and hopefully to become top players with the club," he adds.
For players to be eligible for the Coventry Rugby Academy they must be in either the Under-17 or Under-18 age groups for 2019/20 and meet two of the following criteria:
Represented a County or higher within the past two seasons
Been involved with a Premiership U18 Academy, Elite Player Development Group or Developing Player Programme
Had previous involvement with a Championship Academy
Be a stand-out player within a club or school team
To apply or recommend a player email team@coventryrugby.co.uk no later than the Friday before the relevant trial date and include the following:
Player's name
Player's date of birth
Player's position
How the player meets the above criteria
Player's club and/or school and/or county
Player's contact email and mobile phone number
Applications directly from players or parents must be supported by a letter of recommendation by their team coach.
Thanks to the Coventry Rugby Supporters Club for their kind partnership with the club's Under-18s this season.