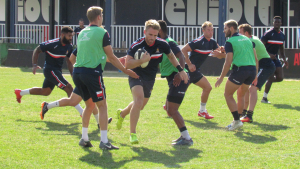 Versatile Coventry Rugby fly-half Tony Fenner admits the side still have plenty to work on following the conclusion of the Blue and White's victory over Leinster last Saturday.
The 28-year old managed to score a brace in quick succession against the Irish province and followed up from his standout performance from Birmingham Moseley with another at the weekend.
He said: "We still have a lot of work to do both in attack and defence. With both teams that we have played against so far, I think we will definitely come up against harder competition, especially in the Championship this season.
"I think we just need to step it up and we know we have the squad to do it, I am not too concerned about that, it's just continuing to work and get better for Jersey in a couple of weeks."
Having come through a long period with niggling injuries throughout Coventry's title-winning season in National One, the fly-half is starting to play rugby with a smile on his face again.
He continued: "There were a few times in the summer where we didn't know the answer anymore to what was going on and I seem to have found something that is working at the moment, so I am pretty pleased with it to be honest.
"It has been a long 18 months and it's just nice to be able to reward myself and my coaches for what they have believed in me. It was good fun, with the first two touches of the ball I managed to get over the line so it's always nice and I don't score that often, so it was good."
On reflection to Coventry's 43-21 win over a young, bullish Leinster Development side, Fenner believes the side have a lot to improve on but insists that an away win is valuable and that the side shouldn't be displeased.
He added: "In parts I think there is still a lot to work on which is a good thing, it's still pre-season so we're still learning lots of new combinations at the weekend so in all it was a good result and an away win is an away win, so we will take that.
"It is a nice place to play over in Leinster, I have been lucky enough to play there a few times now and it was nice to see a lot of Coventry fans as well. They always make the trip wherever we go, and I think in all we had more supporters there than they did so that was good."