NINE tries and maximum points from another big home win, but director of rugby Rowland Winter was far from satisfied with Coventry's second-half performance in their 61-14 victory over Macclesfield.
Cov led 54-7 at the break, but lost their momentum in a disappointing second 40 which left questions to answer.
"I'm happy with the five points and parts of the first half, and, yes, there were lots of nice tries and good team tries as well which is always pleasing," said Winter. "But games of rugby aren't won in 40 minutes.
"At half-time it was key that we performed for 80 minutes – we played Newport pre-season, got some decent points on the board and slipped off in the second half; it was the same thing here against Loughborough a couple of weeks ago, and today was no different.
"We told the boys we can't take things for granted, we can't take our foot off the gas, we've got to put in this 80-minute performance, and still we're left searching for that today.
"We've got to play Blackheath, Hartpury and Esher in the next three weeks, really tough games, and if we only perform for 40 or 50 minutes, or like last week at Moseley slip off the first 15 minutes, we will have problems.
"We've got lots of work to do and we're so far off at the moment, we need to work really hard this week."
Added Winter: "Macclesfield deserve some credit, they got some control back in their game and our set piece wasn't so dominant in the second half – we were a bit sloppy with some of our processes and in the back line, in particular, we tried to play from too deep and put pressure on ourselves. We lacked a lot of urgency in defence and that was key.
"We can't let the first half gloss over what was actually quite a poor performance in the second half – we've really got to up our standards, we can't be nappy with just 40 minutes of hard work."
Read John Butler's full match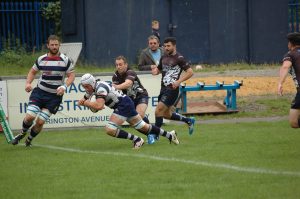 report in the Match Reports section
Nick Meredith's photo album – https://www.facebook.com/CoventryRFC/?fref=ts