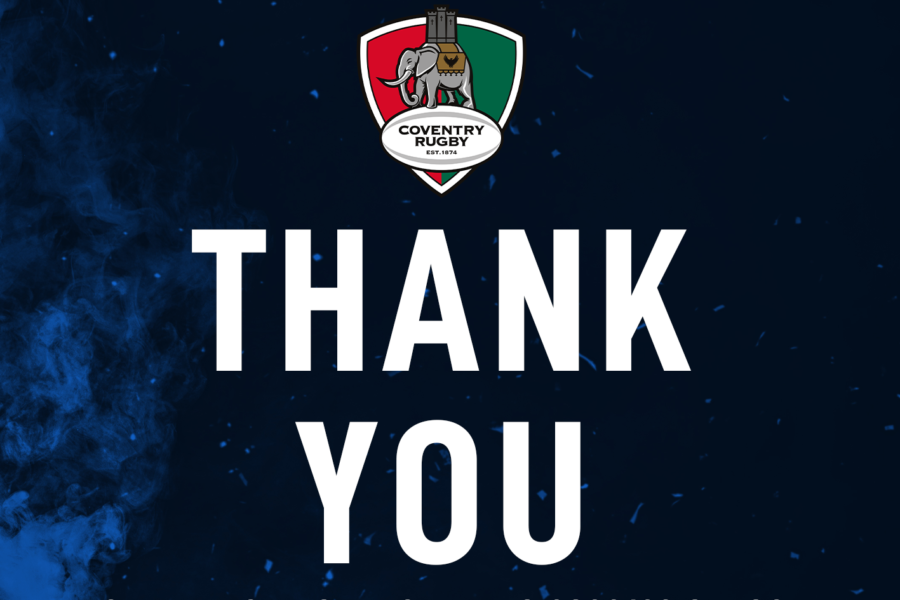 To all Coventry Rugby Supporters,
As the season draws to a close, we want to take a moment to say 'thank you.'
This season has been one which will live long in the memory, with the club achieving its highest league finish in the professional era. As we, as a club, reflect on everything achieved this year, we know that we owe a huge debt of gratitude to you, the supporters. Your presence at every game has made a real difference to those on the pitch, and your passion, commitment and tireless loyalty has been felt by everybody throughout the entire club. This season has been a brilliant journey, and we want to thank each and every one of you for being part of it.
2022/23 has been a season marked by an overriding sense of promise. Alex Rae assembled a relatively young squad in the summer, and, over the course of this term, that squad has developed enormously to secure a third place finish in the Championship.
Whilst the season began with a tight victory over local rivals Bedford Blues, and defeats to the only two sides sat above Coventry in Jersey Reds and Ealing Trailfinders, the tide began to turn as Coventry bolstered its experience levels in the shape of Will Chudley and Tom Dodd – the pair signed from Worcester Warriors and have been exceptional in blue and white ever since.
Momentum was halted thanks to the freezing weather as the scheduled clash away to Ampthill was postponed due to an un-playable pitch, however, the frustration of not being able to take on the 'Mob' was certainly channelled into the following weekend's challenge. Coventry travelled to the capital to pull off a famous victory against the double league and cup champions Ealing Trailfinders, at Vallis Way.
Commencing with the Ealing scalp, the team went on a five-match winning run which included victories against Bedford Blues and London Scottish twice. A defeat away to Pirates meant that the side were anything but complacent when taking on a tricky Caldy side at the Butts Park Arena, as the team from the Wirral were dispatched 48-19.
Fresh off the back of successful trips to Dillingham Park and the Richmond Athletic Ground, the boys in blue and white will be looking to continue their strong end-of-season form as we welcome Nottingham to the BPA, in our final home game of the season.
From everyone at Coventry Rugby, we want to reiterate our massive thanks. Thank you for your unwavering support, your tireless dedication, and your unbridled passion for our great club. We couldn't have done it without you, and we look forward to your continued support in the future.
Thank you once again, and we'll see you next season!
Coventry Rugby