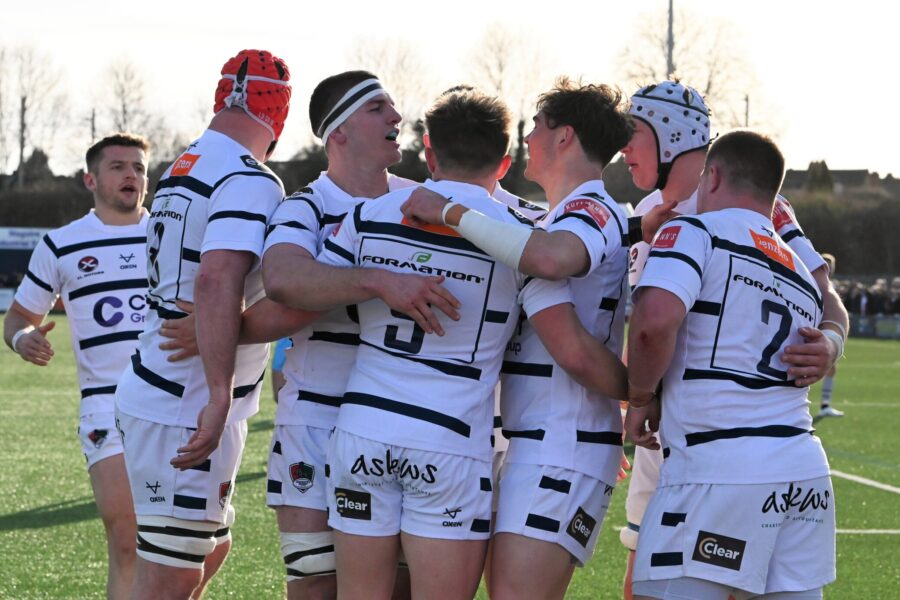 Bedford Blues vs Coventry | Friday 11th March 2022 | Kick-Off 19:45 | Goldington Road | 2021/22 Championship Round 21
The Coventry team set to face Bedford Blues under the Friday night lights of Goldington Road has been announced.
It will be Coventry's 182nd encounter with the Blues – the second of this 2021/22 Championship League campaign. Coventry secured the win on home ground by just one point and although the Blue-and-White's have struggled to find their form away from Butts Park Arena, Coventry will be determined to extend their favourable record against the Blues.
There are four personnel changes and two positional switches from the team that faced London Scottish two weeks ago.
The front row remains the same with Toby Trinder alongside Exeter Chief duo Jordon Poole and Matt Johnson.
Adam Peters and James Tyas switch around for the third fixture in a row. Peters appears at number 4 lock and Tyas claims number 5.
Tom Ball comes in to replace Senitki Nayalo on the back row after some impressive performances captaining the development friendlies featuring Academy players in recent weeks.
The backs remain the same with no changes being made from the London Scottish line up.
On the bench, Worcester Warriors Joe Richardson replaces Ethan Caine wearing the number 16 shirt and Fred Betteridge replaces Dragons loanee Max Williams at number 20.
A new face on the bench is debutant Geordie Irvine, replacing Nile Dacres at number 20. From Northampton Saints Senior Academy, Irvine impressed the coaches in Coventry's recent friendly against The Army Rugby Union. Irvine has experienced a lot of Rugby in his 18 years of living and has England international honours.The back row would make his first senior appearances for Saints in 2021/22, debuting against London Irish in the Premiership Rugby Cup that term. 
If you're unable to join us at Butts Park Arena, the game will be live-streaned for just £8 with comentary from Sam Roberts and a Blues player. You can buy tickets for the stream here.
Or you can follow updates via our live Twitter feed (@CoventryRugby).
#ComeOnCov
Bedford Blues vCoventry Rugby
Goldington Road
Friday, March 11th, 2022.
Kick-off 7.40 pm
15 Louis Brown; 14 Rob Stevenson; 13 Will Owen; 12 Tom Curtis; 11 Tom Stanton; 10 Tony Fenner; 09 Josh Barton; 01 Toby Trinder, 02 Jordon Poole, 03 Matt Johnston, 04 Adam Peters, 05 James Tyas, 06 Tom Ball, 07 Josh Bainbridge, 08 Ryan Burrows (C).
16 Joe Richardson, 17 Luc Jeannot, 18 Jake Bridges, 19 Geordie Irvine, 20 Fred Betteridge, 21 Dan Babos, 22 Andy Forsyth, 23 Rob Knox.