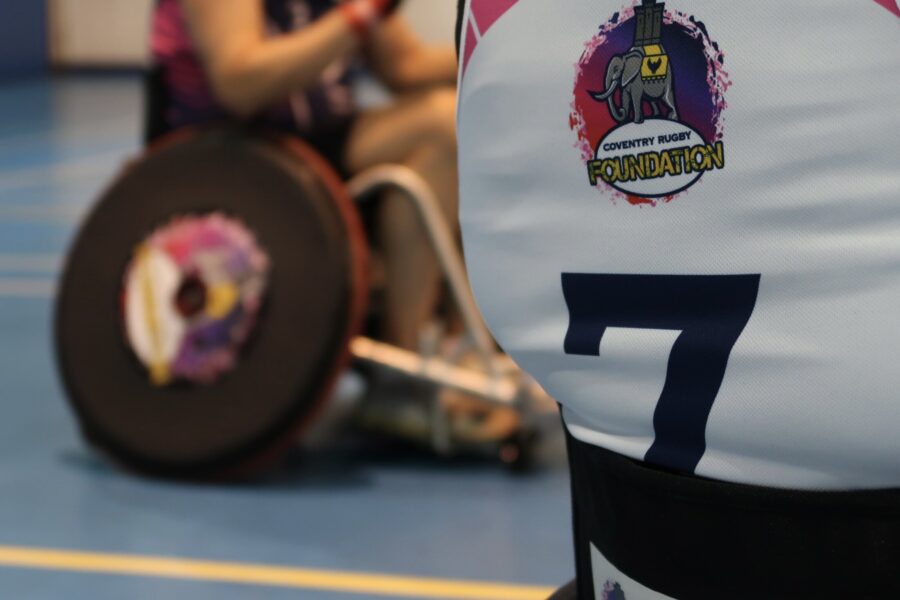 Stampede Rugby 5s Tournament 3 Results 21/8/22 – Written by Stampede volunteer, Claire Pateman
It was a clean sweep for Coventry Wheelchair Rugby, Coventry Stampede, in their latest Wheelchair Rugby 5s Championship series. They were overall winners on the day and all the players were justifiably proud of their achievement after winning all three matches. This was the third and final tournament of 2022 and the Stampede finished the season in a creditable third place. Coach Mandip Sehni acknowledged that each of his players: George Davies, Colin Humphrey, Jake Humphrey, Lee Taylor, George Jeramiah, Nick King, Martin Taylor and Jeff Youell had shown great heart throughout the matches and were worthy winners. They were ably supported by bench volunteers Jodie Youell and Emily Miles,
Stampede's first opponents were Team Solent Sharks and they traded tries initially. Stampede took their chance to break the deadlock and opened a lead of 5 points, going into the half-time break 16-11. The Sharks started the 2nd half well, eroding Stampede's lead, until the score was tied at 20-20, with less than 3 minutes to go. Both teams fought hard until the final buzzer, but it was Coventry Stampede who came out victorious 23-21.
After such an intense match the players were all understandably thrilled, but drained. Everyone had contributed to the win. However, they didn't have long to rest on their laurels as Bournemouth Lions were their next opponents. As with the first match, both teams exchanged tries and took it in turns to take the lead. Stampede just had the upper hand going into the 2nd half with a lead of 13-12. Again, tries were exchanged until the Lions began to break away and held a slender 3-point lead. Stampede refused to give in, and the pulsating match was evenly poised at 23-23 with under a minute to go. As it was the only match still in progress there were other teams watching and cheering for both Lions and Stampede. The atmosphere was electric & both teams fed off the energy. It would be fantastic if more spectators came to cheer on their local Coventry team in 2023! Only 20 seconds to go and Stampede were leading 24-23. Lions scored again and it was back to level pegging with 13 seconds on the clock. Stampede crossed the line again with only 3 seconds left to play and held on to claim a second victory, 25-24. Both teams had given their all and produced an engrossing and exciting game of high-quality wheelchair rugby. It was almost a shame that there had to be a winner, but thankfully it was Coventry Stampede that emerged on top.
That victory meant that Stampede were now in first place in their half of the draw. They would play their opposite number from the other teams, and this was Berkshire Banshees. Both scored early tries, but it was the Stampede that managed to break away and they ended the first half 15-11. Banshees managed to shorten the gap to a single point at 21-20, but Stampede dug deep and held on to win 26-24.
Congratulations to Coventry Stampede, including all players, staff and volunteers for claiming the final tournament of 2022. If you are interested in getting involved with Coventry Stampede in any respect, please contact msehmi@coventryrugby.co.uk