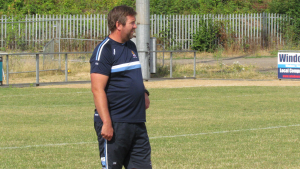 Development Academy Head Coach Ross Stewart admits he is enjoying his first few weeks in charge and acknowledges that the club are looking to grow more local and homegrown talent.
"It has been fantastic, it's a really open club, really welcoming and obviously I know a lot of faces and players but it's the first time that I have met the management outside of Rowland Winter," said Stewart.
"From first impressions, I really enjoyed the first five weeks, just coming from an environment where we were competing last year with being at Cambridge to then seeing what a good set up they have here has been really good.
"I have really enjoyed it and the players have been very open as well, it has been a fantastic first few weeks."
Stewart joined the Blue and Whites back in May and whilst he works with Northampton Saints as their Elite Player Development Group Manager, he believes that Coventry are creating a "perfect" environment for player growth.
He said: "The club are very keen to support the home-grown talent and young players and it is a tough environment in National One and the Championship.
"Whilst its perfect for their progress its very different when you're ready to peak. My job alongside Rowland is to look at recruitment, look at players and give one to one support throughout the season to allow that player to develop.
"We are fully aware that some of that development may happen away from the club. They are only here for a short period of time so it's about working with the strength and conditioning coaches to manage that process and give them the best chance to be the best player they can be and playing a part in that.
"As a club we are very strong believers of if we can support their development outside of the game as well then that will give us benefits on the pitch."
Having only spent six weeks with his new side, the 38-year-old admits that he has been impressed with the development sides progression and with their integration with the first team in training.
He said: "They have come on really well. A lot of the lads, I have only met in the last five weeks, got a bit of background on them but I have only seen them in action at training.
"The integration, the way the senior lads are bringing the young lads through is a credit to the club, I suppose that's down to the structure here at the club in terms of it being very much a growth mindset.
"They have been challenged quite heavily, there has been a lot of information that's been given, there's a lot of expectation on them to know that.
"They are coming on nicely, there is still a lot of work to do but we know that and hopefully they do, and we are there to support them."
The former Cambridge Director of Rugby revealed just how impressed he has been with the squad and gave compliments to the intensity and speed in which the players are wanting to play at.
He said: "I think the pace that the boys want to play at and that they are comfortable playing at, I won't say their game is simply but there are key areas that if you can get right, the rest will fall into place.
"The intensity of the players I think will stand them in good stead. At the moment there are probably more individual areas that we would like to work on rather than team areas at the moment.
"Again, as a club it's not a sit still foundation of 'we have done that, let's leave that there' it's a 'how do we make it better, how do we improve every area', so there is never going to be a point where we are going to say we have done that, so that's it and we park it.
"So I suppose ultimately if we can put that pace into a game and to continue like we have in training and I suppose to a certain extent to see the capabilities of the lads and where those cracks might appear and where we can then adjust and challenge."
https://www.youtube.com/watch?v=NHyJdtq7Vw8&feature=youtu.be