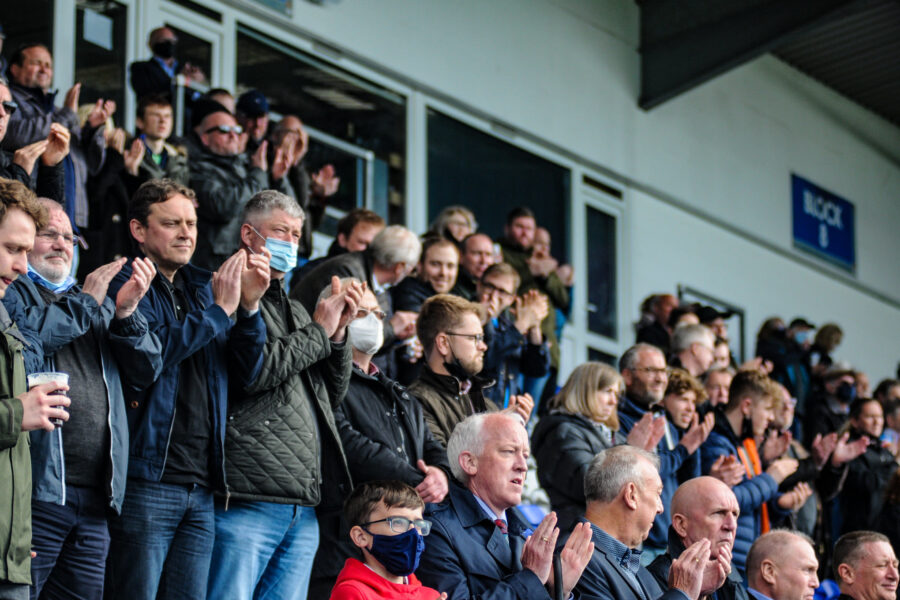 We look forward to welcoming fans back to Butts Park Arena tomorrow, to face Ealing Trailfinders. Please find an update stadium layout and all match day information below!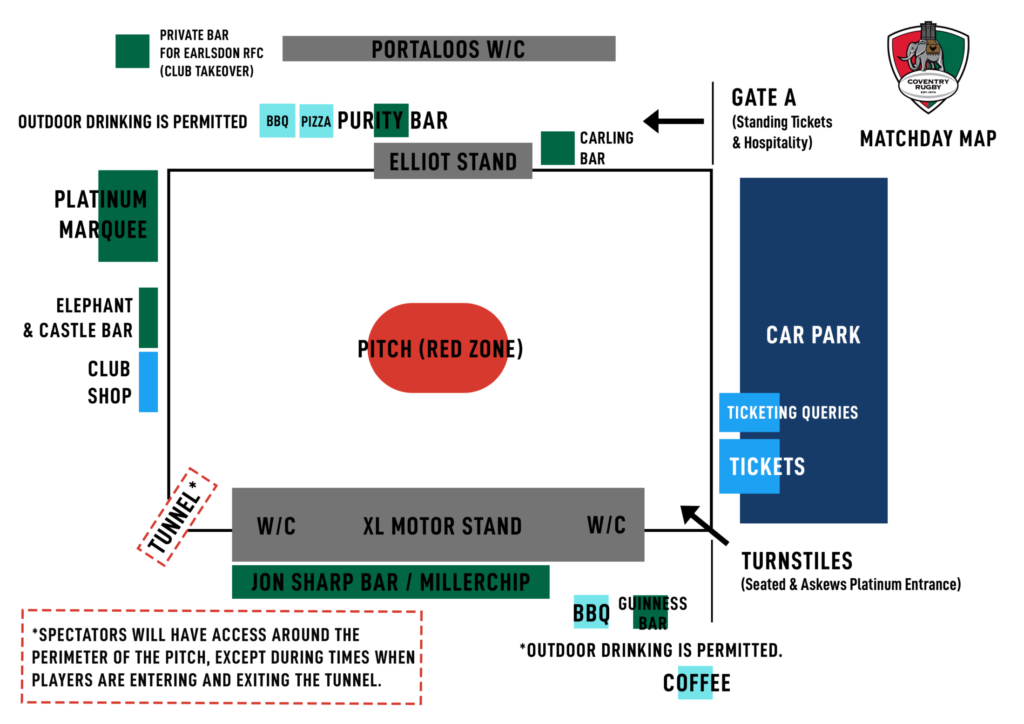 Stadium map
As you can see above, some key features of Butts Park Arena are returning for Saturday's fixture. The Club Store is back open and very well stocked – just in time for Christmas shopping! The Shop will be open from 12pm.
For those that have purchased standing tickets, you will now be able to seek some cover under the Elliot Stand. We have added a Carling bar on the other side, so standing spectators no longer have to walk around the back of the Elliot Stand for a drink! A reminder that outdoor drinking IS permitted at all times.
Lastly, spectators will now how full access around the perimeter of the pitch – except, when players need access to the tunnel when entering and exiting the pitch. During these instances, the corner where the tunnel is located will be blocked off temporarily.
The pitch is still a red zone during the match. Earlsdon RFC have access to the pitch before the match as part of their club takeover day (where they will also have a private bar in the far corner, near the Marquee) and spectators are encouraged to play on the pitch after all players have departed the field post-match.
Things you need to know
Gates open at 12pm, kick off at 3pm
Happy hour during the hours of 1-2:30pm
Card payment ONLY at all bars and the club shop. Cash is only accepted for the Supporters' Club raffle.
Although COVID-19 restrictions have eased we strongly encourage socially distancing where possible and wearing masks in all indoor areas.
Arrival and gate info
Address Butts Park Arena, Butts Road, Coventry, England, CV1 3GE
Time Gates open at 12pm, kick off at 3pm
Hospitality arrival Please can all guests joining us in the Platinum Marquee arrive for 12:30 to be sat-down for food at 1pm.
Gate Info
Hospitality and Standing Ticket holders please use Gate A
Seated Tickets and Askews Platinum Members please use the Main Trunstile Entrance.
Food and drink
HAPPY HOUR AND A HALF!!! – ALL Beer £3 from 1-2:30
Choose from burgers and hot dogs from Cov BBQ or pizza located around the arena. Light nibbles and snacks can be purchased from the main bars. There is also a coffee truck located around the back of the XL Motor Stand.
A range of indoor and outdoor bars are located around the arena.
A polite reminder that guests are not permitted to bring any food or or drink inside the stadium.
You are also allowed glassware up until 2:30pm and after the game. During the match you will be required to use plastic cups.
Post-match entertainment
Live band 'Reward' will be performing in the Jon Sharp bar after the game.
Offers & promotions
Time is running out to book your child's place on our October Camps.
All camps 9:30 am -3:30 pm
Ages 6-14
Please find dates and locations below.
The Rugby Camp will cover all of the core skills needed in all forms of rugby, including ball skills, game awareness, safely managing contact situations (if applicable, age-dependent), and more! – £25
The Multi-Sport Camp will include engagement in activities from different sports including football, basketball and cricket. -£25Please note that lunch is not provided.
All participants must bring the following – plenty of water/drink, hand sanitiser, towel, boots, trainers, waterproofs Book your child's place now www.coventryrugby.co.uk/tickets in 'other events'.