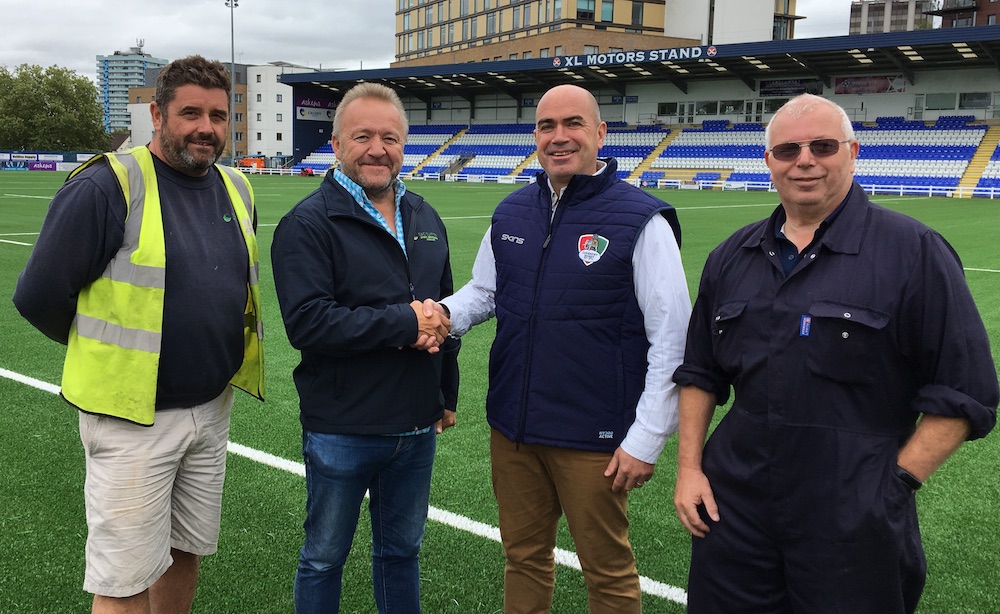 Coventry Rugby Managing Director Nick Johnston says that he can't wait to see the team train on the new pitch at Butts Park Arena.
The pitch had its final testing and handover from contractors S and C Slatter earlier today (Friday, September 6th), and with the Coventry Rugby squad getting back to work at their home venue on Monday ahead of the club's Open Day on Saturday, September 14th momentum going into the Championship Cup and Championship campaigns is building even more quickly.
"We're really excited," Johnston commented. "The pitch has transformed the whole arena, and everybody is relishing to see it used properly. The lads are back in on Monday and are raring to go on it.
"We've got football on it this weekend and it's becoming a centre of the community already."
Interest in the new pitch has been strong all through the summer, with regular bookings already coming in from Soccer Sixes, Barkers Butts RFC's girls team, and Alvis Juniors FC, as well as partner tenants Coventry United's men's and women's teams and Coventry Rugby's own training and playing programmes.
"It's what we wanted, and our whole objective was to make this a community centre in the city of Coventry. We're starting to realise that ambition, and while it is one of many initiatives we're doing it gives us the foundation to kick on."
Johnston also paid tribute to the professionalism and standard of work that the team from S and C Slatter, led by Wayne Sexton (Contracts Manager) and Jason Smart (Site Foreman), have shown throughout the build process, which started at the beginning of June.
"Slatters have been a pleasure to work with and we're continuing to talk with them about some of our other plans in and around Coventry and Warwickshire," he added.
"They've made this so seamless and easy, everything has been on track and on the timeline, and it has been project managed exceptionally.
"I'd recommend them to anyone who is considering a project like this."
Coventry Rugby's supporters will have the opportunity to try out the new pitch themselves at the club's Open Day on Saturday, September 14th.
Gates open at 11am with the chance to watch the team be put through its paces with a training session between 11 and 12:30, followed by a BBQ and Q&A session with the team coaches between 12:30 and 1:30, and finally some rugby-based fun and games on the pitch with the playing squad.
Entry is FREE and all are welcome.
To make an enquiry about booking a timeslot on the new pitch contact Toby Costar via tcostar@coventryrugby.co.uk
And to find out more about the range of work and projects offered by S and C Slatter head to sandcslatter.com