GOOD things come to those who wait, and that's certainly been the case for Coventry Rugby's Phil Nilsen whose man-of-the-match award against Esher last weekend was the first of a career spanning a decade and a half.
After coming through the Leeds club's Academy, the 32-year-old hooker played more than 200 games for Yorkshire Carnegie, as they are now and in their previous guises, before joining Coventry last season.
But although his performances earned him a place in last season's Greene King IPA Championship Dream Team, any match accolade eluded him until rectified last Saturday – much to his surprise and delight.
"As a professional player it's the first one I've ever had," said Nilsen, who is one of eight Cov players in the first year of two-year contracts.
"My wife always said it's not been fair because I'd always played well and one of the backs who had scored match-winning tries got it.
"I was absolutely over the moon – she was the first one to tell me, and I couldn't believe it!"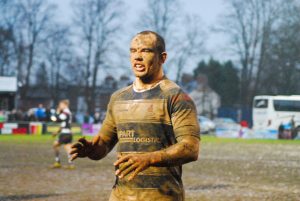 Picture by Nick Meredith
Nilsen, who has figured in all but one of Cov's games this season, is certainly not regretting his move to Cov.
"I'm really am enjoying it," he said. "I'd only ever had one club beforehand and it was a big decision to leave Leeds, but I did it in the end and it's been one of the best decisions I've ever made.
"Everyone has been so welcoming, all the players and the supporters, everyone at the club.
"It's been really nice and it's given me a completely new lease of life.
"I'm not just enjoying playing, but being around the club as well – the atmosphere is great.
"My wife, April, has become the club doctor, she's enjoying that, and we have three young children who come to games with us, and we all love being at a place that's so family-orientated and has made us feel so at home."
"I came to Coventry because of the ambition of the club. When I met Rowland Winter, that was the first thing that was evident to me – the club were ambitious to get back into the Championship, and it's nice to be in that sort of environment.
"I had a lot of offers, from Premiership and other Championship clubs, but it was just the enthusiasm of Rowland and the way he spoke about the club and what they were doing, it was something I wanted to be around.
"The first time I met Rowland was at the services on a Monday, and I was signed by Tuesday –  that's how quick it was. I had a good chat with him over a couple of hours, batted it out overnight and then signed the contract and sent it back to him.
"The style of rugby we try to play is really good and so is the coaching. Nick Walshe has been at some very good clubs, he's coached at a good level and he understands the game very well.
"It would be easy just to play a really boring forward-orientated game, particularly at this time of year, but that's a bit one-dimensional and we are still trying to move the ball and score some tries out wide – we've got a great back line, so we've got to use what we've got.
"Everyone was disappointed with the Blackheath game, but it happened and that's the nature of sport and why we love it. The important thing was to focus on what we needed to do for the Esher game, and getting back on the horse and getting another win for ourselves which we did."
Nilsen, who has a degree in sports science, has taken the first steps towards a career outside rugby as a paramedic.
"I'm doing bits and bobs at the moment to get myself ready and help my CV, and pre-Christmas I qualified as a community first responder which is a volunteer post, going out into the community to help in an emergency.
"I have to really start when I finish playing because it's full-time back at university, but I don't know when that will be.
"I've played quite a lot of games at a high level for quite a few years, but my body feels good and having come to Coventry its put life back in me – I feel good at the moment, and everything's going well."
*Forwards Luke Narraway and Latu Makaafi, and backs Sam Tuitupou, Alex Grove, Rob Knox, Heath Stevens and Tony Fenner are the other players in the first year of two-year contracts.