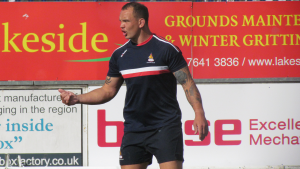 Coventry Rugby hooker Phil Nilsen is relishing the opportunity to face up against a Premiership outfit this weekend as Wasps come to Butts Park Arena.
After Wasps' geographical change from London, the Blue and White's new City rivals will face each other for the first time in pre-season with a view to more tests in future years to come.
The 33-year-old believes that Wasps' move to Coventry is a positive as it will give the side a chance to face up and test themselves against a top-level outfit.
"With Coventry we are back where we want to be, back in the Championship, obviously with Wasps being here it is a great chance for us to compete against a Premiership side," said Nilsen.
With ticket sales going well and many expected to attend the fixture, Nilsen insists that the side are treating the occasion as another game and are looking to come away with another win during pre-season.
He added: "I think on a whole the City will be looking at it and I think it will be a good game. Everyone is looking forward to it, obviously it's big for the City, everyone is looking forward to it.
"It's the last outing before the season starts so it is our last chance for the lads to put themselves on show to the coaches and put them up for that first game of the season."
Coventry Rugby have faced up against fierce rivals Birmingham Moseley and a young, hungry Leinster Development side so far in pre-season.
The Butts Park Arena outfit came away with two convincing wins, a 62-14 win over Moseley and a 43-21 win over Leinster at the weekend, and the side will be looking to add a third win with preparations steering heavily towards the Jersey match on Saturday 1 September.
Nilsen believes that the side have come on in leaps and bounds during pre-season and admits the squad are adapting to new training regimes and moves well ahead of their return to the Greene King IPA Championship.
He said: "It has been good, it has been a good pre-season so far. The boys have come back in good shape and have worked hard, and we are building up for the start of the season.
"We have already played a couple of games. We have done well so far but there are a couple of things that we need to work on and things that we are happy with, so I am looking forward to the game this weekend."
Following on from the victory at the weekend in Dublin, Nilsen believes that the weeks preparations for the Wasps fixture has been going well and that the squad have tightened up on their mistakes from last weekend's win.
"It has been going well, there were things from the weekends game that we have been working to put right, so we have looked at them on the video and reviewed them and we have worked hard to put them right so hopefully we can show that on the field this weekend."
https://www.youtube.com/watch?v=eR-nj5vRL5I&feature=youtu.be