SCRUM-HALF Pete White is back in Coventry Rugby's match day squad for tomorrow's trip to neighbours Birmingham Moseley.
Injured six games into the season, White returned to action with an A League outing for Sale Jets on Monday and is reintroduced on the replacements bench at Billesley Common ahead of Tom Kessell's return to Northampton Saints after his loan spell at Butts Park.
Tom Emery misses out to accomodate White as the only change from the 20-man squad selected for last week's postponed game at Darlington Mowden Park, although hooker Scott Tolmie and prop Phil Boulton come into the starting XV with Phil Nilsen and Jack Higgins moving to the bench.
The age-old adage is that the form book counts for nothing in derby games, but with Cov – emphatic 50-11 winners when the two sides met at Butts Park Arena on the second weekend of the season – sitting clear at the top of National League One and Moseley in mid-table, director of rugby Rowland Winter says the aim for his side must be to prove that wrong.
"The challenge for us is to make sure that form doesn't go out of the window," said Winter. "Our preparation this week has been brilliant, the boys feel fresh from a weekend's rest, and we'll be looking to start well on Saturday and continue what we've been doing.
"Our focus will be on that. It will be a tough game, I think Moseley are a much-improved outfit and at home they'll be that much more comfortable and confident.
"But our motivation levels are high and we're looking forward to ending the year with a win and enjoying Christmas."
Added Winter: "We're expecting a large and noisy turnout from our supporters, and the challenge for them is to turn it into as much of a home game as possible."
Kick-off is 3pm.
COVENTRY: 15 James Stokes, 14 Rob Knox, 13 Anthony Matoto, 12 Sam Tuitupou, 11 Max Trimble, 10 Will Maisey, 9 Tom Kessell, 1 Jimmy Litchfield, 2 Scott Tolmie, 3 Phil Boulton, 4 Nile Dacres, 5 George Oram, 6 Latu Makaafi, 7 Jack Preece, 8 Luke Narraway.
Replacements: 16 Phil Nilsen, 17 Jack Higgins, 18 Brett Daynes, 19 Pete White, 20 Tony Fenner. Reserves: 21 Nathanael Titchard-jones, 22 Olly Povoas, 23 Tom Emery, 24 Fraser Dingwall.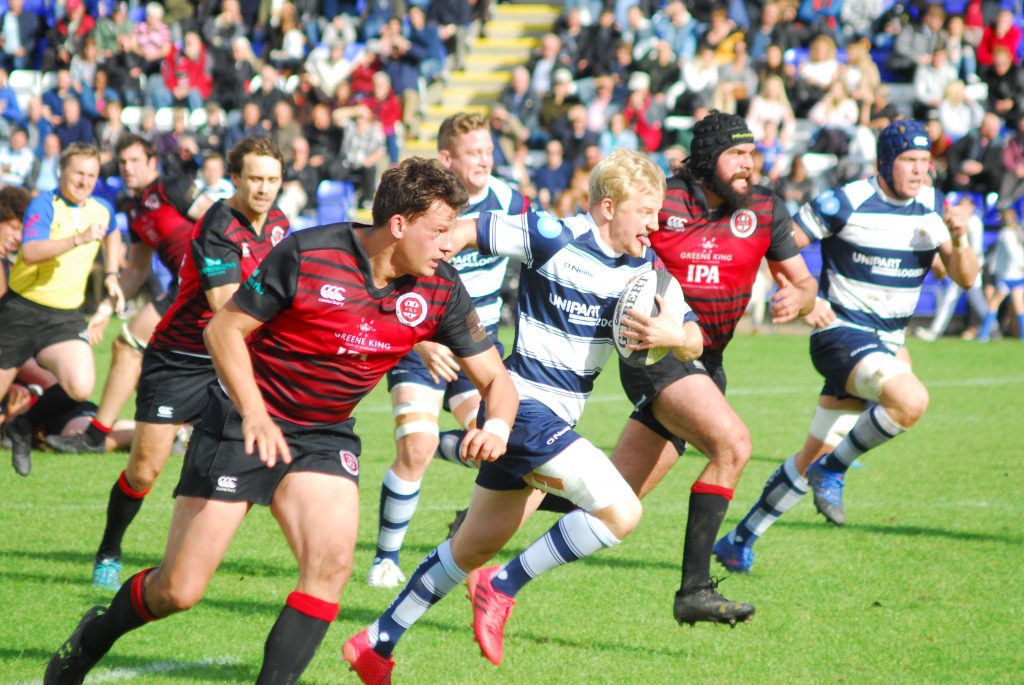 Pete White in earlier action against Moseley. Picture by Nick Meredith
Tom Little previews the rest of this weekend's National League One programme
Birmingham Moseley              v      Coventry Rugby
Bishop's Stortford                     v      Old Elthamians                                  kick off 14.00
Blackheath                                 v      Rosslyn Park
Darlington Mowden Park        v      Hull Ionians                                        kick off 14.00
Esher                                           v      Plymouth Albion
Fylde                                            v      Caldy
Loughborough Students           v      Cambridge
Old Albanian                               v      Ampthill & District
ROUND 16 sees the start of the second half of the season, although due to postponements six sides have yet to complete their 15 fixtures. This week there are as many local derbies as possible apart from Plymouth Albion's visit to Esher, whilst the shortest trip sees leaders Coventry Rugby travel to Birmingham Moseley.
Hoping for a Coventry slip up will be second-placed Darlington Mowden Park who are at home to relegation threatened Hull Ionians. The visitors are back in the third relegation place and can't fancy their chances at DMP, who are unbeaten at home. A substantial home victory is expected thus keeping them in touch with Coventry, but leaving Ionians still in the danger zone.
Plymouth Albion, in third place visit tenth-placed Esher who have only won five games this season and have been very inconsistent. They would need to raise their game to take anything out of this game. Another loss for Esher could be crucial as they are only five points above the relegation places, whilst Albion, who are 16 points behind the leaders, need to keep the pressure on the top two.
One place and one point behind Albion are Ampthill & District who travel to 15th-placed Old Albanian. With their dual registered players flitting in and out, consistency in performance is somewhat of a lottery for OA, so Ampthill should be clear favourites to gain a sizeable win.
Bishop's Stortford, in sixth place, have seventh-placed Old Elthamians as their visitors. OEs are now only three points behind their hosts with both sides having settled well into this league. An exciting and close game is expected with the home side looking for a win to take them above Blackheath in fifth place, whilst a win for OE could take them above BS.
Hoping for an OEs win will be Blackheath, who entertain Rosslyn Park. The home side had a poor result away to OEs last week whilst Park scrambled a win over Moseley after a good start. A close game could go either way, but the win is more crucial for Park if they wish to keep above the relegation zone as they are still only one point clear.
Loughborough Students, in 12th place, have ninth-placed Cambridge as their visitors. Both sides are still far too close to the relegation zone for comfort, although the Students are closer being four points above. Cambridge have picked up some key away wins this season so may be slight favourites for this one.
Bottom side Fylde are at home to near neighbours Caldy. Fylde suffered a surprise margin of loss at the Students but at home should be more confident. Caldy have proved to be doughty opponents and a close game is expected. Both need the points with Fylde now 10 points from safety and Caldy still only five points above the relegation zone. Caldy are probably slight favourites.