COVENTRY Rugby's Development Academy pathway opened up for emerging second row Cameron Gray last weekend when he was called into the senior side for his National League One debut.
The 20-year-old, who is in the second year of a sports management course at Coventry University, put in a solid shift alongside George Oram in what proved a very hard-earned  30-27 win over Bishop's Stortford and was delighted to have been given his opportunity.
"I really enjoyed the day," said Gray. "I'd had a couple of pre-season games with the boys so it wasn't a massive change, but it was nice to finally play in the league and get a debut under my belt.
"It was good to have the win as well, although it was a bit messy. I think we turned up thinking we could run over Bishop's Stortford and it wasn't that way at all, but it was a good challenge to start off with and I'm happy I got to be part of it.
"I was aiming to get a first-team game before Christmas, that was my first target having played pre-season, and I really pushed for a place.
"Rowland Winter has been very supportive and the whole coaching staff have been behind me, they've pushed me forward and I've learnt a lot from them."
Gray linked up with Cov a year ago, going out on loan to Broadstreet where he gained experience of National League rugby, and he went on to play for England Counties Under-20s on a two-match winning tour to Holland.
A full pre-season followed with the senior squad, and as well as playing for the Development side he has continued his learning curve as part of the Wasps A League squad.
"The Development Academy is really valuable to Cov," said Gray. "All the boys are close, we work hard together, and I think the second team games are really valuable. Playing together week in, week out we're really improving a lot and getting the game time is really helpful.
"Being with Wasps as well has also helped me a lot, especially the strength and conditioning work I do with them. I've been able to go in there three times a week, nice and early, to get my gym work done, and playing in the A League games as well is great. There is such a difference in the intensity and team skill levels, and I think that's really brought me on as well.
"I want to keep playing for them if I can. The gym is definitely an on-going thing and I'd like play as much A League as possible for the extra game time.
"Playing for England Counties was a nice experience. The two matches weren't too testing for us, but it's a good thing to play with other boys from around the country and I really enjoyed that."
Gray's brief for the remainder of the season is to continue developing his game, working on the areas where he feels he needs to improve, and taking the chances that come his way.
"I'm just going to follow George and Nile (Dacres) around, try to learn as much as I can from them and from our coach Louis Deacon, and get as much first-team game time as I can.
"Nile is a really good caller of the line-out, he's a very confident guy, and as I'm used to doing that in other teams I can definitely learn from him in that respect.
"I'm working as hard as I can on the physical side of my game, I think it's what I need to do. I want to be able to hit harder in the tackle, that's the biggest work-on for me at the moment – I did notice that Saturday was a bit of a step-up, and although it was a good start, I know I can do better than that.
"I've put on two to three kilograms since the start of pre-season. I lost a bit of fat at first and since then I've been putting on quite a bit of lean muscle and I'm happy with where I am at the moment."
Gray started playing rugby at Marlow when he was five-years-old and then moved to Maidenhead at the age of seven, going through the junior sides tgere and also playing at The Oratory School.
"I was a No.8 until Year 9 when I tried the second row and it worked out pretty well from there," he said. "I think playing in the back row is still an option, I've got the speed and the fitness for it if I'm needed to do that.
"I'm very happy here at Coventry and the feeling is very good in the squad. The whole squad has gelled together very well and it feels like one big happy family which is very nice."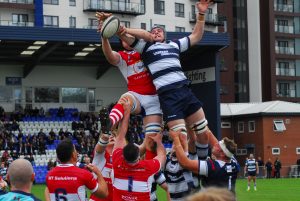 Cameron Gray contesting a line-out against Bishop's Stortford. Picture by Nick Meredith