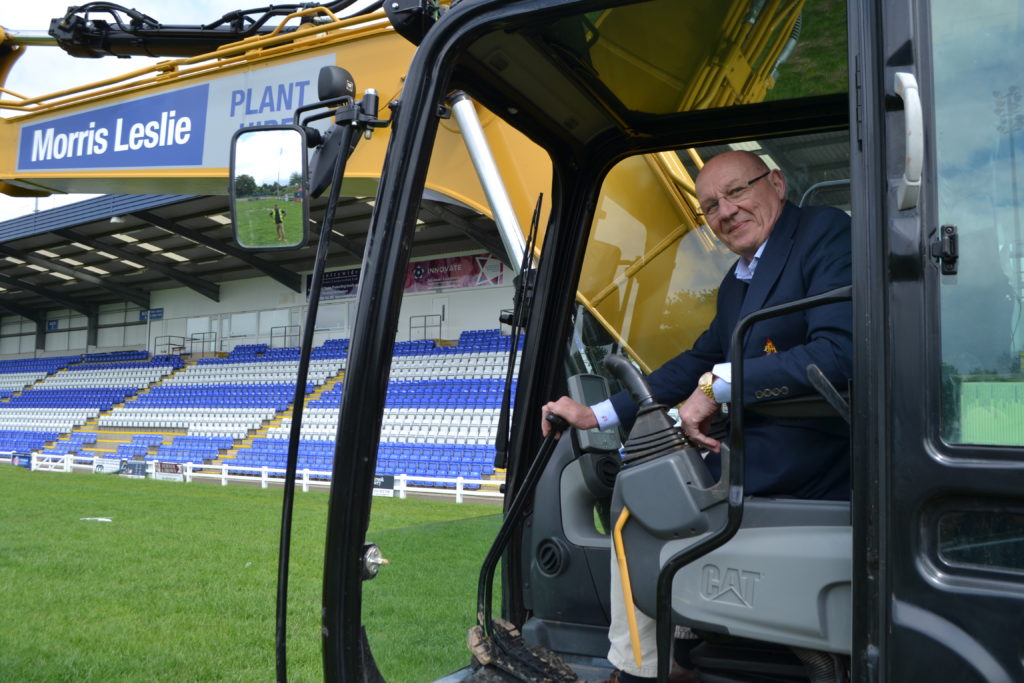 Work has now begun on a new artificial pitch to make Butts Park Arena a focal point for the Coventry sporting community.
With the 2019/20 rugby season beginning a few weeks later than normal due to the Rugby World Cup the Coventry Rugby management has been able to utilise the time to the full, undertaking extensive consultations to fully understand the requirements of multiple sports from across the city, and while the work is starting later than originally anticipated it should be completed well in time for the new campaign.
The new pitch, which is the same as was laid at Cardiff Arms Park in 2013, will mean that all of the Coventry Rugby teams will be able to train and play at Butts Park Arena, and that the stadium will become a city centre hub for schools, groups, organisations and clubs from across Coventry and Warwickshire to promote sport, health and wellbeing across the whole community.
Coventry Rugby Chairman Jon Sharp says that the installation of a new pitch is an outstanding opportunity for the club and city alike.
"We've been privileged to be the home for a number of teams across a range of sports for the last few years, but the wear and tear has started to take its toll and we have had to explore opportunities for the best option to meet the needs of both Coventry Rugby and the broader sporting community across the city," he said.
"The pitch will transform both the club and Butts Park Arena as a whole.
"I know our players and coaches are excited about having an outstanding surface which will suit the type of exciting and attacking rugby we want to play.
"Meanwhile we want to make sure that all our tenants have outstanding facilities, and that Butts Park Arena is available for as many sports clubs and schools as possible. We also wanted to make sure that we did what is right for us and for the city, and deliberately took our time to achieve that.
"It is a massively exciting project which represents the first phase of our ambition to develop Butts Park Arena into a true community stadium and I can't wait to see the pitch work progress over the next few weeks."
Director of Rugby Rowland Winter says that the new pitch will have a positive impact for all of the club's teams.
"The new pitch will give us a top quality playing surface and the ability to develop our style of play, and the players are excited by the prospect of playing a faster game," he said. "It also allows us to make Butts Park Arena a central training base, expanding our academy and development work and having all three of our teams play on the one site."
Coventry United has signed a new 10-year agreement to play their men's and women's games at Butts Park Arena, and Chairman Peter Reynolds has welcomed the news.
"All of us at Coventry United are delighted by today's announcement, which is another defining moment in the history of both clubs," he commented. "It's good to know that a rugby match in the rain prior to a United game will no longer be something to worry about!  We look forward to helping Coventry Rugby maximise pitch usage and believe that it will make United a more appealing team to sign for, play for and watch from the stands."
The new pitch is being installed by S&C Slatter, who have worked with clubs as prestigious as Everton FC and Queen's Park Rangers, along with Eton College and the University of Cambridge. For more information about their range of projects and services head to sandcslatter.com
2019/20 Season Tickets remain on general sale throughout the summer with standard prices frozen from last season! That means that adults can watch every scheduled home game from just £12.85 per game, while Cov Juniors members can see the whole season at Butts Park Arena for just £25! CLICK HERE for more details and book now by calling 02476 231001 or emailing jhill@coventryrugby.co.uk