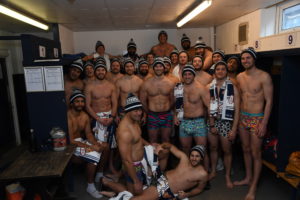 Coventry Rugby Club is proud to be partnering with OddBalls
We are delighted to announce that the club has partnered with OddBalls. The initial agreement is to launch Coventry Rugby Club branded underwear with boxers, briefs (men's and women's) and kids goolies in the coming months. We will be selling the ranges in the club shop on match day and OddBalls will also be selling stock online.
Partnering with OddBalls is a natural fit for Coventry Rugby Club and one we are confident our supporters will embrace. OddBalls is an iconic brand in the rugby world and we are delighted to be working with them.
Initially set up in 2014 by three sporting friends to raise money and awareness for Testicular Cancer, the brand has gone from strength to strength over the past 5 years. Due to the success of the OddBalls, The OddBalls Foundation (registered charity number 1164815) was formed in 2016 with the aim of raising awareness of Testicular Cancer. The Foundation bears no administration costs, all of these are covered by the business. The day to day running of the Foundation is done by OddBalls staff and volunteers across the UK. 
OddBalls has donated 100% of profits to The OddBalls Foundation over the last 3 years, with over £250,000 being raised. Every penny donated or raised for The OddBalls Foundation is used to raise awareness of Testicular Cancer.
Julian Osborne, Brand Manager for Oddballs said "We work with a number of professional rugby clubs and we are delighted that Coventry Rugby Club have joined the us. They are a club with a rich history and a passionate fan base. We can't wait to launch the first range of products and look forward to seeing what the fans think."
Look out for further announcements regarding availability in the coming weeks.