THE emergence of Development Academy prop Luc Jeannot is one of the success stories of the season for Coventry Rugby in a campaign that has hit the heights on several fronts.
Coming off the bench to make his debut at Fylde – who will be Cov's opponents at Butts Park Arena on Saturday – in October, the 21-year-old has now chalked up six senior appearances and firmly established himself in the first-team group.
Its more than Jeannot – born in South Africa of Swiss descent – had hoped for going into what is proving a real breakthrough season, and he couldn't be happier with the way things are going.
"Everything has been great so far and I think the club has been a perfect environment for me to grow in," said Jeannot.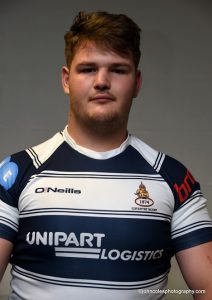 "I've got plenty of role models and people I can learn from – the likes of Phil Boulton and Phil Nilsen, and Louis Deacon as a coach – and the lads have been really accepting, as long as I've shown a willingness to work hard they've been dead keen to help out and help me improve.
"At the start of the season I was just hoping to work my way up and generally get some game time. I wasn't necessarily thinking I'd be playing that much, I was just really desperate to get a few games here and there, cut my teeth at this standard, and see whether I could cope with it.
"I had a few chats with Rowland (Winter) and he was willing to give me a shot off the bench. Fylde was maybe a little bit earlier than I expected, but I was buzzing for the chance to get a crack at it and more than ready and happy to take the chance.
"It's been great, to be honest, and I've been lucky really.
"Compared to the levels I was playing at before, it's a step up into the men's game and especially National One. The league is very physical, but with the help of the S&C team, in pre-season especially, I got myself physically strong enough so that I've been able to cope with it.
"It's a big physical step up, and the fitness and strength required is higher than anything I've experienced before, but I'm loving every minute of it.
"You can be 24 and still considered a young prop, so there's plenty of time for me to grow my game – and there's plenty of growing that needs to be done."
Born in Johannesburg, Jeannot came to the UK in 2000. "I was four or five, so I'm pretty much as English as they come – I was schooled and raised here," he said.
"I played my youth rugby at Old Albanian from the age of 11, and then I got picked up by Northampton Saints and I played for them from age 16 to 18 before I went to Cambridge for a year and then to university.
"I was injured and spent most of the season at Cambridge doing rehabilitation. I was out for ten months and really only came in for the last four or five games, in the twos, but it was great being in and around such a good squad.
"It was the year they went up to National One, and I think that helped me and gave me an idea of what sort of standard you need to be to play at that level.
"Rowland had heard of me through his role at Saints, he called me and said the best way to develop would be to have a crack at men's rugby, to come down and see how it developed at Cambridge even though I was injured. and since then I've had an ongoing relationship with him."
Jeannot, who has also been playing for Northampton's Wanderers in the Premiership A League, had moved to St Joseph's School in Ipswich for his sixth form studies, representing Eastern Counties under-20s a year early while there, and rates the school's prestigious annual festival as 'one of my personal rugby highlights.'
He is currently in the second year of an English literature degree course at University of Birmingham.
"That comes as a surprise to most people who think I'm joking when I tell them. It's a bit of a rogue degree for a rugby player, but it's what I enjoy," he said.
"I've definitely had to learn how to improve my time management skills to balance everything. I've had to learn to be really strict with myself, if I've got something to do I've got to do it within a certain set of hours.
"It's caused me to be much more personally aware and self-disciplined, so all in all it's been a positive."
Jeannot, who can play on both sides of the scrum, has a long-term desire to play professionally and sees Coventry as the ideal place to continue his development.
"I want to kick on now to the end of the season. The team's doing massively well, it's a great squad of boys, and I think everyone – myself included – just wants to keep on winning pushing forward towards the end goal.
"The last performance against Bishop's Stortford was quality away from home, we really put the demon to bed from Blackheath, and I think the lads have shown great character in the last two weeks with a great attitude.
"I'm dead keen to be on board next season. Cov as a club is a really special place.
"Not only have the senior players been great, we've got a good development group who are pushing hard, they're all good lads, and then the fans are quality as well.
"The amount of people who care about the club and are investing in your success is massive, and it puts a level of responsibility on the boys. We're aware that we've got 2,000 people coming down every game who really want us to do well, and that's something special.
"I think we're very, very lucky in that respect – we've got better fan support than, say, 90 per cent of the Championship. As a player you feel very fortunate to come off after a game and have so many people coming up to you, and I think that's been pivotal to the success this year.
"It galvanises the lads because we are all aware that we're part of a club with a top fan base and support.
"All in all it's been the perfect environment for me.
"Once I've finished university I'll be 22 and hopefully from there I can keep kicking on, take it as seriously as I can and perhaps forge a career out of it. My aspirations are to play full-time at the highest level possible."