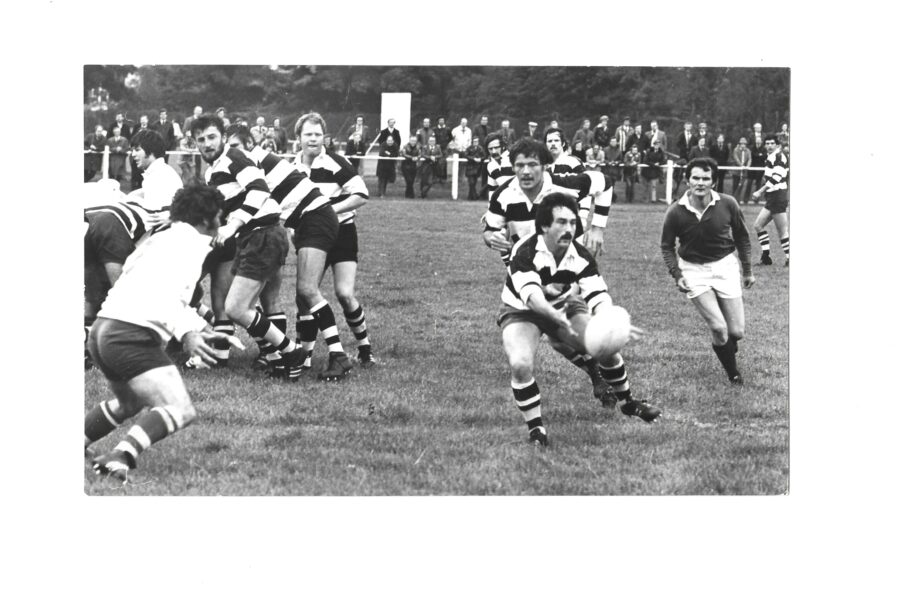 To mark Coventry Rugby's 150th anniversary year former Coventry Telegraph and Birmingham Mail rugby writer Paul Smith looks back on some of the club's most memorable matches with the help of those who were there.
The mini-series starts with the January 1984 John Player Cup win over Leicester Tigers which was also scrum half Paul Lander's 106th and final game for his hometown club.
Putting it in Context
League rugby was still three years away while the arrival of above-the-counter professionalism only happened in 1995. The ban on cigarette company advertising was also for the future and as a result the John Player Cup had been England's premier club competition for more than a decade.
After lifting the trophy at HQ in 1973 and 1974 Cov had plenty of cup heritage. However, it is fair to say that despite the presence of some fine players including England hooker Steve Brain and former international full back Peter Rossborough, the 1984 vintage were not operating at the same level as some of the club's great sides of the previous three decades.
By contrast, Leicester were widely heralded as England's leading club side. Their full line-up featured an almost all-international back line while veteran hooker Peter Wheeler and a young Dean Richards were current and future British & Irish Lions in their pack.
Ahead of the contest the Coventry Evening Telegraph's Steve 'Scribble' Evans made the height of the mountain facing the hosts abundantly clear.
"The immediate task facing Cov is a sizeable one," he wrote.
"Injuries have stripped them of virtually an entire three-quarter line so they face Leicester with easily the most inexperienced back division they have ever sent into cup action. Six of the players are making their John Player Cup debuts.
"Against them are the most successful cup fighters in England, a team containing four current internationals including the world record points scorer Dusty Hare. They have reached the final five times in the last six years winning the trophy on three occasions."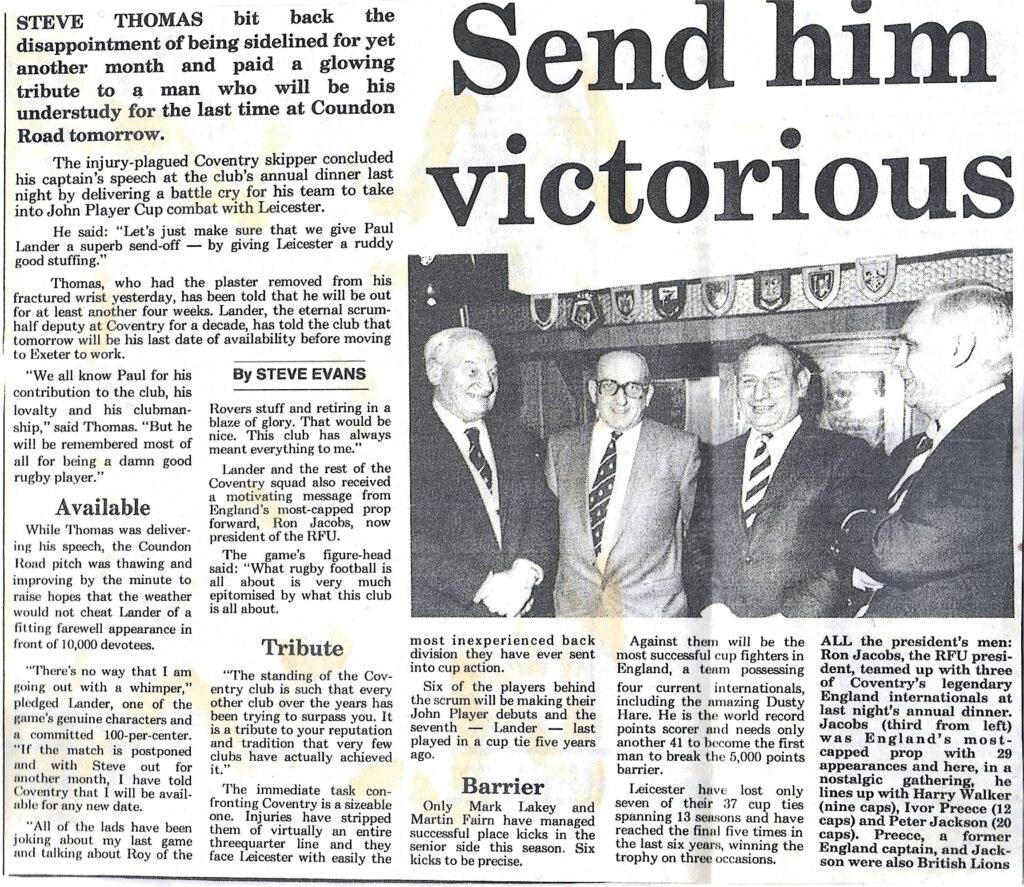 Cov's departing scrum half agreed that his club were far from red-hot favourites having lost four consecutive matches to Leicester since season 1978/79.
"Leicester had dominated the cup in recent years and with their array of internationals they were very much expected to beat us," Paul said.
"That said it was drawn round by round so you could pull out anyone in the style of the FA Cup and Coventry away was certainly not an easy draw for them.
"Les Cusworth, Nick Youngs and Paul Dodge were all injured but we were without scrum half and club captain Steve Thomas with a broken wrist while Peter Rossborough and Bob Massie both got injured the Saturday before the cup game.
"We were due to play Abertillery in midweek but a huge snowstorm arrived and it was called off. The same team was therefore named to play Leicester despite having lost 17-nil to Bristol the week before."
What Happened
Cov coach Jim Robinson sent his team on the field with instructions to deprive the visitors of possession and led by a stellar performance from their pack they complied perfectly with his request.
Dusty Hare kicked the Tigers into a three-point lead which Mark Lakey cancelled out shortly before half-time before the home side struck a vital blow through full back Huw Bevan.
According to Evans' Cov Tel match report: "The only try of the match was a score to savour. Lander broke from a ruck, linked with Martin Fairn and full back Bevan ignored a two-man overlap and drifted inside. The smile was on his face long before he grounded the ball."
With tries then worth four points this put Cov seven-three to the good before an amazing incident produced a match-defining moment.
Paul recalls: "Leicester made a break and Clive Woodward was going under the posts from distance.
"Eddie Saunders who was really quick was chasing but in all honesty he wasn't going to catch him. However, Woodward sensed Eddie was there, turned and looked over his shoulder then tried to change direction but because the pitch was so heavy he slipped over!"
Left-footed Fairn then slotted two ice-cool penalties from the right-hand touchline which extended Cov's lead to 13-3.
And although Hare responded with two further three-pointers, roared on by a partisan home crowd Cov's pack did the rest.
Evans' intro captured the occasion perfectly. "Led out on his farewell appearance by an artful dodger named Paul Lander, Coventry picked the pockets of the game's biggest aristocrats to earn a place in the fourth round of the John Player Cup."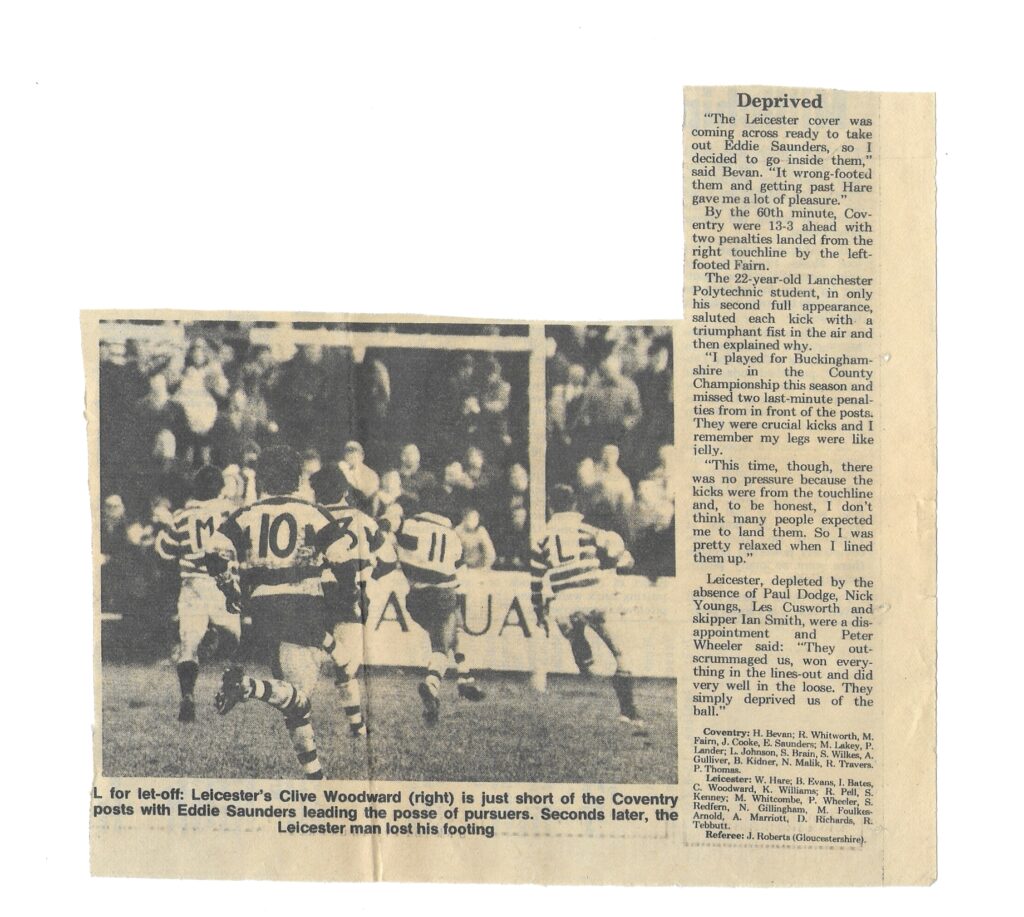 Stat Attack
Coventry: Bevan; Whitworth, Fairn, Cooke, Saunders; Lakey, Lander; Johnson, Brain, Wilkes; Gulliver, Kidner; Malik ©, Travers, Thomas.
Leicester: Hare; Evans, Bates, Woodward, Williams; Pell, Kenney; Whitcombe, Wheeler, Redfern; Gillingham, Foulkes-Arnold; Marriott, Richards, Tebbutt.
Referee: J.Roberts
Scorers:
Coventry:
Try: Bevan
Penalties: Lakey, Bevan (2)
Leicester:
Penalties: Hare (3)
Attendance: 6,000
Looking Back
"We had lots of snow and the whole ground was unplayable for a week or so before the Leicester game," Paul remembers.
"We had a club dinner on the Tuesday night beforehand and as we arrived you could feel the temperature lifting. People were popping outside during the meal to stick a finger in the pitch and report it was playable underneath the covering of snow. Once the melt happened Coundon Road was therefore very heavy.
"Being perfectly honest we weren't thrilled to draw Leicester so early in the cup; with where they were at the time compared to us it was hard not to fear getting a bit of a tonking.
"We had a very young side and we played without fear and with little respect for Leicester's reputation. Russ Whitworth was only 19 on the wing and the other backs were between 21 and 23 which meant I was the old man at 30! All of them played out of their skins that afternoon.
"It went so well for us on the day that despite having that bit of luck when Clive fell over we really did deserve to win.
"We spent the last ten minutes keeping the ball away from them which we did very well. With Brian Kidner in the middle of the lineout Leicester were starved of possession.
"Our back row Mal Malik, Dick Travers and Paul Thomas were just outstanding – in particular I remember how strong Dick was and 'Mad Dog' running everything down.
The Daily Telegraph concurred with Lander's assessment as did British Lions hooker Peter Wheeler who told them: "They out-scrummaged us, won everything in the lineout and did very well in the loose, They simply deprived us of any ball."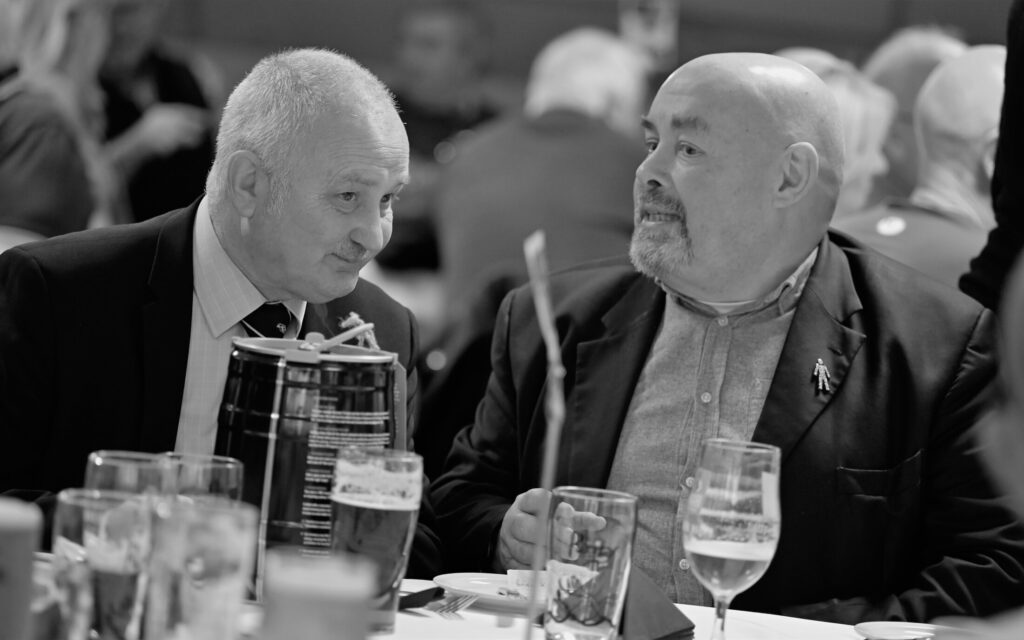 The Paul Lander Story
Coventry-born Paul Lander made his way to Coundon Road in the summer of 1975 via Binley Park School and Coventry Welsh.
After some rave reviews playing for the Burbages Lane outfit he had a few trial games at Rugby Lions while his future Cov rival no.9 Steve Thomas was away with England U19s.
In those pre-league days movement from the flourishing Warwickshire junior club scene to Nuneaton, Rugby, Birmingham, Solihull or top-of-the-tree Cov was relatively commonplace for aspirational talent.
Paul's Coventry Telegraph and 'Pink' coverage plus his appearances for the Lions and Warwickshire Colts caught Harry Walker's eye and when an invitation to move to Coundon Road arrived, 21-year-old Paul needed no second invitation.
"Coventry had Chris Gifford when I got there then Colin Grimshaw who was an Ireland international and Steve Thomas pretty quickly arrived and when Chris moved to Moseley the three of us were left to battle it out," he recalls.
Paul went on to make 106 Cov appearances before departing for a new job in the South West nearly nine years later with a lovely tribute from his last skipper Steve Thomas ringing in his ears.
Thomas told the assembled throng of snow-threatened diners at Coundon Road: "We all know Paul for his contribution to the club, his loyalty and his clubmanship, but he will be remembered most of all for being a damn good rugby player."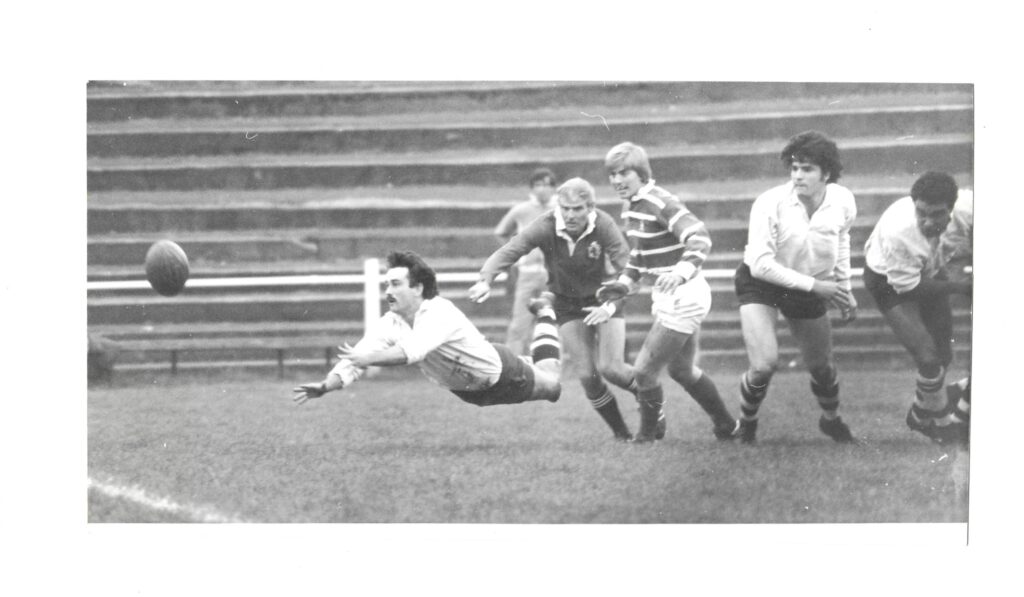 He subsequently enjoyed spells with Exeter and Bristol – for whom he played against Cov – after which he extended his playing days into the 21st century by turning out for 'vets' side Clifton Rats until finally calling time on his 50th birthday.
Paul who now lives in Weston Super Mare with wife Pat has two daughters and five grandchildren including a rugby-playing six-year-old.
Cov's former no.9 who worked in the laboratory sector as a sales rep prior to his retirement in 2018 enjoys staying in touch with the club remotely and at former players' lunches.
He recalls: "I got a new job in Devon and told the club a few weeks beforehand that if selected the Leicester game would be my last one. Thommo then broke his wrist so I knew I'd be playing.
"Beating Leicester in the cup was a fabulous finishing point for me – although there was no happy ending for the club as they lost to Harlequins in the quarter-final of a competition which was ultimately won by Bath.
"I have so many happy memories of my time at Coventry. I was really pleased when Harry invited me there as they were the only club I'd ever wanted to play for.
"I can honestly say I enjoyed every minute and wouldn't change a single thing. You have to play the cards you're dealt and I always say how lucky I was that mine were coloured blue and white."
150th Anniversary Launch Dinner
The 150th anniversary launch dinner featuring Coventry product and former England fly half Andy Goode as guest speaker takes place at the Butts Park Arena on Friday November 10th from 6pm.
Tickets priced are available from ttrinder@coventryrugby.co.uk
Coventry Rugby's 150 Club
The 150 Club is an elite season package, carefully curated to mark this historic event.
Membership gives priority access to the club's celebratory events, a selection of exclusive, limited edition Coventry Rugby memorabilia and the chance to become part of club history, with your name etched on our 150-year commemorative plaque.
The 150 Club package includes:
A Limited Edition 150th Year Anniversary Coventry Rugby Club Shirt
A 150th Year Limited Edition Coventry Rugby Sekonda Watch
150th Year Commemorative Coventry Rugby Badge
Bottle of Anniversary Coventry Rugby Gin
2 x Tickets to Coventry Rugby's End of Year Gala Dinner
Exclusive access to player Meet and Greet events
Your name engraved on Coventry Rugby Club's 150 Year Anniversary Plaque
Information is available from ttrinder@coventryrugby.co.uk
With thanks to John Butler for statistical information and to Paul Lander for archive materials.
Next Time: Back to the Future – Cov returned to the Butts in 2004/5 where Nottingham were the first visitors