by John Butler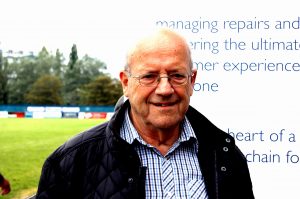 EIGHT solid months of National League rugby come to a conclusion on Saturday when Coventry make the short journey into Leicestershire for the derby against Loughborough Students.
After just evading the relegation places last season, the Students have enjoyed much more success this time round. They will no doubt not require a great deal of reminding of what happened at Butts Park on the opening day of the season, when they were hammered 54-14 by a rampant Cov.
Since then, they have enjoyed a fair degree of success, both home and away, but first, something of a reminder as to the background of Loughborough rugby.
It was in 1919 when the first student team was formed, the first UAU match being played in 1930/31.
Many notable players have cut their rugby teeth in the College ranks over the years, reading like something from 'who's who'. Former England captain and hooker Eric Evans was amongst the early ones, Jeff Butterfield from the same era, Ray Williams, subsequently to become honorary secretary of the Welsh RFU, Gerald Davies, Colin MacFadyean, Dave Rollitt, Bev Risman, Clive  Woodward  and Andy Robinson, to name just a few more; the list just goes on.
Sevens, as we all know, is now widely played in a big, professional way, but back in the 1950s/60s, it was Loughborough who made a big name for themselves, winning and being continually successful in the renowned Middlesex Sevens.
Loughborough's long serving director of rugby is Dave Morris, who first arrived as head coach some 12 years ago in 2005/06.
Cov's hosts on Saturday first joined the league system in 1996, becoming the first Students squad to reach the National Leagues in 2008/09.
This season, although conceding over 900 points Students are third behind Hartpury College and Coventry in terms of points scored, the figure being well over 850.
Their record after the visit to Fylde last Saturday read won 10, lost 18, with one match drawnm against Rosslyn Park. The defeat at Fylde saw the Lancashire club stave off any further fear of relegation, whilst Loughborough dropped a place in the tble below Esher
At home, Loughborough have won six times, against Hull Ionians, Macclesfield – by the extraordinary scoreline of 76-30, Fylde, Blaydon, Cambridge and Blackheath. Their top points scorer, but out of the side for several months, is still fly-half Josh Sharp on 160 points, whilst two other backs, Gair Currie and Viannis Loizias are top try scorers.
Coventry go into the game with an unblemished league record against the Students, the record books showing nine straight wins dating back to the first fixture in season 2012/13. They also travel to the University campus on the back of seven straight wins, whilst also seeking one more try to break the current club record set two seasons ago which the squad equalled in last week's win over Darlington Mowden Park.
Once again, the hard working Supporters Club is running a coach to the game, which in all possibility could mean Loughborough bettering their season's average home attendance of 262.
Kick-off on Saturday is 3pm.