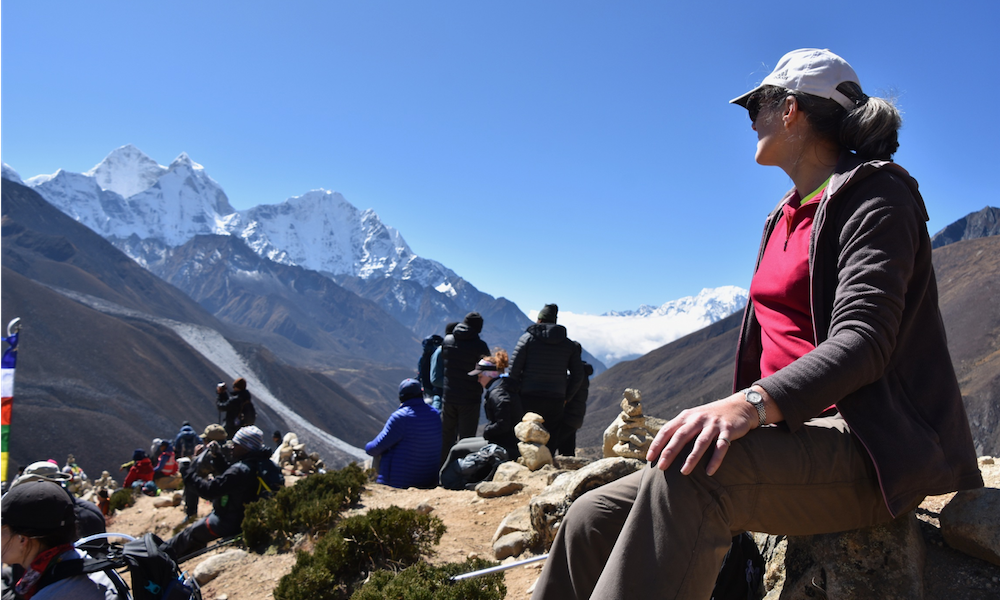 Emma Sharp, wife of Executive Chairman Jon, is asking for volunteers from across the area to join her and one of the country's leading expedition leaders on the adventure of a lifetime!
Emma is a Trustee of Circles Network, a charity which has its headquarters in Rugby but which operates across the UK, and to help raise awareness and funds for both this charity and the Coventry Rugby Foundation she is heading to Nepal to tackle the world-famous Annapurna Circuit.
This trek is one of the most remarkable in the world, taking in all terrains from open fields to dark forests, sun-soaked valleys to snow-covered passes, celebrating some of the most amazing things that Nepal has to offer.
Following two days in Kathmandu the trekkers will head to Jagat, where they will begin their 12-day journey, staying in lodges along the way. The trek will peak at 4,880m and will include an acclimatization day.
The expedition, which will run between October 1st and 16th 2022 costs £1,850, which includes hotel accommodation in Kathmandu, full board accommodation and three meals a day on the trek itself, all internal transfers, guides and porters, medical supplies and insurance for your helpers and guide.
Trekkers will ideally aim around £3,500 per person in personal sponsorship and fundraising, to cover both the costs of the expedition and donations to Circles Network and the Coventry Rugby Foundation.
The trek will be led by Mark Wood, who has travelled all over the world and operated within Nepal for the past 18 years, and whose favourite trek is the Annapurna Circuit.
Wood, who lives in Coventry, served in the British Army and then as a firefighter in the Fire and Rescue Service before going to train and lead teams for major polar and mountain expeditions, operating in areas such as the Arctic Circle, the Himalayas, Antarctica and Alaska.
Emma is also no stranger to Nepal, and trekked up to Everest Base Camp in November 2019 in aid of Mary Ann Evans Hospice.
If this is not enough to whet your appetite then you will be trekking to raise money for two fantastic local causes.
Circles Network is a UK-wide voluntary organisation renowned for building inclusive communities which support disabled and disadvantaged people of all ages in transformational and empowering ways to live fulfilling and inclusive lives.
There are four key areas of work – 1) providing professional, independent person-centred advocacy for young people and adults; 2) assisting people in the community to live rich and fulfilling lives; 3) an equine team which runs a range of small projects for children, young people and adults, enabling them to develop and grow through therapeutic and educational opportunities; and 4) an academy which offers open and authentic learning opportunities.
The Coventry Rugby Foundation has expanded its work rapidly over the last 18 months, using sport to inspire and engage the whole of the city's community through projects such as Wheelchair Rugby, Project:500 and All Kids Active.
CLICK HERE to download more information about the trek.
Email Emma via jonsandemmah@yahoo.com to sign up to join the trek!