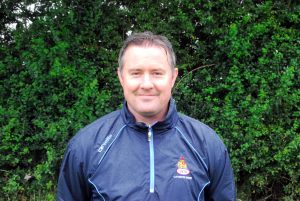 HEAD coach Nick Walshe believes the Coventry Rugby squad is in good shape going into the final phase of the club's pre-season programme.
After six hard weeks of intense training, the players have been enjoying a week off before returning tomorrow to prepare for their first competitive outing at Leicester Lions on Thursday as the build-up to the start of the National League One campaign at Hull Ionians on September 2 intensifies.
"I genuinely believe we are definitely where I want us to be and maybe a little bit further forward," said Walshe.
"The boys have trained really hard, their attitude has been fantastic, and I think we've made good strides.
"The players came back from their end-of-season break in good shape, which is excellent and does help because you can move forward quickly, and the new boys have all integrated well from day one.
"You don't want to get too over-confident at this stage and get ahead of yourself, but you can only go on what you've seen and how the boys have reacted and what they've done, so I'm very pleased."
Much of the emphasis in the opening weeks of training has been on fitness and conditioning, but Walshe was also keen to work on the rugby side of things from the off.
"From day one I've wanted to get all our structures and our calls in place, to learn and make sure we get something out of every session," he said.
"The boys are doing everything we want them to. We've been very strict on timings, if we say we're doing 40 minutes then we do 40 minutes because you've got to keep the sessions at a good intensity, and not let things drag on.
"We try to train as we want to play, with tempo, being physical, in people's faces."
After Leicester Lions this week, Cov go to Nuneaton the following Wednesday before stepping up a level with a visit to Jersey Reds on August 12.
"Going to Hull Ionians on the first day of the league season is a massive start for us, they played really well towards the end of last season, and we've got some great challenges in our pre-season games to get us ready," said Walshe.
"We start with a couple of midweekers which allow us to get some proper contact work in against good opposition, and then Jersey is a huge game against quality opposition a league above us – it's what we want, to see where we are and what we need to work on.
"Then we have a couple of potentially easier games against teams a bit below us, which again works well, but we'll not take anything for granted and will work extremely hard for them.
"After that we finish with Rotherham Titans at home, which will be another good test against higher opposition and a marker for us. It's not to compare and see if we are good enough for the Championship, but to see what progress we've made and what we really need to focus on going into Hull.
"It's a good set of games and we should be reasonably match-fit and hardened by the Hull game.
"What's really nice is that we've got good competition in all positions this year and selection will be tough.
"I could pick a team now, but would it be the same team in five weeks' time? Probably not, so I'm completely open about it and it's a clean slate. There are 20 spots to fill each week and we'll go on form – we have to because of the squad we've got."