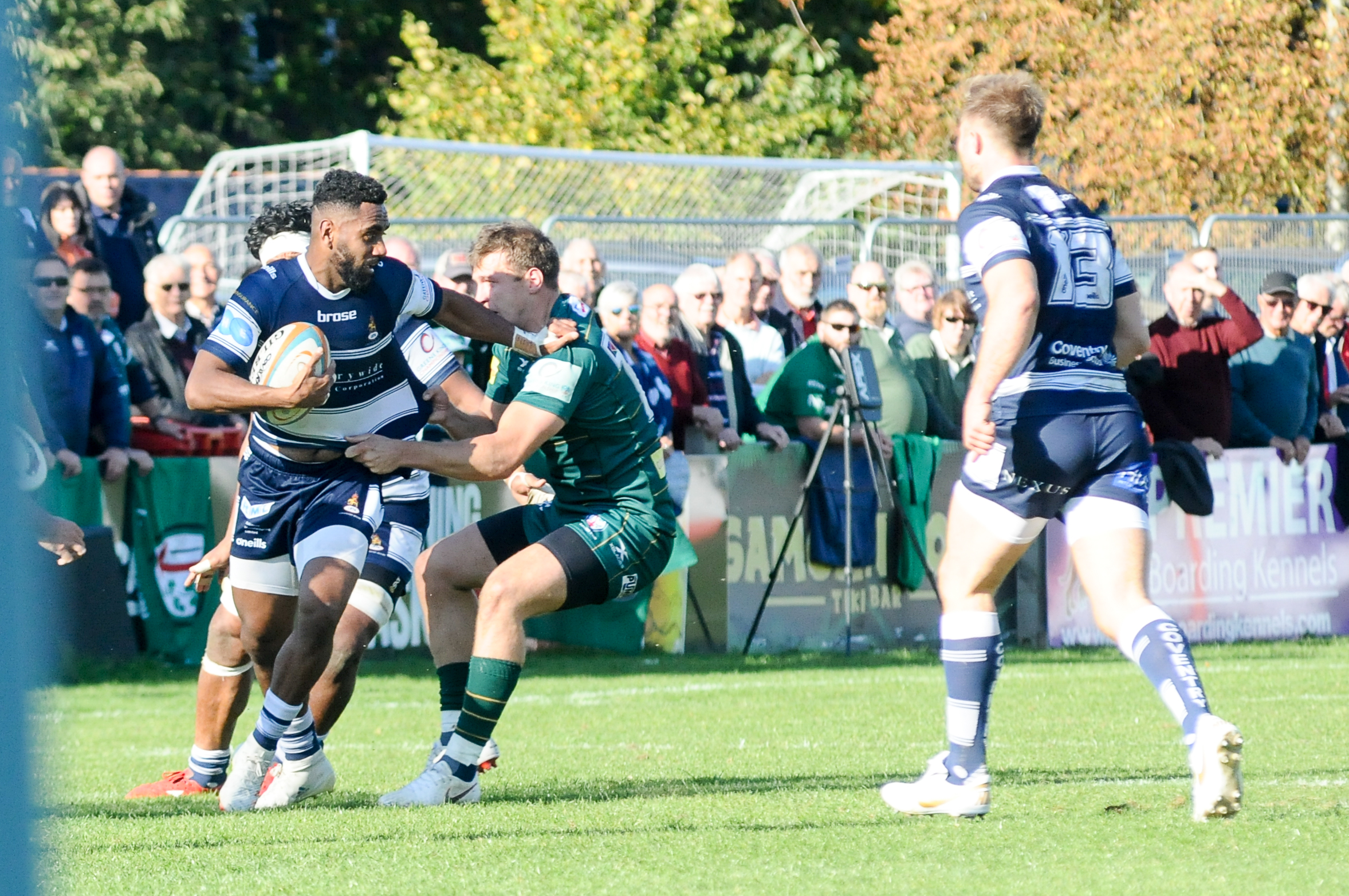 The current Coventry squad includes plenty of players whose careers have seen them feature prominently in either or both of the Premiership and the Championship.
One of these is Andy Bulumakau, who has already claimed two tries in his first four appearances in blue-and-white, and the former Doncaster Knight believes this experience is hugely beneficial as his new club finds its feet in English rugby's second tier.
"Six games in we're still learning as we have plenty of boys who haven't played in the Championship before," he says.
"But because we have so many players with top-level experience, I feel confident about the future. "The guys who have played a lot in the Premiership and Championship can help the rest of the squad, especially the younger boys coming through the ranks.
"Although we've lost the away games and to Irish at home, it feels like there's still plenty in the tank and it's a long season ahead. I still get nervous playing in the Championship, so I'm sure it's difficult for those who've come up from National One to take it all in.
"It's one of those situations you get in life where all you can do is work hard to adapt and eventually you get used to it. Obviously, getting your body right is part of it, but there's also more tactics to it and everyone will eventually get used to it.
"Doncaster took me in when I was leaving Gloucester's academy and looked after me for four years. They turned me into the player I now am and I will always be grateful to them for that. If I can help a younger player in the same way by sharing my experience I always will."
With his experience at Castle Park behind him, Bulumakau is well-placed to assess the process involved in becoming an established Championship club following promotion from English rugby's third tier. And he believes both on and off-the-field there are no shortcuts available.
"Doncaster finished in the top five consistently over my time there and they've done really well to maintain that," he said. "We have to build on what we already have to do something similar here at Coventry, and with the plans here for developing the stadium and pitch the club is very much going the right way.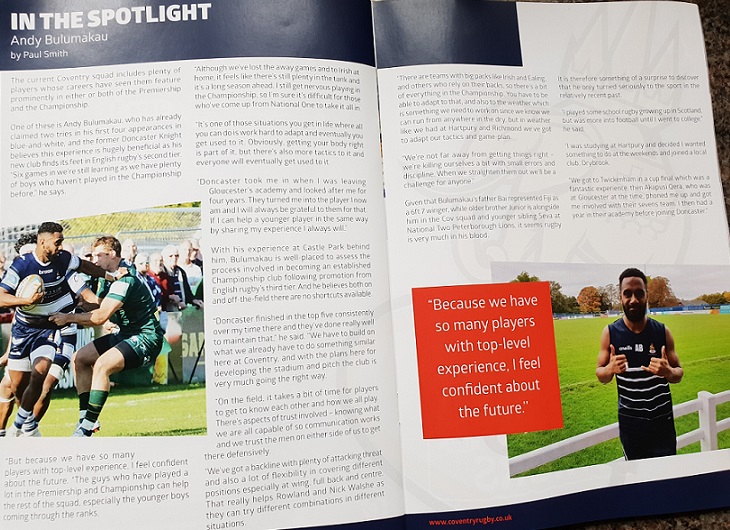 "On the field, it takes a bit of time for players to get to know each other and how we all play. There's aspects of trust involved – knowing what we are all capable of so communication works and we trust the men on either side of us to get there defensively.
"We've got a backline with plenty of attacking threat and also a lot of flexibility in covering different positions especially at wing, full back and centre. That really helps Rowland and Nick Walshe as they can try different combinations in different situations.
"There are teams with big packs like Irish and Ealing, and others who rely on their backs, so there's a bit of everything in the Championship. You have to be able to adapt to that, and also to the weather which is something we need to work on since we know we can run from anywhere in the dry, but in weather like we had at Hartpury and Richmond we've got to adapt our tactics and game-plan.
"We're not far away from getting things right – we're killing ourselves a bit with small errors and discipline. When we straighten them out we'll be a challenge for anyone."
Given that Bulumakau's father Bai represented Fiji as a 6ft 7 winger, while older brother Junior is alongside him in the Cov squad and younger sibling Seva at National Two Peterborough Lions, it seems rugby is very much in his blood.
It is therefore something of a surprise to discover that he only turned seriously to the sport in the relatively recent past.
"I played some school rugby growing up in Scotland, but was more into football until I went to college," he said.
"I was studying at Hartpury and decided I wanted something to do at the weekends and joined a local club, Drybrook.
"We got to Twickenham in a cup final which was a fantastic experience, then Akapusi Qera, who was at Gloucester at the time, phoned me up and got me involved with their sevens team. I then had a year in their academy before joining Doncaster."