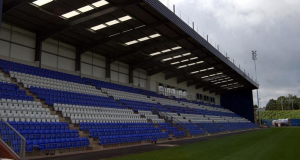 Coventry Rugby can today confirm the kick-off times and dates for all home matches during the 2018/19 Greene King IPA Championship season.
All league matches at Butts Park Arena, including Championship Cup matches, will be played on a Saturday with a 3pm kick-off time.
Our 2018/19 season fixtures are listed below with the correct times and dates available. The club are still awaiting times from clubs regarding away fixtures.
We thank you for your patience and hope this will be resolved soon.
Please note that these dates are subject to Sky Sports TV requests and notice will be give in due course if needed.
Kick-off 3:00pm | 1st Sep 2018 v Jersey Reds | Home
Kick-off 2:30pm | 9th Sep 2018 v Cornish Pirates | Away
Kick-off 3:00pm | 15th Sep 2018 v Bedford Blues | Home
22nd Sep 2018 v Hartpury | Away
Kick-off 3:00pm | 29th Sep 2018 v London Irish | Home
6th Oct 2018 v Richmond | Away
Kick-off 3:00pm | 13th Oct 2018 v London Scottish | Home
20th Oct 2018 v Ealing Trailfinders | Away
Kick-off 3:00pm | 27th Oct 2018 v Yorkshire Carnegie | Home
10th Nov 2018 v Doncaster Knights | Away*
Kick-off 3:00pm | 17th Nov 2018 v Yorkshire Carnegie | Home*
Kick-off 3:00pm | 24th Nov 2018 v Nottingham | Home*
1st Dec 2018 v Nottingham | Away*
Kick-off 3:00pm | 8th Dec 2018 v Doncaster Knights | Home*
15th Dec 2018 v Yorkshire Carnegie | Away*
29th Dec 2018 v Nottingham | Away
Kick-off 3:00pm | 12th Jan 2019 v Doncaster Knights | Home
Kick-off 3:00pm | 19th Jan 2019 v Cornish Pirates | Home
26th Jan 2019 v Bedford Blues | Away
2nd Feb 2019 | Championship Cup Quarter-Finals*
Kick-off 3:00pm | 9th Feb 2019 v Hartpury | Home
16th Feb 2019 v London Irish | Away
23rd Feb 2019 | Championship Cup Semi-Finals*
Kick-off 3:00pm | 2nd Mar 2019 v Richmond | Home
9th Mar 2019 v London Scottish | Away
Kick-off 3:00pm | 23rd Mar 2019 v Ealing Trailfinders | Home
30th Mar 2019 v Yorkshire Carnegie | Away
Kick-off 3:00pm | 13th Apr 2019 v Nottingham | Home
20th Apr 2019 v Doncaster Knights | Away
Kick-off 3:00pm | 27th Apr 2019 v Jersey Reds | Away
4th May 2019 | Championship Cup Final*