John Butler takes a look at Saturday's visitors, Old Albanian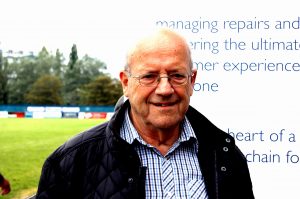 OLD Albanian, who are based at the Woollams Playing Fields in St Albans, are making just their fourth visit to Butts Park on Saturday.
The origins of the club can be traced back to 1924 when a group of pupils from St Albans School got together with the common desire to play the game of rugby. The earliest days saw rugby played at a ground called Beech Bottom which also hosted cricket and shooting.
Around 1970, in common with many other former Old Boys clubs, the club went open, fielding six sides. With Beech Bottom sold to developers, the club linked up with the school and moved to Cheapside Farm which was subsequently renamed Woollams in honour and memory of a school benefactor in the 19th century.
With the introduction of leagues back in 1987, OA were placed in London Division 2. A relegation came along the way, but largely the club moved upwards through the divisions until they reached National League One at the beginning of the 2012/13 season. That position was held for three seasons until relegation back to National 2 South in 2015, but OA bounced straight back the following season and won the South /North Division Two play-off pretty conclusively against Sedgley Park.
With highly experienced James Shanahan still pulling the important strings, both as director of rugby and as a player, this season has seen the OA hold their own well. They come here in ninth position.
Old Albanian's record shows six wins and seven defeats. They have won three times on their travels, at Blaydon, Cambridge and Esher. The home wins have been recorded over Rosslyn Park, Macclesfield and, last week, Fylde.
Fly-half Ben Palmer had a brief association with Cov, training with the club and subsequently playing at Broadstreet before experiencing rugby in New Zealand together with his brother Josh, who is a member of Cov's development squad. Ben currently heads his club's points scoring list with 71, while centre Chris May is on 53. Joint top try scorers are winger Nick Foster and scrum-half Morgan Thompson on four.
Of the six matches played between our clubs, each has recorded three wins.  Old Albanian won on their first visit here and recorded a double that season. When we last met two seasons ago, it was Cov's turn at gain a double, 37-16 at Butts Park Arena and 24-19 in Hertfordshire.
I can also recall some horrendous weather on our previous visit, a 25-13 defeat, with a gale-force wind, heavy rain, thunder and lightning which prompted the referee to take the very unusual step of bringing the players off on safety grounds until the storm relented somewhat. Local radio coverage that day not only involved Cov's game at St Albans, but also featured Nuneaton Town's football game  at Luton Tow. The message was clear down the line, ''the storm is going to hit you in a few minutes"…. and they were right!