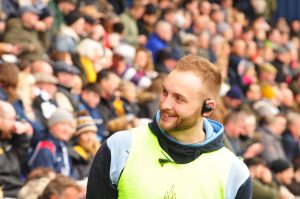 Following on from Coventry Rugby's successful title-winning season, the focus and shift in preparations points towards the GK IPA Championship for the 2018/19 season.
New signings, stadium plans, new staff, and new preparations for a campaign in the second tier of English rugby, one that both the club and fans have been longing for over previous seasons.
Head of Strength and Conditioning and Rehabilitation at the club, Max Hartman, gives his insight into his day-to-day business with the club and how he readies players for the physicality and mental toughness of the Championship.
Hartman took the first XV squad and the Development Academy players through their paces last week during the testing week, which provided a range of specific strength and endurance exercises.
"The week was all about testing different characteristics of fitness, strength and speed," Hartman explains.
"The guys came in and lifted very specific sets/reps on carefully picked exercises so that they can build a good idea of their upper and lower body strength, their explosive power, their cardiovascular fitness and flexibility.
"Gathering data like this ensures that we know exactly what each player needs to do over the next 12 months to make them the best rugby player possible.
"By identifying their strengths and weaknesses, and how we can work on those to best impact their performances on the pitch throughout the season."
With strength and conditioning and rugby sessions each week, the players go through individual routines to enhance their own strengths and improve on their weaknesses which improves their physical stature during the course of a season.
He said: "We know what characteristics theoretically make up a good rugby player, so all the programmes have a similar aim, but based on individual's height, weight, training experience, history of injury, and personal preferences are very individual.
"Every player needs and wants different approaches. Finding the ideal comes from combining as much scientific knowledge as possible with soft skills of knowing how to read players by having productive conversations with them."
Hartman explains how the club measure improvements made by players in the gym and what benefits this offers the team throughout a season.
He continued: "We've taken a different approach of testing to previous years, we only use a few key exercises that actually play quite a large part in the usual training programme throughout the season.
"By doing this we can regularly revisit tests without disrupting the training programme and keep updating our data to track progress.
"Aside from actually testing repeatedly, players have their own programme in a folder in the gym. Every session they record what they did, how much weight they lifted, how many reps, rest periods and so on.
"This programme changes every 6 weeks or so, continually challenging them in new ways. If they consistently improve across the whole 6 weeks, and string together 5, 6, or 7 blocks in a year, then we know they'd have made huge progress in that 12-month period. It's all about chipping away one day and one week at a time.
It's not all watt bikes and weights for Hartman at Coventry Rugby though, he also chips in helping on matchdays and throughout the week with preparations to matchdays at Butts Park Arena.
"As a Strength and Conditioning coach with a sports team you often end up somehow absorbing lots of smaller roles that people wouldn't expect.
"Matchday water boy is the first to spring to mind but there's things like helping Ron and Gully with the kit on a matchday, removals man taking gym kit from one place to another, interior designer of the new gym, timekeeper for Walshey and Deacs on training nights, running bibs around the pitch for teams in session, and generally helping out where you can to make sure the other guys can run their sessions as well as possible.
"The actual Strength and Conditioning role also comprises trying to give advice where you can not only on fitness and strength but sleep, recovery, stretching, what to do post-match on a Sunday, nutrition, hydration, stress management, anything and everything that could affect how the squad turn out on a Saturday."
With pre-season training at its birth for the 2018/19 season ahead of Coventry's return to the Championship, Hartman reveals the clubs' ethos and the attitude of the players has already been stimulating to work alongside.
"They are a pleasure to coach, we as a strength and conditioning staff have worked very hard to build up a good culture and attitude in the gym and on the pitch during fitness.
"With this considered they all take a good amount of responsibility in recording their weights, looking after their bodies, and staying in the best shape possible.
"It can be hard sometimes to keep on top of it when there is 20 or 25 of them in the gym at once but again, the attitude they bring means that they make it as easy as possible for me."