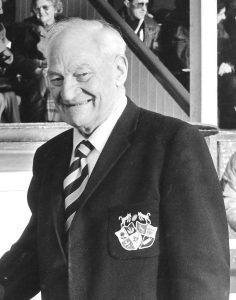 It is with deep sadness that Coventry Rugby reports the passing of club legend Harry Walker, aged 103.
Harry, who died peacefully in hospital last night, was England's oldest-surviving international and his name was synonymous with Coventry and Warwickshire rugby for his outstanding contribution to the game, both on and off the pitch, over many decades.
A product of the renowned Coventry state school system, Harry formed his own team, John Gulson Old Boys, when he finished school at 14 so he could continue playing the game he had grown to love.
He made his first appearance for Coventry at the age of 17, as a flanker in the second XV, and after two games there he was converted to prop. He broke into the first XV at the age of 18 and played there for some 20 years.
A machine tool fitter by trade, Harry's rugby career was interrupted by World War 2, but for which he would surely have won many more than the nine caps he did. He was the only ever-present for England in both the 1947 and 1948 Five Nations tournaments, with his other cap coming against Australia in 1948.
Harry played for the Midlands against the touring Kiwis (at Coundon Road), Wallabies (Villa Park) and Springboks (Highfield Road), made 30 county championship appearances for Warwickshire, and played for the Barbarians.
After retiring as a player at the age of 37 in 1952, Harry went on to fill just about every major role at the Coventry club up to president, and most recently was club patron. As match secretary for the County, he saw Warwickshire win four County Championship titles.
Harry attended as many home games as possible up to the end of last season, watching manly from the side opposite the main stand with members of his family, and continued to give the current crop of players the benefit of his strong and forthright views about the game in the bar afterwards.
The game is all the poorer for his loss, and the club extends its deepest sympathy to Harry's family and friends.