Statistically speaking, the seventh place Coventry occupied in the Greene King IPA Championship table as December became January represented the best opening stanza produced by a newly-promoted club in many years.
However, according to powerhouse second row George Oram, the playing squad's assessment of their own performances to date struggles to get much beyond 'could do better.'
"A lot of people who I speak to would have taken where we currently are in the table halfway through the season, but within the camp we are not satisfied with it," he says.
"We are well aware of the ability we have; when we do turn it on we're a much better side than the seventh-place we're sitting in at the moment suggests. Some of that is about the natural highs and lows of a season, but if we're completely honest with ourselves we have also let a couple of away games go by not playing well.
"Coming into the second half of the season, we are targeting getting it right more consistently so we push on up the table. But of course, ultimately it doesn't matter what we think or say, it's about how we perform on the pitch and that's up to us.
"The consistency we need to find as a squad is a collective thing, and the recent cup campaign has been really helpful.
"We said we were going to treat that six-week period as a mini pre-season, then went on to really work hard. If you revisit the two or three games immediately prior to the cup, you will see how much we have grown and improved.
"We look a totally different side now – we're more organised in attack and better defensively, we're getting off the line more, we're making better tackles and we're carrying more effectively. The secret ingredient in that growth is in the dirt; the fitness on a Monday and Tuesday where we're working much harder and layering effort on top of effort, to get results on a Saturday."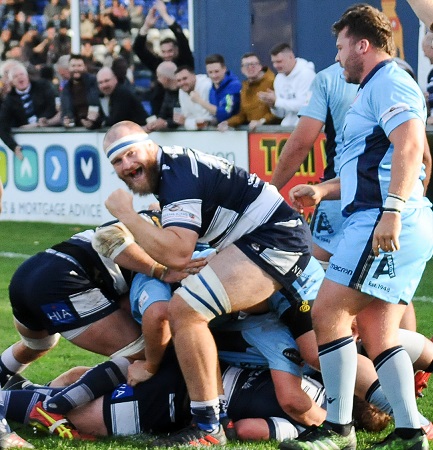 On a personal note, Oram's contributions this season have got better and better which he says is down to consistently having a pain-free back for the first time in a couple of years.
"After a slightly frustrating start to the season things are going really well for me at the moment," he acknowledges.
"I had four months out and completely missed pre-season with a back injury that had lingered through most of last season. After that, the big thing for me was to put myself back into contention to play again and I'm happy with how that has gone.
"There were quite a few times last year when I wasn't in the best place with my back, but I could play so I did. I then sat down in the summer with management and physios and we decided we needed to get it right rather than trying to manage through another season. Since then I have played around 12 games without a problem, so touch wood, it was the right decision."
The former Blackheath, Moseley and Rotherham lock forms part of a powerful 'back five' unit for Cov within which he believes individual players' varying strengths are used to optimum effect.
"What's great here is that the coaching staff have the philosophy that everyone should be doing what they're good at," Oram says.
"For me that's getting my hands on the ball and carrying in tight spaces into brick walls. That has been a real focus for me this season and I tend to find when it goes well everything else in my game slots into place.
"I've developed more understanding about my own game and what I offer the team. As you mature I think you worry less and narrow in on what you're good at – as my Grandad always said to me: 'dance with the girl that got you to the prom' and for me in a rugby context that is ball-carrying."