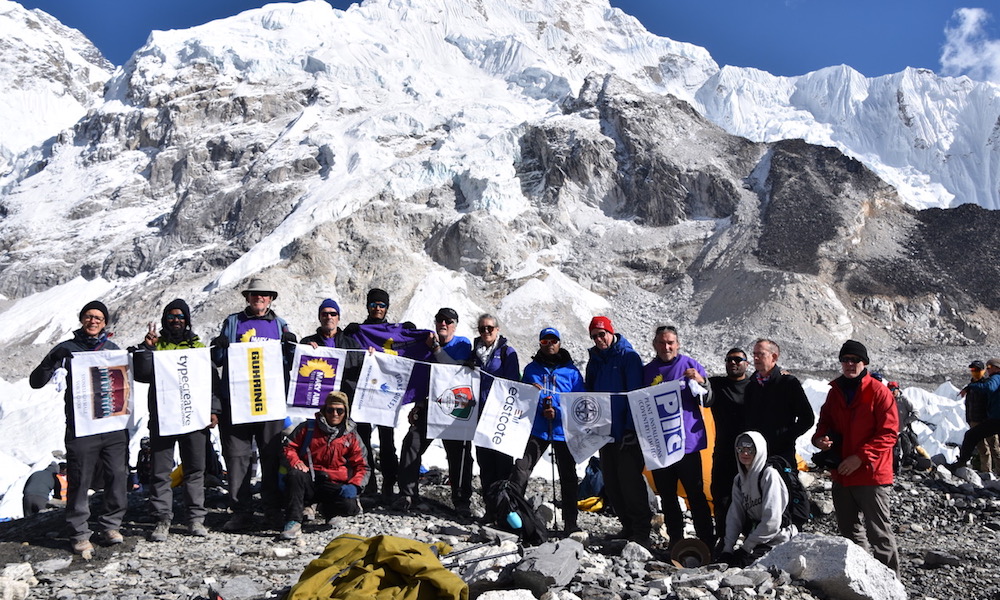 Coventry Rugby is being represented at Everest Base Camp thanks to Emma Sharp, who recently trekked to the legendary location to raise funds for charity.
Emma, the wife of Coventry Rugby's Executive Chairman Jon, was part of a group of 20 who undertook the challenge to support Mary Ann Evans Hospice in Nuneaton, which provides hospice care free of charge to people living in north Warwickshire.
Coventry Rugby supporter John Barrett organised the trek and fundraising, and Emma took a special bespoke prayer flag with the Coventry Rugby crest to Base Camp with her.
There was plenty of ambition among the group to help the hospice's work, especially the new Rapid Response team which provides new care in the patient's own homes in their last hours, and Emma made sure she prepared as well as she could under the watchful eye of Coventry Rugby's Head of Strength and Conditioning Chris Hart.
"I run with the Earlsdon Running Club, so have a basic level of fitness, but to help me on my way I signed on for some strength and conditioning coaching with Chris at Coventry Rugby," Emma says. "And it worked! Despite being weary each day, I woke to fresh legs every morning, so a massive 'thank you' to Chris!
"Reaching Everest Base Camp has been a long-held ambition, and to take on the challenge with one of my daughters made it extra special. We were also raising funds for the Mary Ann Evans Hospice in Nuneaton, my home town, so everything fell into place neatly.
"The Himalayas are truly magnificent mountains and every day the views more than compensated for the physical and mental challenges the trek posed. In our group 18 of the 20 made base camp and we have raised in excess of £50,000 so far for the Hospice.
"A lifetime of memories were made, one of which was watching England beat Australia in the World Cup in a cafe in Namche Bazaar – high up in the Himalayan mountains…unforgettable."
Emma's fundraising continues with a special Ladies Lunch before Coventry Rugby's home game against Ampthill on Saturday, November 30th. The special £45 per person package – proceeds of which will support the Hospice – includes a glass of bubbly on arrival, a two-course meal, insight into the action from Coventry Rugby players, private cash bar before the game, match programme and seats in the XL Motors Stand.
To book contact Liz Martin via emartin@coventryrugby.co.uk