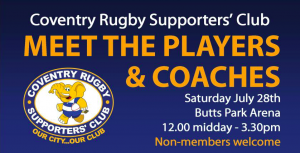 Coventry Rugby will host a family fun day and meet the players event at Butts Park Arena on Saturday with the gates opening at 11:30am.
This event will be run by Coventry Rugby Supporters' Club and is an open invitation to all, giving the opportunity to meet the playing squad, coaching and management staff for the 2018/2019 season.
This will begin from 12 midday and will come to its conclusion at 3:30pm, there will also be a bbq, bar, raffle, ice cream van and competitions as well as being able to watch a live session, meet the players and getting yourselves involved in the fun.
The day is to make the event a supporters based family fun day, with active participation for all ages in selected training drills, ensuring the safety of those participating. Alternatively if muscling down with the forwards isn't for you, you can just watch.
You will also be able to view the new home and away playing kit for the 2018/19 Greene King IPA Championship season in the Jon Sharp Suite later in the day.
---
Meet the Players 28/07/18 – Provisional Timings
11.30am         –    Gates Open
11.45am         –    CRSC Stand & Bar Open
11.55am         –    Official Welcome & Announcements of What's On
12.00pm     –     Kit launch 2018/19
12.05pm        –     Open training session # 1 from Coventry Rugby Club players – Forwards & Backs split into two groups, with dedicated training drills
12.15pm         –     BBQ Open
12.30pm        –     Open training session # 2 from Coventry Rugby players – Forwards & Backs come together in a game
13.00pm        –   Coaches Corner:- Open Q&A session for supporters with coaches regarding tactics, strategies &                       coaching techniques – if it is raining this will be held indoors in the Jon Sharp Suite (formerly known as the Arena Bar)1
13.30pm       –    Selected Training Drills & Demonstrations (Supporter Participation with the Players is    welcomed, alternatively, you can just watch).
Drills will be the following:-
Lineout:- lifting, catching, put in
Kicking:- punt, goal, drop, grubber, box
Gladiator Gauntlet / Contact skills:
Mini Coaching / Didi Rugby :- for children (Community Rugby)
13.35pm       –   Players available at the BBQ
14.25pm       –   Training Drills for supporters Closes
14.30pm       –   Cross Bar Challenge for Supporters
14.35pm       –   Invitation for all those attending to talk with the players & coaching  staff in an open and relaxed environment
14.45pm       –   BBQ closed
15.30pm       –   Close