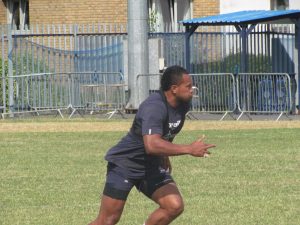 One of Coventry Rugby's newest additions, Jack Ram, will be representing Tonga at the Sevens Rugby World Cup in San Francisco later today.
Ram and Tonga will face a stern test in the Pre-Round of 16 against Kenya who are currently ranked ninth in the world but if they claim a win, Scotland will await in the Round of 16.
Whilst Ram is in San Francisco, Coventry and Tonga teammate David Halaifonua prepares for life in the GK IPA Championship and the versatile wing believes his fellow countryman will turn a few heads during the tournament.
"I think Jack will go really well in this tournament, he's a tough player and I wish him luck. Tonga always prepare well with the squad and I think they will do really well at this year's Sevens Rugby World Cup," said Halaifonua.
"The squad will have trained hard and made sure they get the basics right, so it will depend upon what Kenya side turn up first and then if they move on Scotland will be a tough test.
"They are prepared physically for the individual battles so that will put them in a good position on the field. I think they will go well."
The 30-year-old has revealed what Coventry Rugby's new addition Ram is like to be around and reveals what the red jersey of Tonga means to him.
He said: "He's a funny boy, he's always a good laugh and great to be around, he works hard and plays good rugby. I am looking forward to playing with him here at Coventry and in front of the crowd at Butts Park Arena.
"I am always over the moon when I pull on that Tongan Jersey, it's a great honour to represent my country. The World Cup is always a special occasion and I'm sure Jack will embrace it the same way I do, he's a top professional.
With pre-season well underway at Butts Park Arena, Halaifonua revealed why Coventry Rugby was the best choice for the Tongan powerhouse and his family.
He added: "I am settling in really well, I knew a few of the lads already so that helps. It's different from Gloucester but I am really enjoying pre-season and meeting the new squad.
"Everything is close to my home here in Coventry, so it has been an easy transition for my family and me.
"I knew Nick Walshe from Gloucester, the coaches are friendly and these first few weeks have been great, they are putting us through our paces in training which has also been good.
"It was a hard decision for me and my family, but I joined Coventry because I wanted to test myself at a new level and my family wanted to stay in the UK. I want to try and pursue more game time and I wanted to enjoy my rugby again.