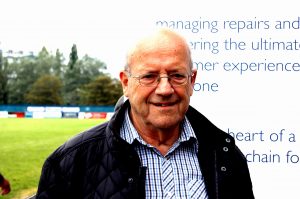 John Butler looks ahead to Saturday's visit of neighbours Moseley
COVENTRY and Moseley members and supporters have waited seven seasons for our two clubs to meet back on Coventry soil, and with Christmas just around the corner, what memories of Boxing Day past Saturday's game will evoke.
Moseley were founded just a year before Cov in 1873, and derby fixtures certainly go back to the old Midland Counties Cup days of the late 19th century. It is pretty safe to say that since the meetings became a regular feature, the seven-year gap before we met in September at Billesley Common was the longest on record.
In terms of league meetings, Saturday will be the 29th, plus the two Championship play-off games. Such has been the closeness overall, the tally stands at 14 wins each with the two play-offs also ending a win apiece. This  includes the 19-14 defeat Cov suffered back in September.
Coventry's biggest winning margin over Moseley in a league game is the 54-7 success here in 1999/2000, while for Moseley over Coventry, that actually was the 2009/10 play-off at Billesley Common, 37-5.
Many long-standing supporters of both clubs will have their own memories and here a few from your writer's own memory bank.
The most recent: The league meeting at Butts Park in season 2009/10 and the three penalty tries awarded to Moseley by referee Luke Pearce, now officiating in the Premiership. We believe a certain Terry Sigley might still have a smile on his face when he recalls this!
Boxing Day meetings: The first derby to actually take place on December 26 was in season 1959/60, although meetings around Christmas time had not been uncommon.
September 1960: Midland broadcaster Ted Taylor had predicted a Moseley win, and if not, he would shave off his handlebar moustache. Cov won 42-0 and Messrs Judd, McLean et al were seen shaving half of it off on the pitch!
Boxing Day 1969: With Cov leading 13-8 at The Reddings, one moment all was fine, the next you could not see in front of you due to the dense fog. Finding one's car was a challenge!
Early 70s: With the likes of Duckham, Evans, Rossborough, Preece and Gittings  on one side and Doble, Fielding, Finlan, Webster and Horton in opposition. So many internationals on one field of play in a club game.
Around that time and onwards, Boxing Day crowds were regularly between 5 and 6,000 until the advent of league rugby made it increasingly difficult for the festive match to take place.
Many will have their own memories. Hopefully the present and future will evoke just a few more!
The Moseley club was renamed Birmingham Moseley during the summer, following their relegation from the Championship.
They currently lie second in National League One with 12 wins. Under director of rugby Kevin Maggs, who has been with the club for some six years, they have won five times on their travels, at Fylde on the opening day, Hull Ionians, Rosslyn Park, Darlington Mowden Park and Macclesfield. Their three defeats have all come on their travels at Ampthill, Plymouth Albion and at runaway leaders Hartpury College. Last week thy retained their unbeaten home record with victory over Esher.
Not uncommon over the years has been the movement of players between our clubs. Scott Tolmie, our hooker, made the journey during the last close season, whilst conversely Jacques Le Roux and Sam Pailor went in the other direction, the last named not having been in the match squad recently. In addition, dual registered hooker Jake Farnworth made 13 appearances for Cov over the past two seasons.