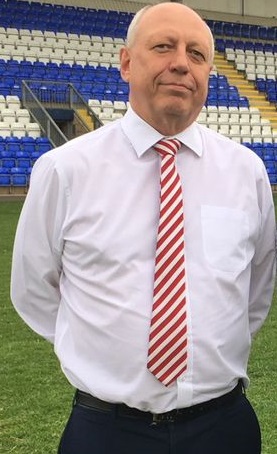 Coventry Rugby are pleased to announce the appointment of Pete Brown as Managing Director.
Pete has been a volunteer helper to the club on the commercial front for several years in his spare time and following his recent retirement has agreed to take on the demanding job of MD on a full-time basis.
He worked at Jaguar Land Rover for 40 years, starting at Browns Lane in 1978., and is well qualified for his new role, having worked for many years in finance roles.
This culminated in being Finance Director for Jaguar Belgium between 1996 and 1999, FD then brand General Manager in Germany until 2009.
After returning to the UK, Pete was then responsible for Jaguar's European Marketing until January 2011, after which he held a number of senior operations roles prior to his retirement in July.
His playing career in Coventry started at Lanchester Polytechnic and then Coventrians RFC, where he was variously first XV captain, club captain and president. He also enjoyed a short spell at Kenilworth.
Pete is a Yorkshireman, born in Huddersfield, who now lives in Leamington Spa. He has been married to Jacqui, an Irish lady, for 34 years and has three grown-up children aged 28, 22 and 19.
Chairman Jon Sharp welcomed his new MD, who he has asked to focus attention on developing the match-day experience at the Butts Park Arena.
"It's great for us to have Pete on board," he said. "This appointment represents another important step for Coventry Rugby.
"I have specifically asked him to focus his early efforts on improving the match day experience, where despite recent efforts we still underachieve.
"As a starting point, we have created a website form seeking recommendations or where our supporters new and old can just have a grumble.
"Our objective is to listen hard then respond directly in an ordered fashion to what fans have to say.
"We really hope this can become a valuable tool which creates constructive dialogue and allows us to improve how we do things."
Contact us by following the link below:
www.coventryrugby.co.uk/contact-us