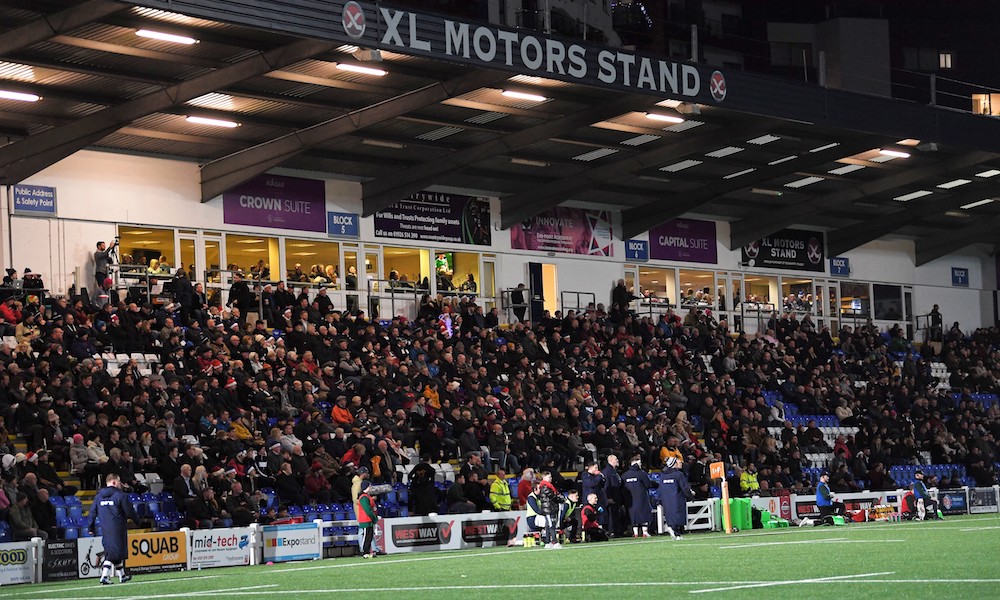 Coventry Rugby's home crowds are sizably up year-on-year from 2018/19 into 2019/20.
So far there may have only been seven home matches played to date, and with the two biggest crowds against Newcastle and Ealing still to come. Nevertheless average attendances are well ahead from last season, with the Greene King IPA Championship numbers up by 10 percent and those in the Championship Cup up by 11 percent.
Championship crowds are now averaging at 2,544 (4 games played to date), compared to last year's 2,307 (11 games), while the Cup has seen the average go from 1,873 to 2,080 for the three pool games. The Greene King IPA Championship clash against Nottingham also saw Butts Park have the largest crowd (3,117) since Coventry was promoted back to the second tier 18 months ago.
Hospitality has also been a big draw, with the new Band Hatton Button Marquee receiving rave reviews. All rooms were full to capacity for the pre-Christmas game against Nottingham, with the marquee also full for multiple matches during the autumn. Already the Cornish Pirates match this Saturday is fully booked for hospitality, as is the home game against Newcastle in March.
With the Coventry Rugby team well in the mix at the top end of the table and the club benefitting from the introduction of a new online ticket booking system from Future Ticketing, Managing Director Nick Johnston says that this aspect of the season has been very pleasing.
"The staff has been putting in a massive amount of hard work over the last nine months to improve our match day and it is really pleasing to see this start to bear fruit going into the second half of the season," he commented.
"It does help that the team is playing entertaining rugby and getting positive results at home, but then we have to turn that into attracting bigger crowds with a mixture of outreach, engagement and making sure we have the tools to sell tickets and hospitality.
"The community staff are delivering to more clubs and schools with coaching sessions, Rugby and Reading and the assembly programme. Meanwhile the improved hospitality is resulting in repeat bookings, and the online ticketing means that supporters can order well in advance and then download their tickets to their smartphones to go directly to the turnstiles.
"We're always looking for continual improvement across all areas of the business, but the last few home games shows that we're on the right track."
To book hospitality contact Dyan Hewett via dhewett@coventryrugby.co.uk