TEN out of ten for Coventry, and a ten-point lead at the top of National League One!
It was by no means Cov's best performance of the season, but while it was a win – making 18 in a row to equal the club's league-record unbeaten run of three seasons ago – achieved with a mix of outstanding tries and a high error count, it was target achieved as other teams at the top of the table stuttered again.
It was always going to be a test for Cov with new combinations at half-back and centre and a number of players making their way back from injury, and credit to Caldy who provided a good challenge up front and asked questions.
Cov saw little of the ball in the opening five minutes and, conceding two early penalties, went behind when Louis McGowan, who had two playing spells at Cov, crashed over after a break by another Cov old boy, James Otutaha.
Gavin Roberts added a well-struck conversion, but Cov were soon level when Scott Tolmie finished off from 20 metres after breaks by Tom Kessell and James Stokes, Will Maisey converting
Three minutes later Cov moved the ball crossfield at pace and Anthony Matoto applied a clinical finish in the right corner for a 12-7 lead.
Caldy were finding the pace of Cov's game difficult to contain, but the handling errors were creeping in and it took a piece of individual brilliance from Max Trimble to get the scoreboard moving again on 25 minutes, the winger collecting a clearance kick inside his own half and accelerating his way through and round a helpless defence to go over with Maisey converting.
And the bonus-point fourth try followed six minutes later when, after losing and regaining possession, Cov again moved the ball from deep inside their own half and Matoto's surge down the right flank was carried on by Tony Fenner for another outstanding score, again converted by Maisey to make it 26-7 at the break.
Cov might have been expected to kick on from that position of strength, but they just didn't click for the next half hour to the frustration of another healthy Butts Park crowd.
Instead, the third-quarter was largely Caldy's. Roberts pulled back an early converted try and as Cov continued to struggle for any real rhythm, it was clear that the visitors were growing in the belief that they could take something from the game.
Cov's defence, however, held up well when tested and the home forwards continued to disrupt Caldy's line-up to good effect, a feature throughout the game.
The momentum tipped back with 15 minutes to go when Trimble was judged to have lost the ball going over the line with a couple of Caldy defenders on his back, following a Phil Nilsen steal, and Cov struck twice in quick succession in the final few minutes to add a gloss to the scoreline.
With the scrum now on top, two close-in drives were rewarded when Maisey fired out a long pass to the right and Ben Palmer flipped a lovely inside pass to Matoto for the winger's second try, topped up by an excellent Maisey conversion.
And Stokes applied the seal three minutes later, going over wide out on the left after a break by Nathanael Titchard-jones who was named man-of-the-match by game sponsors GET Solutions.
Coventry: tries Matoto 2 (14, 76), Tolmie (11), Trimble (25), Fenner (31), Stokes (79); conversions: Maisey 4 (11, 26, 32, 77). Caldy: tries McGowan (5), Roberts (47); conversions Roberts 2.
Coventry: Stokes; Matoto, Knox, Fenner (Dingwall 51), Trimble (Palmer 71); Maisey, Kessell; Litchfield (Boulton 48, Litchfield 72), Tolmie (Nilsen 48), Boulton (Titchard-jones 33), Dacres, Gray, Makaafi (Tolmie 60), Povoas (Daynes h-t), Narraway.
Caldy: Roberts; Royle, Otutaha (Banks 79), J Jones, Banks (Isaac 74); Hayes, B Jones; Parker (Whittaker 40), Stagg, Salisbury (Parker 65), McGowan (Cross 33), Gray, Crowe, Davidson, Collister (McGowan 74).
Referee: Veryan Boscawen.
Attendance: 1,587.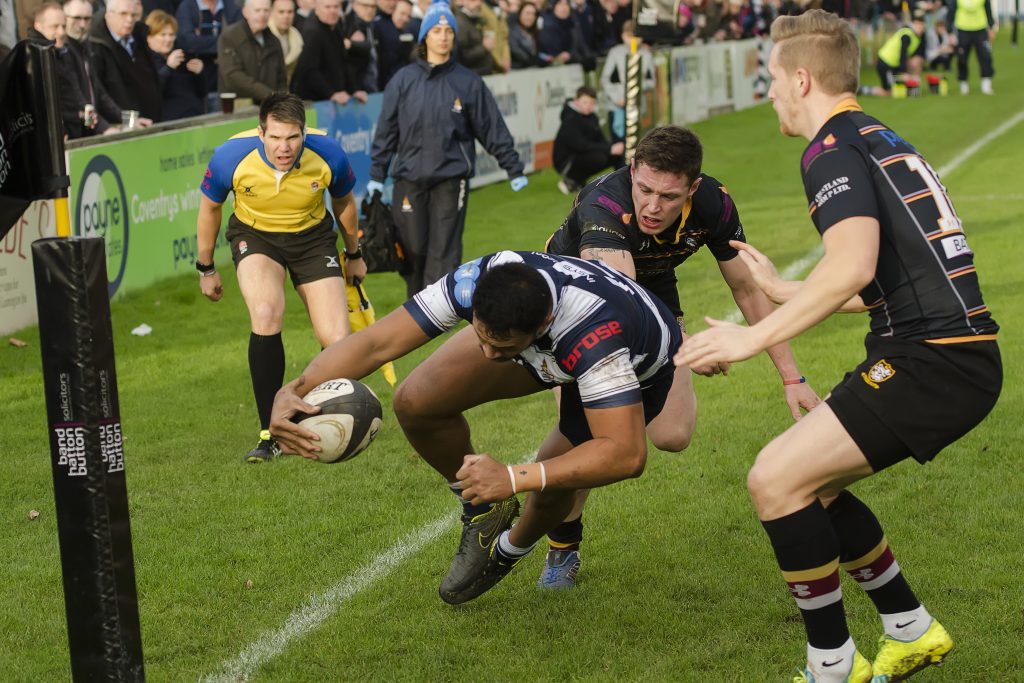 Anthny Matoto applies a slick finish for Cov's second try.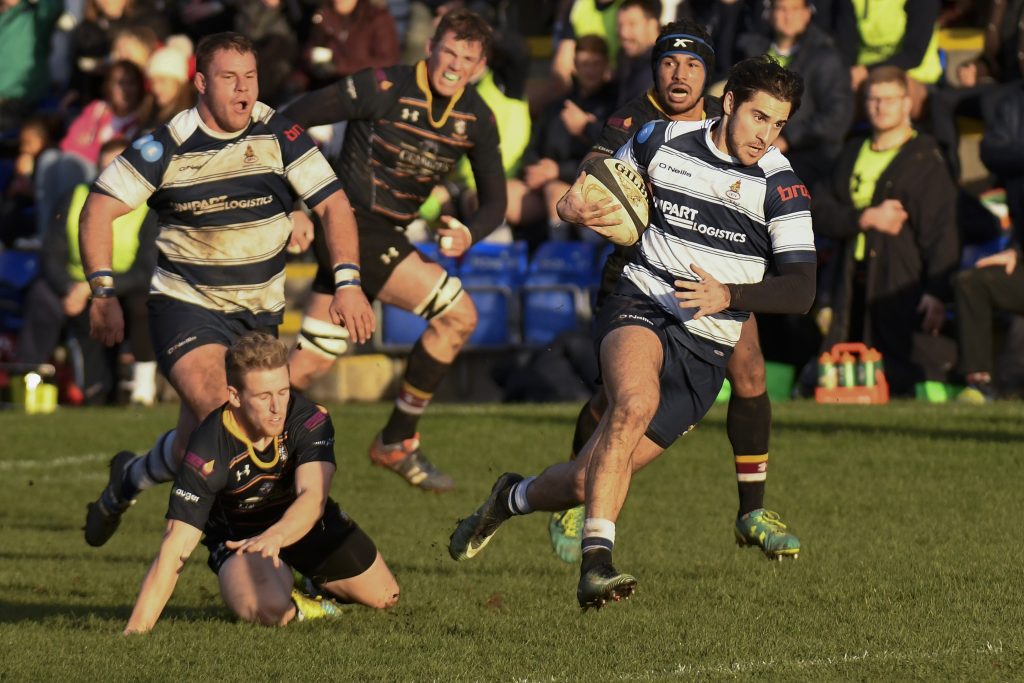 Max Trimble goes through, urged n by Scott Tolmie
Pictures by rjc-photography