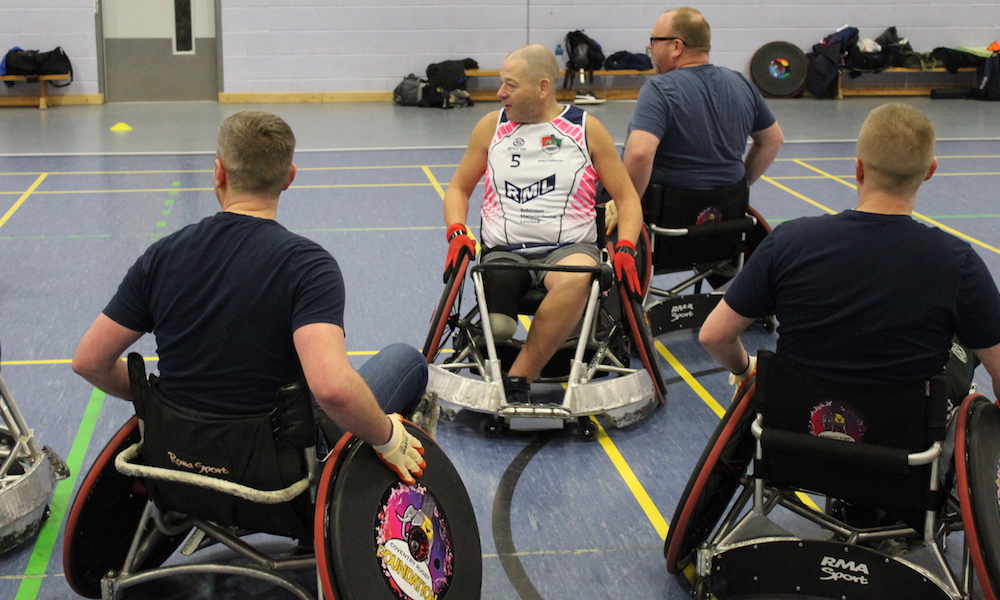 Coventry Wheelchair Rugby has been one of the club's most eye-catching developments over the past 12 months, and it is going from strength-to-strength with the help of corporate support from Robinson Manufacturing Ltd.
Robinson Manufacturing Ltd (RML) is a long-standing partner of Coventry Rugby, with the company logo on the playing shorts as well as other branding around Butts Park Arena.
In 2019 the company extended its partnership to become the main shirt partner of the Coventry Wheelchair Rugby team, which made its competitive debut in the GB Wheelchair Rugby 5s series last spring.
Under the guidance of Mandip Sehmi, who represented Team GB at the 2008 Paralympic Games and multiple IWRF European Championships, Coventry Wheelchair Rugby – which is one of the key projects of the Coventry Rugby Foundation – improved steadily during the season, winning its final tournament.
RML Chief Executive Simon Kidney has followed the team's development with interest and says that he has been delighted with what he has seen.
"Rugby clubs are more and more diverse, so the more people we can touch across the club's spectrum the better," he said. "Wheelchair Rugby is harder than rugby! The upper body strength the players have is amazing and the brutality of it is outrageous. It's great fun and the guys from the Wheelchair Rugby club were awesome with us. It's also been fantastic to see the team grow and get better through the year."
Some of RML's management team had a taste of the addictive nature of Wheelchair Rugby in person last Saturday with some time in the chairs at Coventry's Xcel Leisure Centre, and Kidney added that it was a memorable experience.
"We try and do as many diverse things as we can with the senior management team," he said. "What's also nice is that the leadership team brought their children along with them and they were interacting with the players and having a go in the chairs as well."
Coventry Rugby Foundation Manager Hal Sparke says that having support from companies such as RML is essential to supplement that which comes from charitable foundations.
"It's absolutely vital for us because it means that we're engaging with a lot more than just other foundations," he commented. "To have corporate sponsors enables us to both increase our network as well as the financing to bring in people like Manni and realising our potential as a team."
For his part Sehmi says that it has been a fantastic journey to be a part of over the last year.
"The first season has been really good," he said. "We started in December 2018 with sessions to try and get people in and around Coventry moving. There wasn't a sporting opportunity for these guys that they felt comfortable with, which is why we put a team together. Our first season saw us play against teams with more experience, but we've developed a lot and are looking forward to the future."
To find out more about Coventry Wheelchair Rugby contact Hal Sparke via community@coventryrugby.co.uk
To find out more about Robinson Manufacturing Ltd visit rmuk.co.uk