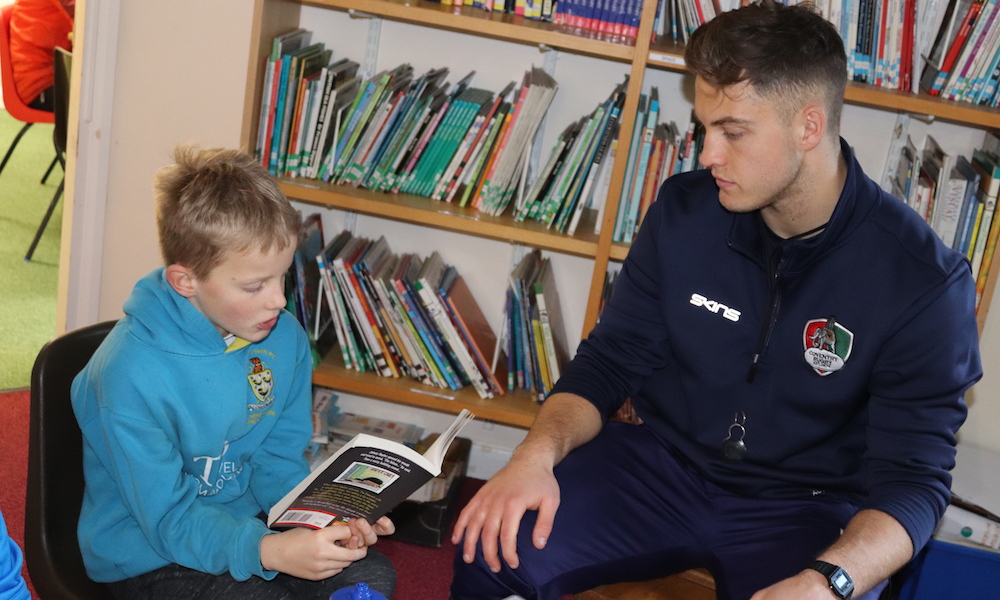 Coventry Rugby and Charter Savings Bank are heading into the second year of what both parties are calling an enjoyable, proactive and rewarding partnership.
Charter Savings Bank, a multi award-winning bank based in the West Midlands, is proud to offer a modern approach to saving. And they have brought that attitude to the partnership with Coventry Rugby, which has helped the club dramatically expand its work within schools in both Coventry and the surrounding area.
In the last 12 months the club has worked in 22 schools, moving from delivering 80 to now over 105 hours per week through their network of community coaches and first team players.
Rugby and Reading leads the way, with practical sessions to get youngsters active followed by one-on-one reading sessions with the player. Unlike some of the programmes from Premiership rugby clubs, Rugby and Reading is delivered throughout the academic year, enabling extended relationships to be built up between the players and coaches and the schools in which they are working.
Rugby in Schools utilises recreational periods of the day in schools to engage the children physically and keep them active at all opportunities. Through a mixture of PE lessons, lunchtime and after-school clubs, Coventry Rugby helps to bring children together through sport and provide insights and resources to the teachers.
Coventry Rugby Foundation Manager Hal Sparke says that this expansion would not have been as rapid without the support of Charter Savings Bank.
"Charter Savings Bank has been a fantastic sponsor to work with over the last year," he said. "They have really bought into what we're trying to achieve, and as well as getting behind Rugby and Reading and Rugby in Schools they have also given youngsters the opportunity to experience a match day at Butts Park Arena for the first time.
"It has also been brilliant to see the relationship they have built with Dan Lewis, and we can only see this going from strength to strength as we expand our work even further over the next year."
Even in lockdown Charter Savings Bank has been highlighting the value of combining sport with reading, with Coventry Rugby fly half Dan Lewis showing some rugby skills that can be practised at home.
Paul Whitlock, Group Managing Director, Savings, said: "We're delighted to continue our support for Coventry Rugby as title partners of their important community initiatives.
"Working together, we see first-hand how our Rugby and Reading and Rugby in Schools initiatives create fantastic experiences for young people in Coventry and across the Midlands.
"While we look forward to the time when Coventry supporters can return to Butts Park to cheer the team on, we'll ensure we're ready to assist with the community initiatives when the schools are ready."
To find out more about either of these programmes and get your school signed up email community@coventryrugby.co.uk
To find out more about Charter Savings Bank head to www.chartersavingsbank.co.uk