by John Butler
HAIL the champions!
Coventry Rugby, proudly top of National League One where they have been for so long in this magnificent season, cannot now be caught and how they deserve it.
A nine-try to two mauling of Caldy on a first-ever visit to Paton Field could scarcely have been more emphatic. The large visiting support, who have followed the squad so faithfully around the country, were elated come the final whistle and they had every reason to be.
None more so than Club chairman Jon Sharp, lifted high on the shoulders of the players following the final whistle. What an afternoon!
The arctic conditions relented just a little by kick-off time, indeed a large part of the match was played in bright sunshine, admittedly with a very cold wind blowing pretty well straight down the pitch.
It was Cov who had first use of the elements, but even in a season which has seen so many highs, surely few of the travelling fans would have believed beforehand that their favourites would build a 43-0 lead by half time in such important circumstances. It was, though, as emphatic as that.
Caldy, in their first season in the division, although being one or two regulars short had their moments, but on at least three occasions when they did get close to the Coventry line, fine defence kept them at bay. The hosts also didn't help their cause by also falling foul several times of referee Jamie Leahy's whistle.
Cov for the most part from very early on were clinical and rampant. 14 points to the good inside the first ten minutes set the tone and settled nerves, both on and off the pitch.
Hooker Scott Tolmie was the first on the scoresheet inside two minutes, Max Trimble flying over not long afterwards, with Will Maisey landing the extras.
With Cov looking sharp and incisive, Tolmie claimed his second of the afternoon and 14th of the season, the wind this time just defeating the Maisey conversion attempt.
What a platform at 19-0, and more was soon to follow with the forwards well in control, supplying some excellent possession to enable further positions to be built.
Tom Jubb was the next to benefit, as the Caldy defence opened up again, Will Masiey adding the extra two points, and at 26-0 and the bonus point secured, the Cov faithful could now breath a lot more easily.
With Coventry now fully displaying to their hosts just why they have been leading the division for so long and by such a margin, three more tries were to come before the break, a staggering seven in the half as a whole.
Centre Alex Grove dotted down the fourth and two more followed from James Stokes, taking his personal tally for the season to 19, and then flanker Jack Preece. Maisey converted Grove's try, Cov returning to the warmth of the dressing rooms to tumultuous applause from their supporters with a 43-0 lead.
Caldy, to give them the credit they certainly earned, whilst clearly daunted by what had happened in the opening half came back out clearly with the intention of displaying what they could do.
They were to be rewarded with two second-half tries. The first when fly-half Rhys Hayes flew over after combining well with his side's top try scorer Nick Royle on the right. Ben Jones's attempt at a conversion from touch failed, but the hosts were on the scorecard.
With Caldy attempting to come again, Cov broke away with finally Brett Daynes being driven over and Maisey's conversion bringing up the half century of points.
Rob Knox, who had featured strongly several times during Cov's emphatic performance, finally climbed on to the score sheet himself with try number nine, taking the side's overall try tally for the season to a staggering 163. The difficult wind made the Maisey conversion from wide out difficult, the elements just winning; at this stage though it mattered little with a 55-5 scoreline.
Caldy, battling to the end, had the final say. Fittingly one feels, it was top try scorer Royle who added to his tally for the season, finishing off a slick move and Jones converting with the final kick of the contest.
The celebrations could begin. Cov had clinched the title with five matches still to play. A truly outstanding effort, with the final challenge surely being to attempt to remain unbeaten for the rest of this record-breaking season.
Next up, a visit to Plymouth Albion next Saturday, themselves unbeaten at home and challengers for honours themselves earlier in the season.
What a day for everyone involved with Coventry Rugby!
Caldy: tries Hayes (52), Royle (79); conversion Jones (80). Coventry: tries Tolmie 2 (5, 20), Trimble (8), Jubb (28), Grove (33), Stokes (36), Preece (39), Daynes 64), Knox (72); conversions Maisey 5 (6, 9, 29, 34, 65).
Caldy: Roberts; Royle, Banks (Dixon 54), J Jones, Hibberd; Hayes, B Jones; Parker (Concu 29), Stagg, Salisbury (Parker 64), Collister (Tisdale 40), Gray, Hearn (Cross 13), Otutaha, Crowe.
Coventry: Stokes; Knox, Stevens (Fenner 52), Grove, Trimble; Maisey, White (Brazier 46); Brown (Boulton 59), Tolmie (Priestley 68), Boulton (Litchfield 29), Jubb, Oram, Daynes, Preece (Dacres 64), Narraway.
Referee: Jamie Leahy.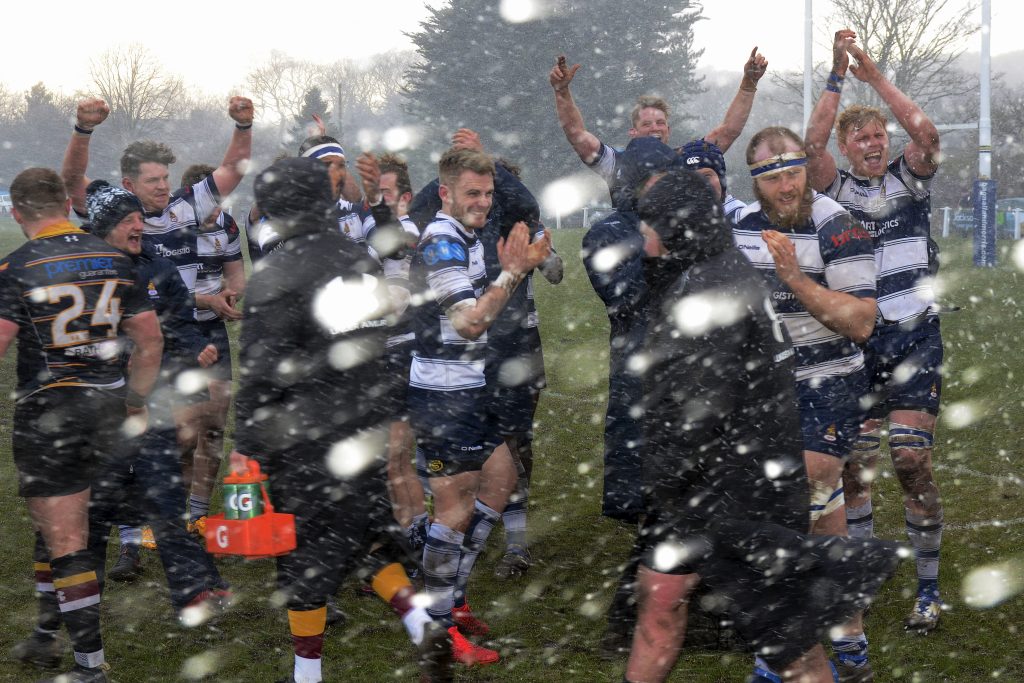 ….game over, and the snow arrived! Picture: rjc-photography