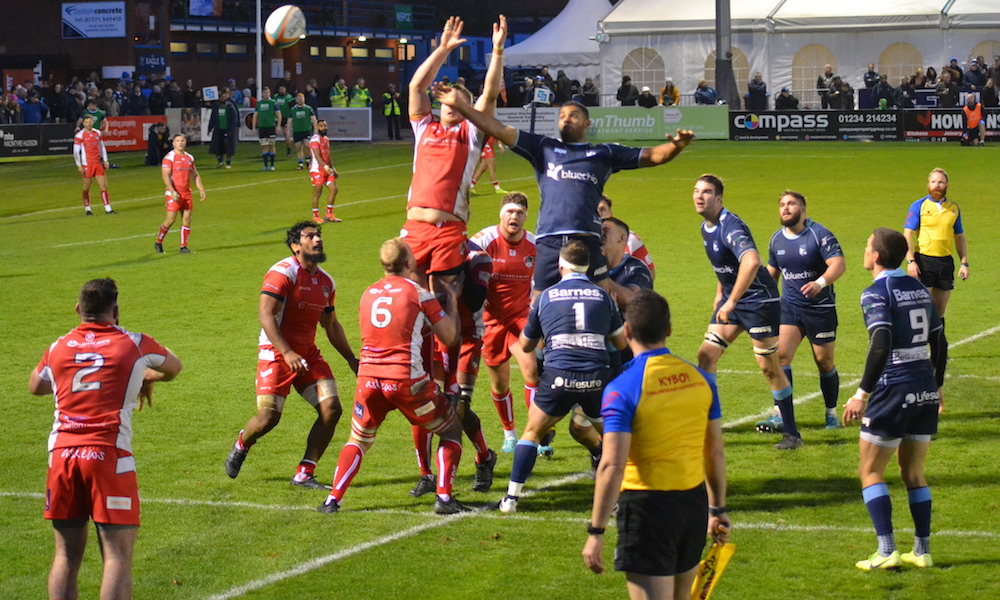 Coventry Rugby confirmed a Championship Cup quarter final with a round to spare thanks to a bonus point win at Goldington Road.
The scoreline at the final whistle may have been comfortable but the eventual result was up in the air for long periods, despite Coventry crossing the whitewash three times in the first half and twice more in the second.
Bedford gave as good as they got throughout the contest, aggressive in defence, asking plenty of questions in attack and competitive at the lineout, spoiling Coventry ball regularly.
But all too often in the opening 40 minutes the Blues were the authors of their own downfall, throwing two interceptions for Pete White and Max Trimble to run in from long range to put the visitors 17-0 up at half-time.
The other try came from Henry Purdy, who was the beneficiary when the home numbers eventually ran out with Pat Tapley in the sin bin. Cov had put some promising passages of play together, Rory Jennings putting Ben Nutley through a gap with some lovely dexterity with ball in hand and White continuing the break which brought Tapley's yellow card.
Coventry remained positive through the rest of the sin bin period, looking to spread the ball and stretch the hosts. But Bedford's effort on the back foot remained resilient and they created a chance for Ryan Hutler, who was only beaten to a Will Hooley cross-field kick by David Halaifonua.
Bedford began the second half in similar fashion to the way they had played much of the first, running straight and looking dangerous. Joe Green cut through a gap on halfway and Tapley turned on the afterburners looking to redeem his earlier error. Only a Ben Adams last-ditch effort prevented a try, and with the next men in competing over the ball it was a relief to see referee Hamish Smales awarding the penalty Cov's way.
Bedford were also competing well at the lineout, and when Cov opted for the corner the first time they got a penalty in the home 22 the opportunity was snuffed out when it was won against the throw.
Noticeably buoyed Bedford upped their intensity, and despite some outstanding defence for phase after phase on their own line from Coventry – and winning a penalty at a dominant scrum – the whitewash was finally breached by James Lennon.
It was no more than Bedford deserved for their efforts and a useful reminder, if one was needed, that the Blues should always be respected on their own turf. So it was little surprise when the next time Coventry were awarded a penalty in Bedford's half that Ryan Burrows – on as a sub and now acting as skipper – pointed to the sticks. Jennings' accuracy from long range not just took time off the clock but also gave Cov a bit more breathing space with a shade over 10 minutes to play.
When Alafoti Fa'osiliva burst through it looked like it would be needed, too. But Tom Kessell stopped the big Samoan in his tracks, and when Jordan Onojaife knocked the ball on under pressure it allowed Trimble to clear his lines.
Bedford would get a second try for their efforts, but by then they had been on the receiving end of a quickfire pair of scores which put the contest to bed.
First over was Trimble, who while put away by Halaifonua's pace, power and awareness should also be thanking Dan Lewis and Kessell for the way they kept the ball alive in the Cov 22.
Then from the kick off Purdy was sent away by Toby Trinder, again from long range, and with Will Maisey adding both conversions and a penalty Coventry were all of a sudden 32 points to the good.
Charlie Reed crossed in the last play of the game, but it was just a consolation for Bedford, and Coventry will head to Ealing in Round 6 well in the hunt for an all-important home tie.
BEDFORD BLUES
15 Joe Green; 14 Pat Tapley, 13 Matt Worley, 12 Fraser Strachan, 11 Ryan Hutler; 10 Will Hooley, 9 Grayson Hart; 1 Sean McCarthy (capt), 2 Jacob Fields, 3 Henry Paul, 4 Jordan Onojaife, 5 Will Carrick Smith, 6 Oli Curry, 7 Josh Buggea, 8 Joe Atkinson
16 Robbie Smith, 17 Karl Garside, 18 Andrew Boye, 19 Ed Taylor, 20 Alafoti Fa'osiliva, 21 James Lennon, 22 Charlie Reed, 23 Oskar Hirskyj-Douglas
Tries – James Lennon, Charlie Reed. Con – Will Hooley.
Yellow card – Pat Tapley
COVENTRY RUGBY
15 Henry Purdy; 14 David Halaifonua, 13 Andy Bulumakau, 12 Will Owen, 11 Max Trimble; 10 Rory Jennings, 9 Pete White; 1 Toby Trinder, 2 Jimmy Stevens, 3 Phil Boulton (capt), 4 James Voss, 5 Nile Dacres, 6 Ben Nutley, 7 Jack Ram, 8 Ben Adams
16 Joe Buckle, 17 James Gibbons, 18 Gareth Denman, 19 Alex Woolford, 20 Ryan Burrows, 21 Tom Kessell, 22 Dan Lewis, 23 Will Maisey
Tries – Henry Purdy (2), Pete White, Max Trimble (2). Cons – Rory Jennings, Will Maisey (2). Pens – Rory Jennings, Will Maisey.
REFEREE Hamish Smales