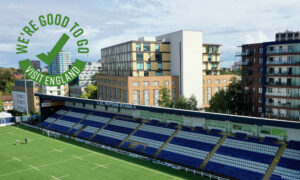 Butts Park Arena has received the green light from Visit Britain to re-open for conferences, meetings and events, having met all the criteria for the 'We're Good to Go' industry standard for Covid-19 working practices.
'We're Good to Go' was established to provide both businesses and – more importantly – their customers with the reassurance that clear processes are in place to ensure that everyone who visits a venue will be looked after to a high standard.
Here at Butts Park we have been ahead of the game since we re-opened for Sunday Lunches and RML Multi-Sport Camps at the start of the summer, with staff wearing masks, temperature checks for visitors on arrival, cashless payments, the gathering of contact details for track and trace purposes, and plenty of social distancing and hygiene equipment!
Now that we have been awarded the 'We're Good to Go' green tick Butts Park can now also open for:
Conferences and meetings of up to 30 people
Wakes of up to 30 people
Butts Park Arena has everything you need for a successful and well-organised meeting, including free WiFi, on-site catering tailored to your needs, and plenty of on-site car parking.
To find out more about how we can work with you to deliver your great event contact Liz Martin via emartin@coventryrugby.co.uk
This is in addition to the pitch bookings, which have been in high demand throughout the summer and into the autumn, and the club-run events such as the Sports Bar on October 17th and our next Sunday Lunch on October 25th, bookings for which are being taken now.