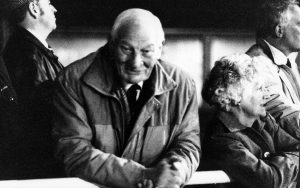 Coventry Rugby would like to extend its sincere condolences after the loss of our club patron Harry Walker, who sadly passed away on Tuesday evening at the age of 103.
Fans, current players, former players and several clubs, including England Rugby, paid tribute to the remarkable life and legacy that Walker made in Coventry and across his glittering career.
Harry represented several teams across his career, starting off by making his own side after leaving school; John Gulson Old Boys, he then made his first appearance for the Blue and Whites when he was just 17, only to be playing first team fixtures a year later.
He also represented the Midlands against New Zealand and South Africa, he made several county appearances and also played for the famous Barbarians just to name a few of his achievements.
The club would like to share a selection of responses from fans, professionals and clubs alike following the death of our club patron giving him the recognition he so rightly deserves.
Current Club Chairman, Jon Sharp, paid tribute to Harry Walker, who was an advocate to the club and over almost 80-years contributed so much to Coventry Rugby, holding almost every position at the club over the years.
The 103-year-old celebrated his birthday back in February this year and was most recently at Coventry Rugby's Butts Park Arena for the Fylde game on February 3, which he witnessed his beloved Blue and White's win 47-3.
England Rugby also paid tribute to Harry with a post across their social media sites, the former Coventry Prop represented his country on nine occasions, though it could have been many more due to World War II interrupting, and featured in the 5 Nations between 1946-47 and in a Test match against Australia in 1948. They said:
The RFU is saddened to hear the news that England's oldest former player Harry Walker has died aged 103: https://t.co/E6wz7wLngK pic.twitter.com/42bmrGNvNg

— England Rugby (@EnglandRugby) 6 June 2018
---
Below you will find a montage of the best messages about Harry Walker. The club have been overwhelmed by the response from the rugby family and thank those aside from the club for their kind messages of support.
---
Director of Rugby, Rowland Winter,
Thoughts are with the family of the great Harry Walker. Sad to hear about the passing of a true @CoventryRugby & @EnglandRugby legend.

— Rowland Winter (@RowlandWinter) 6 June 2018
---
Forwards Coach, Louis Deacon,
Very sad to hear of the passing of @CoventryRugby and @EnglandRugby great Harry Walker. My deepest sympathies to his family. #RIPharry

— Louis Deacon (@loudeacs) 6 June 2018
---
World Rugby Chairman, Bill Beaumont 
Saddened to hear of Harry Walker's passing. At 103 years young, he was England's oldest international. Stalwart of his beloved Coventry and a great character. Always enjoyed discussing all matters rugby with him when Fylde played Coventry. He will be greatly missed.
— Bill Beaumont (@BillBeaumont) 6 June 2018
---
Bedford Blues 
Sending the sympathies and best wishes of all from @BedfordBluesRFC to @CoventryRugby and the family of Harry Walker. A true legend of the game #rugbyfamily
— Bedford Blues (@BedfordBluesRFC) 6 June 2018
---
Former England Rugby player, Lewis Moody
It was such a pleasure to meet and interview Harry Walker 2 years ago for the rose and poppy films.
He was the most remarkable character full of life and spirit. especially when reminiscing about his rugby career @CoventryRugby @Barbarian_FC and @EnglandRugby #RIPharry pic.twitter.com/kCcNdvpu1v

— Lewis Moody (@LewisMoody7) 6 June 2018
---
Former Blue and White, Ben Gulliver
Its Sad day for everyone involved with @CoventryRugby @EnglandRugby I know from @tony_gulliver stories and my own personal encounters with H, he was a true legend in ever sense.. RIP to the one and only Harry Walker #HW103 pic.twitter.com/JTQzLEQ8Tn

— Ben Gulliver (@bengully) 6 June 2018
---
Kenilworth Rugby Club
Very sad to hear that Harry Walker, @EnglandRugby's oldest surviving international and former @CoventryRugby legend, has passed away.
RIP, to a man whose name was synonymous with the game throughout Coventry and Warwickshire.
— Kenilworthrfc (@kenilworthrugby) 6 June 2018
---
Cambridge Rugby
Sending our condolences to Harry Walker's family & @CoventryRugby . #rugbyfamily https://t.co/tnCewvOeFl

— Cambridge RUFC (@camrufc) 6 June 2018
---
Club Historian John Butler and wife Anne
---
Our great supporters 
So sad to hear the news. Absolute legend and folk hero of the Club. I have fond memories of him, his support and stories. #RIP H!

— Neil Lightowler (@NeilTelcoSurvey) 6 June 2018