ABSENT through injury for the first seven games of the current campaign, last season's leading try scorer Max Trimble knows he has ground to make up if he is to claim the honour for a second time – especially with Coventry in such high-scoring form.
The 25-year-old winger started the chase by running in Cov's fifth try in the 40-7 win at Cambridge last Saturday, coming on as a second-half replacement in his second game back, and with James Stokes (nine) and Scott Tolmie (seven) setting a hot pace he admits to having special incentive to keep the scores coming…..while also laying claim to some credit for the former's flying start.
"I live with Tolmie and Stokesy, and it's a nightmare when every game I just keep hearing 'and Tolmie scores,' said Trimble. "I can accept it a little bit more from Stokesy, although it is annoying that he's been wearing my boots when he's doing it – technically they should count as mine!
"The battle for bragging rights is pretty intense in our house and I'm definitely at the bottom of the pile, but that's fine.
"It's just very good to be back – it's been a long time out and shouldn't have been that long, so I'm glad to be on the pitch and back playing with the boys."
Trimble suffered a broken metatarsal at the Olney 7s in late June, but it was some time before the full extent of the injury was revealed and it led to a much longer lay-off than necessary.
"I didn't really know what it was, we strapped it up and I played the next couple of games at the tournament and then it started to get a bit worse," he said.
"I went for an x-ray but nothing showed up, I had to go for an MRI scan and the NHS results didn't come through, so in the end we had to go private – it was a bit of a nightmare to be honest.
"If it had been found at the time I would have been back in a month, so I would have been back before pre-season games even started. It was very frustrating, but that's how it goes."
Trimble was a late addition to the squad for the Loughborough Students game two weeks ago, coming on for the last 20 minutes and giving a glimpse of what the fans had been missing with a long run from deep inside his own half which was finally halted in the opposition 22.
"I wouldn't say absolutely that I'd have scored if I was fully match fit," he said, "but I think definitely my lungs wouldn't have given out with 20 metres to go! I was kind of hoping for a little bit of an ease-in to that game, but I guess a 60, 70-yard run, a baptism of fire, is probably what you need and it was good.
"Potentially I wouldn't have been coming back until this week, but I felt fit, spoke with the coaches and they said 15 minutes or so would probably do me good and, to be fair, it turned out to be quite nice.
"Then to get almost a half at Cambridge was good, and the try was what I needed to be honest, a nice little 20-metre run-in – I should have been closer to Heath (Stevens), I wasn't really expecting it, but he put the long pass right on the mark for me so I was grateful for that.
"It's just about getting minutes for me now. I think I'm still in the transitional phase between playing and getting through it while getting fit, and actually playing to put in the best performance I can.
"I know that shouldn't be, but unfortunately that's the situation it is and hopefully with one or two more games I can start to potentially affect the game as much as I could last season.
"I don't have unlimited time in the week, it's a case of using what time I do have wisely in terms of training and recovery, and making sure I get the right rehab in. I think I'm going to have to continue with rehab and prehab for a long time because that's what you have to do when you have injuries like mine.
"Match fitness comes, it's just about getting all the training done. I'm doing extra running with Max (Hartman) which is really helping me, it's tough but it was always going to be, and as long as I'm doing that and all the other stuff, hopefully I'll start to make an impact in the games."
Trimble hopes to have a part to play in Saturday's home game against Caldy, when Cov bid to make it ten wins from ten for the season, and reacquainting himself with the Butts Park Arena crowd in what is only his second season playing at this level.
"As I said last season, I'm still getting used to it – the concept of fans in such numbers is strange to me, but I'm enjoying every minute of it.
"The noise at the end of the game at Cambridge was incredible. I don't think you get many teams in the Championship with that kind of fan base, even at home, and it's amazing. It really does make a difference.
"It's a help to the team's confidence and it's very important to have right mind set because in this league you see that on the day everybody can beat everybody and we could easily fall into that.
"Our closest game was against a team that has come up from National Two and then teams that we thought would be title contenders at the start of the season we've beaten by 20, 30 points, so it's a very strange league in that respect and you can never let your guard down no matter how successful you are being."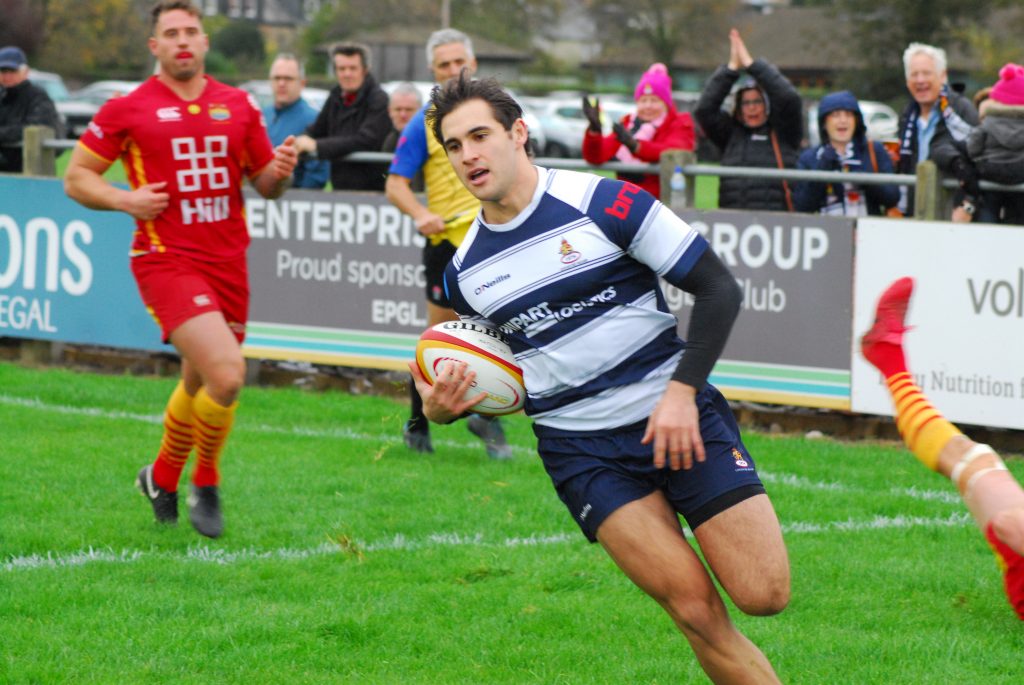 Back in the swing – Max Trimble goes in for his first try of the season. Picture by Nick Meredith