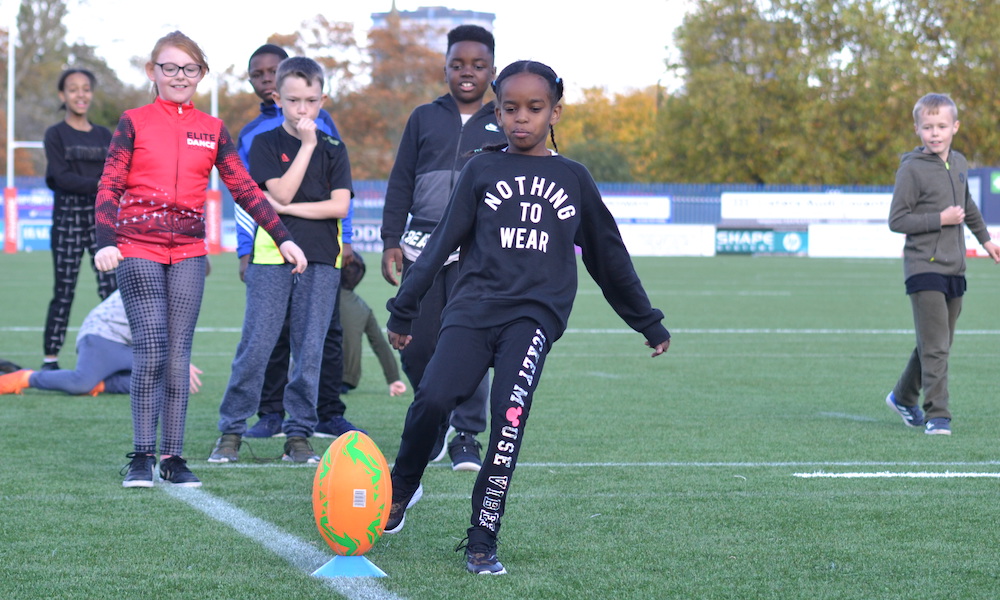 The Coventry Rugby Foundation has confirmed that the next Project:500 camp will be at Butts Park Arena during the week of the October half-term holiday (Mon, Oct 26th – Thurs, Oct 29th).
Project:500 is now just over a year old, and as a new and unique initiative it had an immediate impact over the past 12 months, bringing disadvantaged youngsters to Butts Park Arena for special days filled with on-pitch fun and games and a range of off-field activities, including nutritious lunches.
The Coventry Rugby Foundation worked with local schools and other stakeholders to identify individuals who would not otherwise have the opportunity to experience such a week, and the feedback showed the positive impact on youngsters and their parents.
Thanks to the introduction of multi-sport camps the Coventry Rugby Foundation has now even more ways to engage the children across a range of sports and activities, whatever the weather!
Project:500 is made possible by the donations of individuals and businesses, and this year you can both help and save money by supporting the programme through the Coventry Rugby Foundation's crowdfunder at www.avivacommunityfund.co.uk/all-kids-active
"We had a fantastic first year of Project:500, and it was brilliant to see the positive impact that we had on the youngsters who came to Butts Park for the week-long camps," says Coventry Rugby Foundation Manager Hal Sparke.
"With so much upheaval across the whole community over the past few months, having an initiative like Project:500 to look forward to will be vital for the health and well-being of some of the city's disadvantaged youngsters, and because we've invested in a wider range of sporting equipment we can give them experiences playing a number of sports, from football and basketball to cricket, rugby and athletics.
"Project:500 would not have been possible last season without the amazing support of individuals and businesses, and I'd like to thank everyone who has been in contact to express their interest in getting behind the programme again."
To find out more about how you can get behind Project:500 email community@coventryrugby.co.uk