BACK row forward Sam Harry has needed to show patience in his first season at Coventry, but he is hoping for a strong end to the campaign after returning to the starting line-up last week.
Injured early on in the pre-season game against Jersey, the 22-year-old open side had to wait for his chance and had been restricted to six starts and two replacement appearances before the Esher game.
But a season-ending injury to Eoghan Grace opened the door and after a strong 80 minutes in the 35-27 win, Harry is determined to make the most of his chance.
"I hadn't played since just before Christmas so I felt it in my legs, but it was really good to be out there," said Harry, who is in his final year of a degree course in politics and economics at Loughborough University.
"It was a really scrappy win, but a win is a win and that's what we need to keep on doing this season. I was really chuffed, especially after the way the first half went for us and the first ten minutes of the second half.
"It's unfortunate for Eoghan, but that's the way it is in sport – I would never wish that upon anyone, but at the same time it is an opportunity which is sometimes what you need and I was happy to seize it."
Harry's own injury also gave him an unexpected opportunity to taste life with city neighbours Wasps and help him regain his match fitness.
"That was very random!" he said. "I don't know how Rowland (Winter) managed it, but I needed some game time so he put me on loan to Wasps for the A League.
"Wasps were then plagued with injuries and international call-ups and needed a couple of players for the Anglo-Welsh Cup. Rowland was very good about it and said if I wanted to go and play for them it was absolutely fine, so I played against Worcester Warriors at the Ricoh Arena which was absolutely brilliant."
Harry began playing at the age of 12 when he went to secondary school at Colchester Royal Grammar. "I just fell in love with the sport," he said.
"When I was 14 I was picked up by Northampton Saints and I spent the next four years training and playing for them. Straight after that I was contracted with them for a year, but when that ran out they didn't renew it so I decided I needed to get a degree and I went to Loughborough.
"I played for Loughborough for the last two seasons, captained the team into the final of the BUCS Cup and then just thought I needed a change and wanted to come to a more professional outfit.
"I already knew Rowland from when I was on loan at Cambridge from Northampton, and when he offered me a contract at Cov I couldn't refuse.
"I'm really happy here, it's a good place to be and I'm enjoying it. There's a lot of competition in the back row, but I think that pushes you as a player to perform better.
"I was a bit unfortunate to be injured and I didn't play until the fourth game into the season, but I've got a few games under my belt now and I'm happy to be pushing for that starting spot each week.
"I just want to get as much game time as I can now until the end of the season and in the wider picture I want to win every game. We're a class side when we want to be and we need to be winning games."
A grafting ball-winner or a runner?  "Definitely a ball-winner. I prefer the rainy, muddy, horrible days when you don't have to be too far from the rucks and you just have to constantly tackle, the ball doesn't have to be moved through your hands and you just keep hitting people.
"I'm sure a few 7s prefer a fast, open, wide game but I'm much more of a head over the ball and get your hands dirty type of player."
Picture by: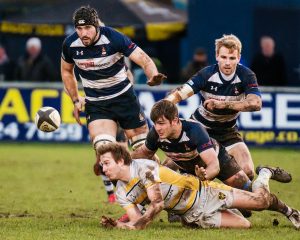 Rob Clifford- www.rjc-photography.ifp3.com