by John Butler
THERE can be absolutely no argument about it. Coventry were severely tested by a very resolute and fired up Old Elthamians squad before finally securing another important win, albeit by the slenderest of margins.
The hosts made no secret of the fact this was very much a stand-out fixture in the history of their club and, to their credit, they came mighty close to causing a significant upset.
OEs, seventh in the table, showed themselves to be a committed, well-organised unit and, to a large extent, succeeded in stopping Cov from playing their flowing style which has been so key in the successes so far.
Coventry will certainly be pleased and relieved to have come out of this encounter with the win, which took the season's tally to 11. True, no bonus point on this occasion with the try count 2-1 in Cov's favour, but having weathered the final passages of play, including some nine minutes of added on time, and not having played that well, the result from a visiting perspective was all important.
Throughout this hard and close encounter, the Coventry line-out failed to function with any positive regularity. At least six line-outs were lost and the last of those led to the lengthy period of play in injury time when the Cov line was really under siege.
Early exchanges soon showed this first meeting of the clubs was likely to be close. Indeed, as early as the ninth minute it took a try-saving tackle from James Stokes to deny the former Butts Park favourite Dom Lespierre on the OEs right.
Coventry prior to that had shaded the opening exchanges, but they fell behind when home fly-half Joe Carlisle, another to have worn the Blue and White previously, slotted a 30-metre penalty on 17 minutes.
Behind 3-0, it was the prelude to some more fierce Cov pressure, centre Fraser Dingwall latching on to a Will Maisey grubber kick through, only being denied a try after the referee and his assistant had consulted long and hard.
Cov were not be denied for long, however. At a five-metre scrum, the pack took charge with Luke Narraway controlling possession before claiming the touchdown for his maiden club try. Maisey landed the conversion and Cov were 7-3 to the good.
A lead which within five minutes became 14-3 and what a gem of a try it was.
From the Old Elthamians kick-off, Anthony Matoto made the initial strides down the right from halfway, some lovely inter passing following before scrum-half Tom Kessell took the final pass to scorch over for his first Coventry try, with Maisey adding the extras.
To their credit, having been hit hard twice OEs soon responded and within eight minutes had claimed their try as if to emphasise they were not going to cave in.
A clever kick took play into the Cov 22 and from there, flank forward George Messum ploughed his way over as Cov conceded only their 13th try of the season. Carlisle converted, to leave the margin four points at the break.
Prior to half time however, Cov lost lock forward Tom Jubb on his first senior appearance of the season with a knock to his leg, Latu Makaafi replacing him.
Into the second half, and with the sun also making a brief appearance after the morning rain, it was Old Elthamians again who were not holding back.
Indeed, it was fully 16 minutes before Cov were able to gain any sort of attacking position, by which time Carlisle had landed two penalty goals in the 51st and 54th minutes to take his side back in front again.
16-14 down, Cov needed to respond and it was Stokes on 56 minutes who set the attacking tone again with a blinding 40-metre burst.
Cov were now looking more potent again and when the hosts infringed, Maisey landed the simple penalty after 59 minutes to open up a one-point lead.
Back came Cov again with more measured possession and after a scrum penalty was won, Maisey eased over another penalty from the right of the posts to increase the margin to 20-16 with some nine minutes of normal time left.
Shortly afterwards, having won a penalty kick to touch, line-out possession was once more lost inside the home half, it being a prelude to an incessant assault by Old Elthamians right through to and including nine minutes of added on time.
To their full credit, Cov withstood the barrage, bodies constantly being put on the line as the tackles came in.
OEs tried every conceivable way of trying to muscle through, but to no avail.
Finally, to the relief of the Coventry contingent present, referee Holsgrove blew for the final time with the hosts losing possession inside the Cov 22.
Four very hard-earned league points with Old Elthamians fully deserving their losing bonus point following a very notable effort on their part.
A week off now for Cov and the remainder of the division, before Plymouth Albion come calling at Butts Park in two weeks' time for another very important encounter, with Cov's lead at the top now being nine points.
Old Elthamians: try Messum (29); conversion Carlisle (30); penalties Carlisle 3 (16, 50, 53). Coventry: tries Narraway (23), Kessell (26); conversions Maisey 2; penalties Maisey 2 (58, 66).
Old Elthamians: Surman; Lespierre, Moffat, Wilkins, Hotston; Carlisle (White 63), Parker (Claxton 63); Brown (Bevans-Royston 62), Rudland-Thomas (Morris 62), Rogers (Brown 76), Preocanin, Hosking, Messum, Barton (Munnelly 65), King.
Coventry: Stokes; Matoto (Trimble 56), Dingwall, Fenner (Matoto 65), Knox; Maisey, Kessell; Titchard-jones (Jeannot 46), Nilsen (Tolmie 46), Litchfield, Dacres, Jubb (Makaafi 30), Daynes, Preece, Narraway.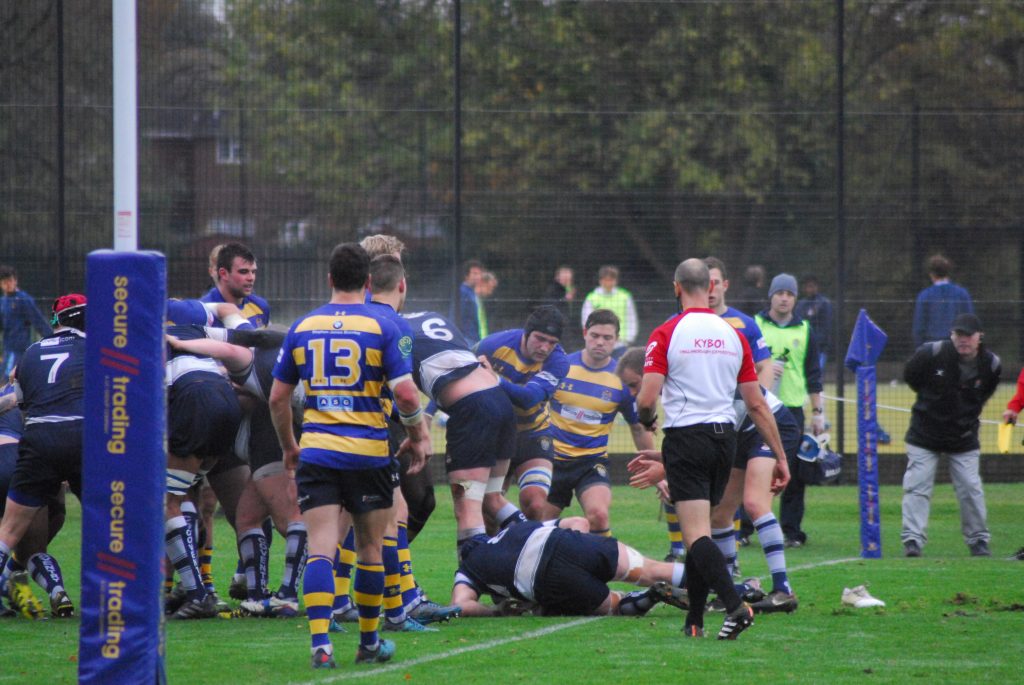 Touchdown for Luke Narraway. Picture by Nick Meredith