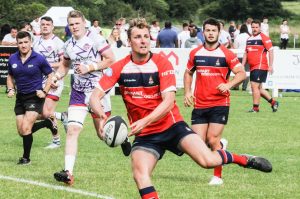 Coventry Nighthawks retained their Only 7s Sports punk Open title in style with an exhilarating final against old foes IIkley RFC, a side they have faced in the final for the past three years running.
The Blue and White's scored 42 tries over seven games at Olney Rugby Club and improved their performances with each passing game.
"It was a great day out, a really well-run tournament as always and a perfect way to kick start our pre-season," said Rowland Winter.
Coventry's Director of Rugby was impressed by the support of the side and believed that factor played a part in helping the side progress through the tournament.
He said: "It was fantastic to see quite a few Coventry supporters who made the trip to Olney, the extra support meant a lot to the team.

"On the pitch the team showed a big improvement from last summer, and a few of the new players and younger development players stood out."
With the side showcasing a mixture of experience and youth with the added additions of Junior Bulumakau, Tim Bitirim and Will Flinn, all impressed during their pre-season debut at Olney 7s.
Development Academy player Louis Roach finished the tournament as Top Try Scorer with an impressive eight tries, whilst fellow academy team mate James Neal showed his skills as the winger scored seven.
First XV ace Rob Knox picked up the Player of the Tournament accolade after a number of impressive performances but admits he claimed the prize on behalf of the team.
He said: "It's a great honour to have won Player of the Tournament, but I thought others in the side deserved it more than me.

"Anyone of our players could have won it, we played class rugby on the day, so I'll take it as another team trophy."
Knox is the third Coventry player to win the award in successive years as Will Maisey (2017) and Tom Jubb (2016) have won in previous years.
"It was a great day on and off the pitch for the Nighthawks and It was a good feeling to play some rugby again and It was nice to see some of the new guys come in and show us what they can do, so it was a fun day out for all," Knox added.

"We had more games than we were anticipating so it was hard work but it's a good starter to be heading into pre-season.

"Off the pitch there was a great atmosphere, new guys and the lads from last season were mixed together relaxing and getting to know one and other."
---
Coventry Nighthawks' path to the Final 
Pool Game One | Coventry Nighthawks 26-7 Bees Rugby  
Scorers : James Neal, Scott Tolmie, Will Maisey, Junior Bulumakau
Pool Game Two | Coventry Nighthawks 17-14 Fuze 7s
Tim Bitirim, Jack Preece, Will Flinn
Pool Game Three | Coventry Nighthawks 22-14 England Universities 7s
Louis Roach x2, Will Maisey, James Neal
Pool Game Four | Coventry Nighthawks 55–7 Jamaica Development
 Louis Roach x2, Scott Tolmie x2, Will Flinn x2, David Brazier, James Neal, Will Maisey
Pool Game 5
Five | Coventry Nighthawks 59–5 Ath Elites
Louis Roach x2, James Neal x2, Pete White, Tim Bitirim, Scott Tolmie, Will Maisey, Tom Jubb
Semi-final | Coventry Nighthawks 36-19 Hammerheads
 Pete White x2, Louis Roach x2, James Neal, Scott Tolmie
Final | Coventry Nighthawks 47–21 IIkley RFC
 Tim Bitirim x2, Rob Knox x2, Pete White, Ben Palmer, James Neal