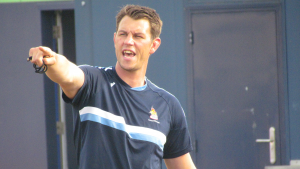 Coventry Rugby Forwards Coach Louis Deacon is well aware of the threats that will come up against his defence this weekend against Jersey as the club make their long-awaited return to the second tier.
The 37-year-old believes that Jersey Reds are an attritional side and will require another step up in performance from the side on Saturday (kick-off 3pm).
He said: "Upfront. They are a very attritional team, they pose a massive threat upfront, scrum, lineout, maul time, that's where I envisage the test will be upfront. We have had a great pre-season and we have worked a lot on those areas of our game and we are excited to see how we perform on Saturday.
"It was a good performance against Wasps, we got tested at times but the level of test this weekend is going to be huge, it's a massive step up. I think the way Jersey play is very attritional and they probably sum up the Championship. So, going into this weekend is going to be a test for the lads.
Cov prepare for their return to the second tier after a long arduous eight years away from the Championship and Deacon insists the side have been focusing on themselves ahead of the encounter at Butts Park Arena.
He said: "It's the first game in the championship for the club in a long time, so this week is all about us and how we perform and focus on the things that we are good at and not really worry about the opposition too much. If we focus on those things then the performance will take care of itself but yes, getting a win and getting a good performance is hugely important.
"I think the guys are excited to test themselves against a higher-level team opposed to what they have been used to previously, we have recruited well this year, we have got some experience in the side that have played a lot in the Championship before, so the guys are ready to go.
With Jersey opposing a physical threat upfront for the Blue and Whites the former Leicester Tigers lock believes the side are capable of overturning the islanders after a good week of preparations.
He added: "Typically, a Coventry pack should be based around the forwards and what our differences are, is that we have a very strong forward pack that can take team on, but we can also play as well. The speed in the backline, we can go from anywhere so it's an exciting team, I don't really think you can say how we are going to play which is a good strength of ours, but you certainly have to build your foundations up front and that is what we will expect to do.
"Good, yes we have had a good week's prep, we have focused on ourselves and concentrated on getting our performance right, we have had a good pre-season and I think our test against Wasps was what we needed, and the guys are excited to get going now.
https://www.youtube.com/watch?v=w7CL8_8zBX4&feature=youtu.be