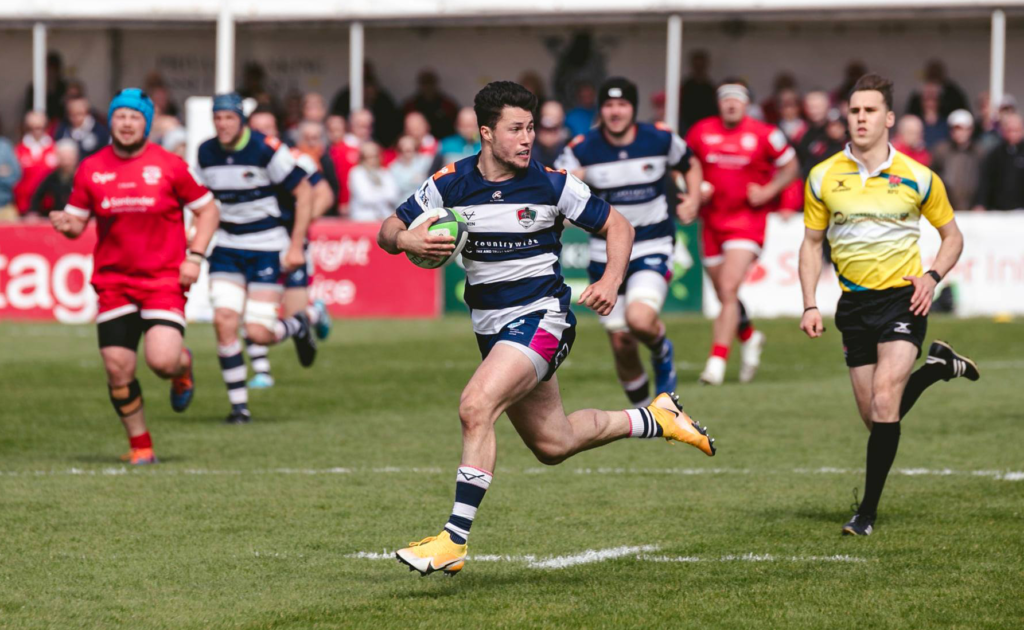 Doncaster Knights will be the first visitors to Butts Park Arena in the opening round of the 2021/22 Championship campaign.
It is a mouthwatering start to the new season, with matches against the Knights in recent seasons being hard-fought encounters. Doncaster, like Coventry, is one of the most ambitious clubs in the league and finished third in the table last season, two places and six points ahead of the blue and whites. But Cov could very well have upset their applecart with a stunning second half fightback at Castle Park which fell just short of the victory.
This is the first of 20 Championship fixtures across the next six months, with the league reaching its culmination on the weekend of March 19th, 2022.
As with 2021, the odd number of teams in the league means that Cov will have two bye weekends, in addition to the six reserve weekends. There will be a Cup competition played in the spring, with details to be announced in due course.
Other fixtures to catch the eye include the visits of Ealing Trailfinders (weekend of October 23rd), Bedford Blues (weekend of December 4th), Cornish Pirates (weekend of January 29th) and Jersey Reds, which will be the last home game of the season on the weekend of March 19th.
Cov also has a home game on Christmas weekend against Ampthill, with the date to be confirmed to take into account Christmas Day being the Saturday and Wasps also being at home that weekend.
All 10 home Championship matches, along with the pre-season derby days against Wasps and Gloucester, and two home spring Cup clashes, will be included in the 2021/22 Season Memberships, which you can renew until 11:59 am on Monday 2nd August at www.coventryrugby.co.uk/seasonmemberships. From 12 noon onwards, memberships will be available on general sale.
Fixtures list
Date
Teams
Location
KO
TBC
Coventry
VS
Nottingham
Butts Park Arena
15:00
04/09/2021
Coventry
VS
Wasps
Butts Park Arena
15:00
11/09/2021
Coventry
VS
Gloucester
Butts Park Arena
15:00
18/09/2021
Coventry
VS
Doncaster Knights
Butts Park Arena
15:00
25/09/2021
Ampthill
VS
Coventry
Dillingham park
TBC
02/10/2021
Coventry
VS
Richmond
Butts Park Arena
15:00
08/10/2021
Hartpury
VS
Coventry
Alpas Arena
19:45
21/10/2021
Coventry
VS
Ealing Trailfinders
Butts Park Arena
19:45
31/10/2021
Cornish Pirates
VS
Coventry
The Mennaye
TBC
06/11/2021
Coventry
VS
Nottingham
Butts Park Arena
15:00
27/11/2021
London Scottish
VS
Coventry
The RAG
TBC
02/12/2021
Coventry
VS
Bedford Blues
Butts Park Arena
19:45
11/12/2021
Jersey Reds
VS
Coventry
Stade Santander
TBC
16/12/2021
Doncaster Knights
VS
Coventry
Castle Park
19:45
26/12/2021
Coventry
VS
Ampthill
Butts Park Arena
TBC
01/01/2022
Richmond
VS
Coventry
The RAG
TBC
15/01/2022
Coventry
VS
Hartpury
Butts Park Arena
15:00
22/01/2022
Ealing Trailfinders
VS
Coventry
Trailfinders Sport Ground
TBC
29/01/2022
Coventry
VS
Cornish Pirates
Butts Park Arena
15:00
11/02/2022
Nottingham
VS
Coventry
The Lady Bay
19:45
26/02/2022
Coventry
VS
London Scottish
Butts Park Arena
15:00
05/03/2022
Coventry
VS
British Army
Butts Park Arena
15:00
12/03/2022
Bedford Blues
VS
Coventry
Goldington Road
TBC
w/e 19/03/2022
Coventry
VS
Jersey Reds
Butts Park Arena
TBC